Berlin Lake invites discovery. Those who venture past the open bays down the channels that tendril in every direction can discover their own private cove to claim for picnicking or fishing. Created when the U.S. Army Corps of Engineers dammed the Mahoning River in 1942, Berlin Lake and the surrounding area is rife with pleasant surprises, from a rail track repurposed as a hiking trail to an animal sanctuary that houses lions and tigers. Give yourself ample time at this reservoir — you'll want to explore.
County: Stark, Portage and Mahoning
Acres: 3,341
Average depth: 23 feet
Deepest point: 55 feet
The Water: Make like Magellan and discover the lake by boat, steering your rented pontoon ($140-$400) to one of Berlin's many coves. "If you're trying to get away from the traffic of the bays, there's a lot of coves you can pull your boat into," says William Sartor, co-owner of Berlin Water Adventures. "Anchor off and go swimming right off the back of your boat." Forecasts for anglers also look lucky. "It's got an excellent population of a number of game fish," says Chris Aman, a fisheries biologist with the Ohio Department of Natural Resources. "It's one of the more diverse lakes we have in terms of fishing." If speed is more your style, take to the open bay. Berlin Lake is one of the few lakes in the region with no horsepower restriction during the day, so rev your Jet Ski to flying speeds.
The Land: Those with shaky sea legs can take to the Berlin Lake Trail, a 2.2-mile stretch on the former Lake Erie, Alliance and Wheeling Railroad. The path starts as a nondescript turn off of state Route 224 before transforming into a lush refuge for wildlife and humans alike. Within a quarter of a mile, you won't be able to hear the highway's traffic as you traverse a bridge over the lake. Keep your eyes peeled for marked and unmarked trails that veer off the main route, where you'll find private oases heavily scented by massive flowering bushes. If you prefer to keep your feet dry, pack a pair of binoculars and try to spot one of the more than 40 species of waterfowl and songbirds that populate the area, such as the purple martin or osprey.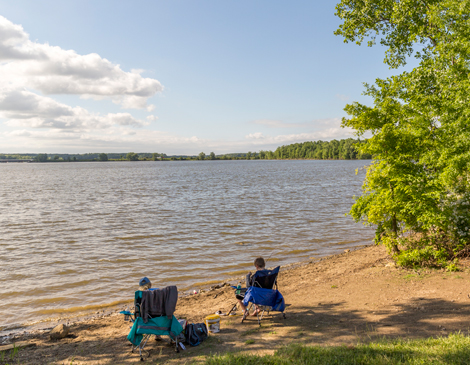 Where to Stay: Berlin Lake's shoreline is dotted with campsites suitable for every camper, but families thrive in Mill Creek Campground. Claim one of 314 spaces to park your RV or pitch a tent. Aim for the lakefront for a killer sunset that paints the lake in stripes of orange and red. If you were hoping for a bit more seclusion, reserve your own private getaway a little farther downstream, an area shrouded with more trees and away from the playgrounds scattered throughout the campground.
Where to Eat: Less than a five-minute drive from the Berlin Lake Trail, Ben's Restaurant & Bar is an instantly familiar spot, full of framed paintings of ships and hung with nautical glass panels. If the fish just weren't biting, opt for the crispy batter-fried scrod sandwich, a straightforward classic on a kaiser roll ($6.99) or hoagie bun ($9.99). For a quick cool down, queue up at Blosser's Dari Drive-In, an old-fashioned purveyor of sweet treats where the lot is always packed. Try one of Blosser's 30 flavors of flurries — we're partial to the blueberry cheesecake or chocolate covered banana ($4.25 each).
Expert Take: If you've seen enough squirrels to drive you nuts, take a walk to the wilder side. A five-minute drive from the campgrounds, Noah's Lost Ark exotic animal sanctuary is part petting zoo, part sanctuary. On nearly 30 acres, this menagerie lets you get up close and personal with animals such as lions, reindeer and tigers. "We have a little bit of everything," says Jamie Scacchetti, an animal keeper with the sanctuary. "It's really nice because we're more than a petting zoo. Here, you can see a lot of larger exotic animals without having to go really far from home."