As far as designing a home, the nursery is usually the room to get the most excited about. At least that's what Reflections Interior Design's lead designer Marissa Matiyasic has found. From picking fun paint colors to finding furniture that will last, the nursery is the space where parents can build a sanctuary for their new bundle of joy.

"They can get the most creative in those rooms," Matiyasic says. "They're not afraid to do something different, to put wallpaper up, paint the ceiling or do something like that." When thinking about color schemes, a baby room thrives with soft pastels and warm tones. But lovers of bold colors don't fret. "A neutral base is probably a good idea because [it's] something that you can incorporate some pops of color in other ways like the drapery treatments or the rugs."

Of course, the space needs to be practical too: ready for late-night wake-up calls and play times, while being able to grow as the baby does. In terms of layout, Matiyasic, who is a mom of two herself, recommends using the crib as a center point and building up from there with rugs, a useful dresser that doubles as a changing table, plenty of space for movable storage and a well-upholstered comfortable chair or glider for the parents.

"I think that we use that chair multiple times a day, every day," Matiyasic says. "Because as they get older, you don't use it for nursing anymore, you use it for reading and it was a really special piece in our nursery."

Safe House: Here's three areas to make sure you baby-proof.

Cabinets
Before you know it, your little one is going to be reaching for everything from drawer handles to light switches. That's why Matiyasic's tip is to install magnetic catches on the inside of cabinets to hold them tightly closed, thus preventing kids from crawling in there. Then, you use a special handheld key to deactivate the lock when needed. "You're not ruining your cabinets, you're not putting these ugly locks on them," she says. "And it's still keeping your kids safe."

Fireplace
While it can be a beautiful centerpiece to a room, your fireplace needs some kind of protection. Instead of a big, chunky gate over the area, Matiyasic suggests purchasing a special neutral-colored foam pad designed to go in front of fireplaces and around raised hearths to create a safe barrier in case of any bumps or falls. "[They're] attractive and blend in and it's not something that has to stand out in your room," she says.

Staircase
In preparation of your baby's eventual first waddles, crawls and steps, the top and bottom of the staircase is an important spot to do some proofing. Matiyasic recommends a Retract-A-Gate or similar brand that rolls out across the opening to the steps when needed, while looking discreet when not used. "It's something that kind of disappears, but it's very functional and safe," she says.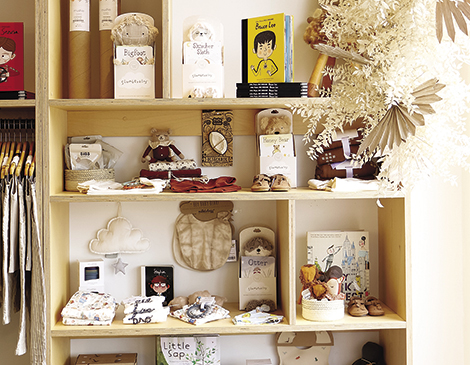 Nursery Time: These local boutiques have everything you need for your little one's room.

Baby Tyme Furniture
Opened in 1989, this family-owned baby store carries everything from cribs to rockers and dressers, with a focus on transitional pieces. Think: a crib that can switch into a bed when the babies grow into toddlers and teens. "We try to work with [parents] to maybe incorporate something special in their room, like maybe a special walker or a piece of furniture that was given to them," says manager Melissa Derrig. 878 W. Maple St., Hartville, 330-877-0330, babytymefurniture.com
Berg's Baby and Teen Furniture
Founded In 1921, this shop happens to be the oldest established baby store in America. With items curated from the U.S and Europe, you'll find a wide variety of gliders, cribs, dressers and more. "It's really a personal journey,"says owner David Brodsky. "We offer a very broad selection of different styles, ranging from traditional to midcentury modern farmhouse." 5694 Mayfield Road, Lyndhurst, 440-442-229, bergsbaby.com
Double Rainbow
While the shop is known for its baby clothes, the gift section of this eclectic boutique has an array of quilted blankets, unique toys and brightly illustrated storybooks to fill up any baby's room. "We have kids coming in and out, we have a lot of stuff that's at their level, and toys and things that they can explore and get excited about," says owner Meg Ratner. 3425 Tuttle Road, Shaker Heights, 216-912-8404, shopdoublerainbow.com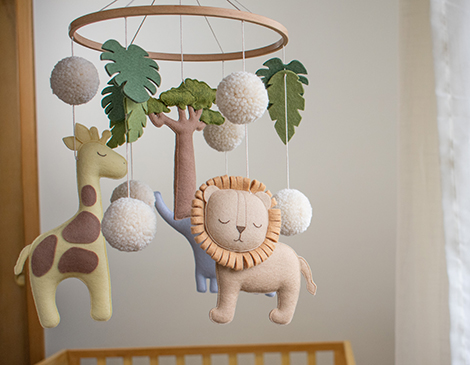 An Item You'll Love
Your little one will be dreaming of jungle adventures and cuddly zoo animals with Polly's Rainbow's handmade Jungle Mobile ($140), which features a sleepy giraffe, lion and elephant. The local maker's Etsy shop features an array of different hanging pieces that are both decorative and engaging; a must-have for any nursery. etsy.com/shop/pollysrainbow