When stepping into Kristin Gambaccini's home, your brain immediately gets a serotonin boost.

A bright teal staircase with peel-and-stick wallpaper and spray-painted dinosaur toys placed next to plants immediately give you a feeling of serendipity that reflects not only Gambaccini, but also her children. When Gambaccini and her family moved into their Medina home 13 years ago, she felt uninspired by it at first. But slowly, her gears began to turn.
"I asked myself, Why are you sitting here in the family room staring at the fireplace that you hate so much? Just fix it. You're at home, you can do this," says Gambiccini, a craft and lifestyle blogger and mother of eight. "Until that point, I had never used a power cable. I had never really painted anything. And so the fireplace was, like, my first big thing that I did."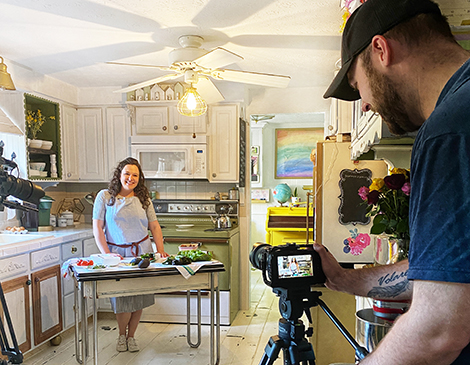 Around this same time, Gambaccini's blog slowly started to grow, eventually garnering her attention from local news stations, HGTV Magazine and even The Kelly Clarkson Show. Before long, she began to incorporate her different imaginative and budget-friendly DIY projects into her own living space.
"Once you're finished and you see that finished product and you're like, I did that, and it was so great. It was a snowball effect where I just started room by room doing different things."

After some trial and error, Gambaccini has settled on a pure white base — white walls, white floors and white cabinets — so that she can then inject color as needed. This color can be seen in various elements — whether it's a bright painting, a colorful shelf of books or pops of gold fixtures and embellishments. Beyond that, her goal was to make the home a place for her kids to explore their own creativity.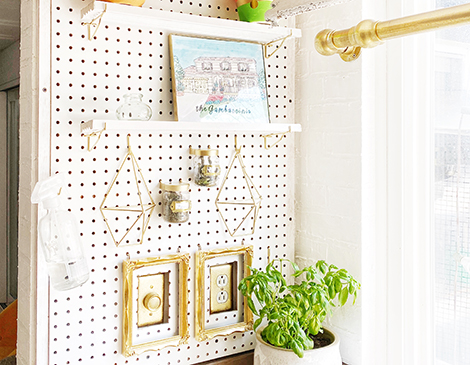 "We're a very colorful family. We have eight kids; there's constant energy in the house and there's always something going on," she says. "I had this aha moment maybe two years ago where I was like: This is the house that I want to have when my kids are grown but this isn't the house for them. So then I kind of changed my perspective and started adding color and I started personalizing the space with their artwork, their ideas and bringing them into it."
Here's a breakdown of four areas from Gambaccini's home and what went into them.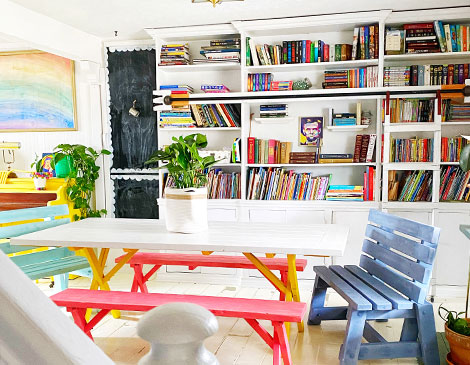 All in One
The first thing a visitor sees when walking into Gambaccini's home is the dining room, but an untraditional one. It also serves as the kids' homework area, library, crafting station and anything else the family might need to do in one place. A large table (a picnic table from Gambaccini's best friend's grandmother) sits in the middle painted white, while four benches, handmade by Gambaccini's husband, painted in various colors surround it.

"This space is supposed to be kind of like a formal living room, so we just decided to break the rules," she says. Another unconventional piece is a built-in bookshelf, filled with books which serves as a mini library for the kids — ladder and all. "I decided to kind of embrace the messiness of the bookshelf and then just splatter colors on it," she says.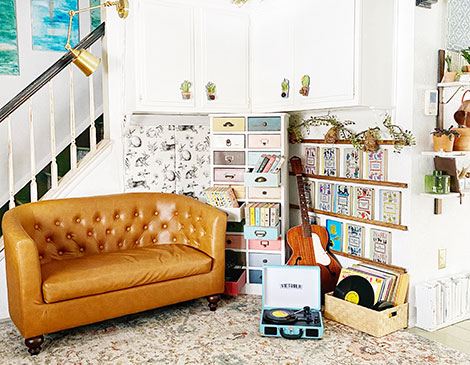 Homework Nook
Directly across from the dining area, Gambaccini utilized a little area tucked next to the staircase. With a cozy leather loveseat and rainbow-colored paintings, the goal of this corner was to create an alternate quiet area inspired by a series of vintage books Gambaccini found through Facebook Marketplace. "I pulled the desk out and kind of made this corner based on these books and I created these little book ledges because, obviously, it's a small space," she says.

Overall, this spot, which also includes a rainbow-painted chest of drawers and white hanging cabinets with cactus knobs, shows Gambaccini's philosophy behind decorating: Let your creativity guide you to a unique element, and then build around that. "When I go to create or recreate a space, I find just what I need for that space when I need it. And that's kind of to me like the universe's way of saying It is time."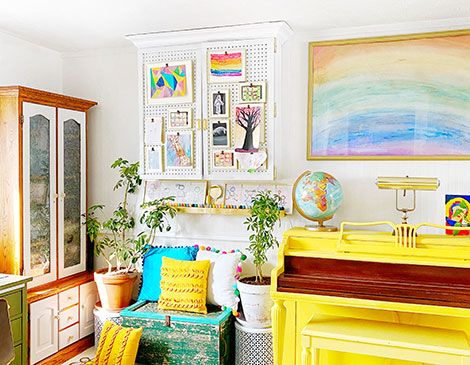 End of the Rainbow
A piano painted in sunshine yellow leads you into the second half of Gambaccini's dining room, which rather seamlessly turns into an area that serves multiple purposes — a place for her husband to have his morning coffee, a reading nook for the kids and a gallery wall of original art. A handmade cabinet (which holds Gambaccini's favorite books) has decorated doors that showcase a colorful gallery of her children's artwork.

Above the piano, a large rainbow painting hangs with a gold frame — a piece that was born one Sunday afternoon when the family needed something fun to do. "Everybody picked a color and we made this rainbow art piece. We were having so much fun," she says. "It took three days for it to dry because they used so much paint but then I thought, I think I'm going to hang that up, because it's so pretty, and that is what led to me painting the piano."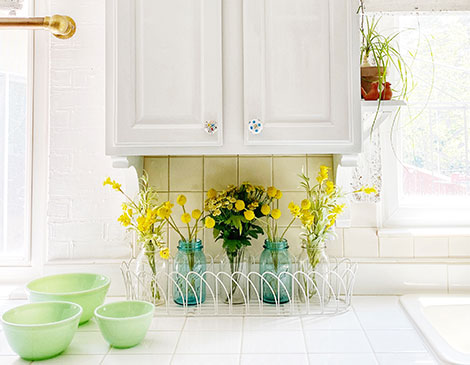 Home Cooking
With rays of warm light pouring into it, the kitchen starts with a similar white base as the rest of the home, but green became the main source of inspiration thanks to a vintage stove Gambaccini and her husband found. "The kids call it 'the hulk' because it's big and green," she says. "So we just started adding things like open spaces and stuff that made sense that would be multi-use because I'm always like, what could be decorative but also practical?"

Other storied items envelop the kitchen, such as an old work bench from her husband's childhood, mismatching handle knobs on the cabinets and an open-concept cabinet painted a sage green. Even the fridge, which came with the original house got a makeover: redone with a pink floral peel-and-stick wallpaper and golden handles Gambaccini thrifted herself.