It's the thought that runs through so many people's minds every time they see a beautiful old home that needs some tender loving care: Wouldn't it be fun to buy that place, fix it up and return it to its former grandeur? Antonia Marinucci of The Architetta, an Ohio City-based firm that specializes in renovating old houses, cautions clients upfront that such projects generally require more work than they ever expected. She answers our questions regarding what to consider before undertaking one.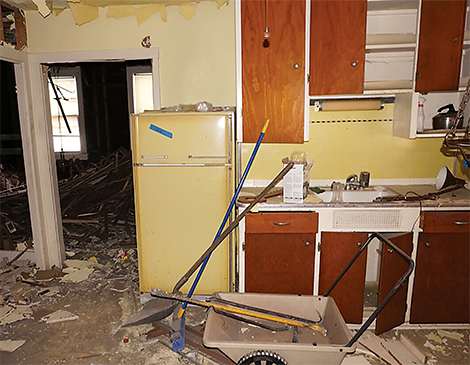 What's the most important thing to know about renovating any old home?
Having a lot more money than you think you need and a lot more time than you think you need is critical. Multiply everything by 50%, at least, from a cost and a timeline standpoint.
How do you determine what must be done to make it safe and livable — and whether you can afford it?
The first step will be evaluating the structure. That would include the foundation, the floorplates, which would consist of the floor joists. I would always encourage people to have a really, really reputable home inspector come and look. Really understand what the age and condition of the plumbing, electrical and mechanical systems are. Usually, something needs to be updated in one of those categories.
How much work should someone expect to put in?
Houses fall on a scale of how much work they actually need. There's great millwork, and there's plaster. The windows are
original, but they function. That's a possibility that the house itself really is in great condition. The other end of the scale is that full gut job, where you're basically touching every single piece of the house, inside and out.

In that case the house wouldn't even be livable. Then there are little micro-decisions in the middle of how far do you want to take something. Say, you might have great plaster, and you don't want to mess with it. But the house isn't insulated. Is that a trade-off that you're willing to live with?

Are there common issues you should expect to encounter?
In my experience, the more it has been modified, the more you end up having to fix. Usually, you find things like joists were cut through to run plumbing lines and sanitation lines that were inappropriate and structurally compromised. Or you open it up, and the plumbing wasn't done properly. It's actually been leaking condensation for God knows how many decades and all of the structures are completely deteriorated.
Are there modifications that can't or shouldn't be made?
Ultimately, the goal would be that we are sensitive to the original architecture of the house. But it doesn't necessarily mean that we have to preserve every inch of the house. If you want to take off that mantelpiece, keep it with the property. Or you can donate it or sell it to [an architectural salvage] company. Then someone else who really wants that piece will be able to put it in their home. Avoid dumpstering anything of historic quality. It's someone else's treasure.

Get inspired by our 2022 Home Issue with these decorating tips, local home spotlights and more.