The Inn of Chagrin Falls needed a full face-lift. The 15-room property in the heart of the city's bustling downtown hadn't been renovated since the late 1980s. "Everything was hunter green and navy blue and burgundy," remembers managing partner Molly Gebler.
Luckily, she knew just the man for the job: Christian Siriano, the New York City-based fashion designer and winner of the fourth season of Project Runway. In 2020, Siriano ventured into interior design, recently renovating the penthouse of The London West Hollywood in Beverly Hills, California.
Gebler's daughter, Emily, happens to be his personal assistant. "I asked my daughter, 'Do you think Christian would be interested in something like this?'" Gebler remembers. "And she said, 'Mom, I will give you his e-mail. But other than that, you're on your own.'"
Siriano was sufficiently impressed by Gebler's description of the Inn and Chagrin Falls in her early 2022 email to take on the project.
He'd already heard so much from his assistant about the array of historic homes, the cozy restaurants and the distinct water feature. The village reminded him of his own hometown, Annapolis, Maryland.
"[The town] was so cute and chic," says Siriano. "But I think what really was exciting for me was that this would be our first full hotel project.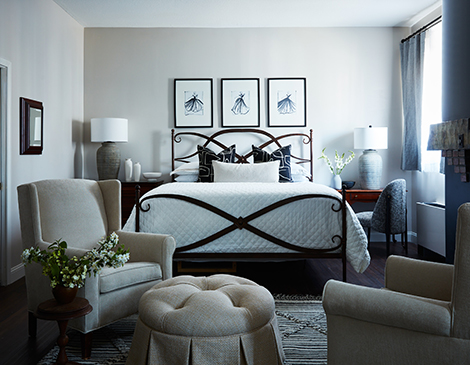 New owner Bret Adams, whose Chef Art Pour Restaurant Group bought the Inn in September 2021, wanted a decor that Gebler describes as "clean" and "sexy," with art-filled interiors that incorporated the latest design trends but respected the Inn's past. The expanded 1860s cottage had housed Life Savers inventor Clarence Crane's landmark Crane's Canary Cottage restaurant from 1927 to 1942, then an antique shop and artificial plant company before becoming a bed-and-breakfast.
Siriano endowed each room with trademark elements of an eclectic style he describes as "clean and modern but with a past."
"We got to have fun and make something that I think the town loves," the designer says.
Neutral Colors. The rooms and public spaces are awash in whites, creams, taupes and grays — colors particularly
suited to this property. "Most people, when they go to a hotel, are looking for a fresh palette," Siriano explains.
Repurposed Pieces. Siriano refinished or reupholstered many of the Inn's furnishings, the bulk of which were purchased locally from the now-defunct high-end retailer Brewster & Stroud. "I actually love some of the quirky, older furniture pieces that have been there for a long time," he says. Armoires originally built to stash televisions were turned into freestanding linen and clothes closets, nightstands masquerade as side tables. A vanity now serves as a writing desk.
Original Art. In the guest rooms, Siriano's paintings join framed photographs of local scenes. The artist's work tends to be more abstract and sometimes sparse. "There are no rules with [abstract art]," he explains. "It can inspire so many other things." Still, at the Inn, his standout piece is the easily recognizable depiction of the Chagrin Falls in the lobby.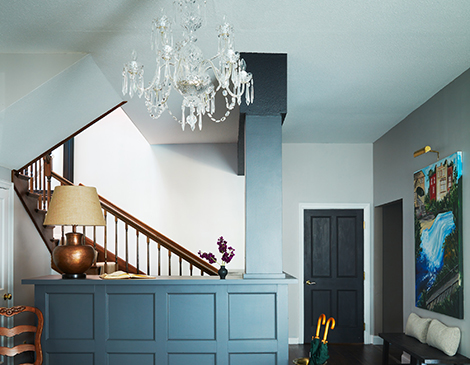 Statement Lighting. Also hanging in the lobby is a Waterford crystal chandelier. This gift, from the family of a longtime regular, quickly earned Siriano's approval. "I love a beautiful crystal or vintage lighting piece," he says. "That's kind of how I grew up. My mom was a big furniture lover and was always changing out a room. She loved a gorgeous chandelier."
A Nod to Fashion. Guests will find fashion books on coffee and side tables and Siriano's own framed dress sketches hanging on walls. "That, to me, is my signature," he says.