On snowy days when flurries dust the sky and the windchill is frigid, the view is like a snow globe from the Cain's greenhouse at their Chagrin Falls home. When it rains, they can hear the peaceful patter of drops against glass. Every day, all year, is pleasant.
"It's a place where we can enjoy nature and all the seasons," says Matt Cain, adding that beyond plants, the thoughtfully designed structure is a space for picnicking, entertaining friends and even homework time.
The Cains moved into the home last January, after living a few miles up the road for six years. Back then, they landed in Chagrin Falls in time for the start of the school year, "and we needed to find a place," he says. They were always looking at real estate. When their
oldest daughter said one evening, "You have to check out this house," after receiving a Zillow update, the Cains agreed: "It's amazing!" They reached out to realtor Kristen Thalman from Howard Hanna's Worley/Heater Team and
immediately fell in love with the home.

A Glass House with Grit
The five-acre property backs up to the Western Reserve Land Conservancy with trails to explore. Landscaping includes 20 raised garden beds, a spacious deck, patio and green space. But what makes the home stand out is characteristic Southern charm, including the brick exterior's mortar wash, pecky cypress woodwork and Bevolo light fixtures reminiscent of New Orleans.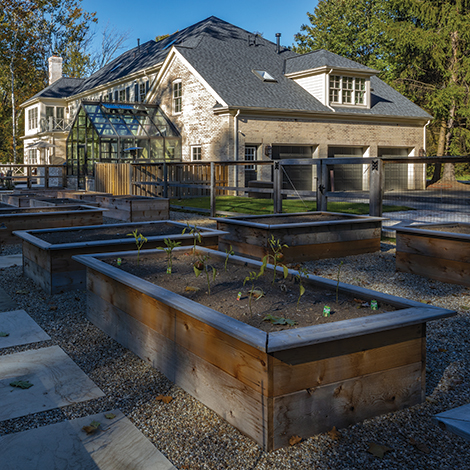 Previous owners Walter and Alice Hoyt grew up in the South, and when they relocated to Cleveland for a brief time in 2018, their priority for renovating the house was to instill a sense of bayou timelessness.
"We love the vintage historic feel like it has been settled in for a while," Walter Hoyt says of the home and, specifically, the greenhouse.
The Hoyts enlisted Jesse Sawby, interior designer at the architecture firm Paskevich & Associates in Cleveland, offering inspirational photographs that depicted a greenhouse with "a hint of fairy tale," Alice says. "We wanted a place where you could sort of get away — a special place that we could enjoy at any time."
Priorities included accessibility from the kitchen, durability so the greenhouse could truly function as a gardener's paradise, and a sense of wear and care — "a mix of getting it just right where it looks beautiful and lived-in yet can get tromped upon," Sawby says.
The flooring is old-world Italian porcelain tile in a black-and-white checkered pattern that has a surface with grit and texture, appearing as if water has fallen on it. "It has patina," Sawby says, relating that several checker design iterations were created before deciding on the final pattern.
"There's more texture than a clean, flat tile and fits that sense of establishment, along with standing up to the wear and tear of being a functional greenhouse," Walter says.
The couple was so pleased with the flooring they replaced hardwood in the entryway off the garage with the same materials.
"There's a lot of traffic there, and with wet boots, we found that out quickly," Walter says.
The greenhouse skirting — a footer-height perimeter of brick that precedes walls of glass — is finished with a mortar wash that aligns with the treatment the Hoyts chose for other brick surfaces on the home exterior. Referred to as German Smear, Sawby explains how a mixture of different plasters is blended and watered so it can be applied in varying thicknesses. There are technical aspects of building a greenhouse, of course. A heating element keeps the space warm in winter and seasons where the space needs warmth to balance the outdoor chill. Glass ceiling panels open to vent the house during hot summer days. Hidden floor drains allow excess water to flush out without looking obvious.
"We could hose the whole thing down if we needed to as we were watering plants, so it was designed to be functional," Walter says.
The positioning of a greenhouse is also essential. While proximity to the kitchen was integral; so was its direction for capturing natural light. "You don't want a greenhouse on the north side of a building," Sawby points out. "And, in our philosophy, a kitchen garden should be accessible so you can step out and snip some herbs and integrate it into your everyday life."
For the Hoyts, the greenhouse felt truly complete once shelves were mounted, seeds started and plants grew.
"It's amazing how effortlessly the greenery thrived," Walter says, "even on dusky days and in evenings, it still felt very bright in there."
The couple spent a growing season enjoying the space, growing herbs, veggies of all kinds and orchids. Seed starts that propagated could be transplanted into the raised beds outdoors, which were built at a height that allowed for comfortable digging and nurturing.
"I remember being out there with our three-month-old daughter," Alice shares. "I had her wrapped on me and was still able to work in the garden boxes because I didn't have to bend over."
Tech helped in the time between moving out and the Cains' moving in. "Irrigation could be controlled with an app, and the gardens were thriving with zero input from any human."

Naturally Charming
The greenhouse is one aspect of the generous outdoor living spaces — "rooms" for gardening, cooking with a fully equipped kitchen, and a patio with "tabby" paving incorporating oyster shells that are commonly found on southern break walls. Landscape architect Patrick Beam, of 9th Avenue Designs, carried out the taste of New Orleans in Ohio with thoughtful materials selections that are equally practical.
They chose an Ipe deck, "which is zero maintenance," and replaced Chippendale deck railing for a cross pattern, running wire to keep the area safe for young children.
Bevolo fixtures were carried from the kitchen to the outdoors, with about two dozen copper post lights. The flow from inside to out, aesthetically and functionally, is completely natural.
"When you step down from the outdoor kitchen and upper terrace, if you go one way you enter the garden and then greenhouse, and from there the raised planters," Beam says.
And the greenhouse and gardens function for purposes entirely beyond growing. While Cain says he's looking forward to growing hard-to-find ingredients like Thai chili peppers, "some aspects of how we use the space have been unexpected, like when my wife and three-year-old daughter will picnic there for lunch," he says. "They lay blankets on the floors and it feels like a special, separate space outside of the house like you are going to a new destination to enjoy a meal."
At nighttime, candles light up the glass room, and Cain agrees the greenhouse offers a unique and intriguing space that is multi-functional. He adds, "It is so clear that a lot of thought went into the design and a lot of craftsmanship went into details and features."