Curating delectable dishes with everyday ingredients — adding a fresh twist to comfort food — is the daily menu for Aubrey Johansen, better known by her social media handle ThatsWhatSheEats. The influencer, chef and recipe developer for brands like Vitamix and her wife, Megan, share a taste for the industrial and cozy, modern and whimsical.
So, when the time came for them to renovate their Ohio City historic abode, they went for an aesthetic that is approachable and creative. Admittedly, seeing beyond the 1970s kitchen, sunken living room, choppy floor plan and deteriorated basement required "vision," Johansen says with a laugh. "But we have a friend who owned a unit a few doors down, so we walked through and saw the potential."
They purchased the row house in May 2022. "We were both craving a little switch-up, I guess," she says, adding they had lived in Cleveland for a decade prior. They enlisted David Villa of Villa Renovations. The project started that June, and now the Johansens, their pets and a baby on the way are making their house a home.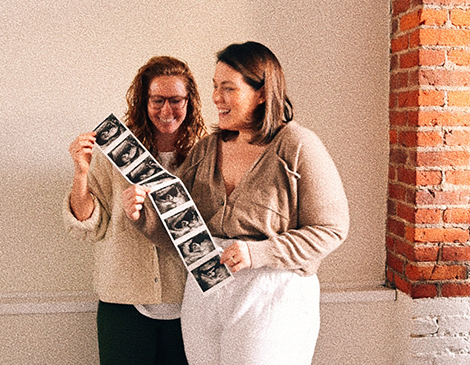 A Recipe for Life
It all starts in the kitchen, for Johansen. "Because I am a chef, the kitchen was my quest — and we wanted to keep it industrial and a little masculine but charming with some quirks," she says.
The first order of business was to open up a standard 30-inch doorway between this space and the main living area. The kitchen was an add-on about 50 years ago, so the wall was actually the brick back of the house encased in drywall. The goal: Free up 10 feet of space for an airy main level.
Using a hammer, single bricks and layers were painstakingly removed while a temporary frame held up the load-bearing wall.
The Johansens selected a six-burner range, seeking out dent-and-scratch and overstock appliances because of the supply chain slowdown at the time. "When all appliances were on backorder, we were able to see it and buy it the same day," she says.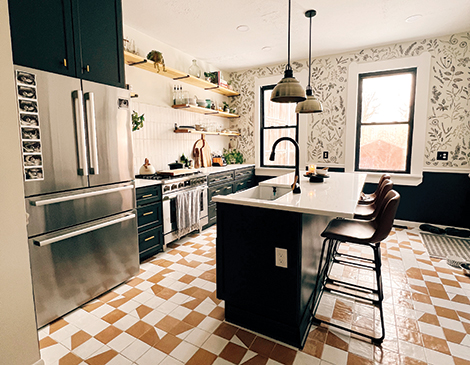 Navy cabinets juxtapose a creamy white brick backsplash, tying in with exposed brick throughout. Look down for whimsy — they chose four tile colors that Villa "un-patterned," per their request. "We tried to make a pattern so many times, and finally said, 'Let's be random,'" Johansen quips.
A hand-drawn, black-and-white mural by Shelly Svonavec of Svona Studio washes the back kitchen wall with herbs and citrus. "What better to put in a kitchen than the things we use all the time?" Johansen relates, adding that the artist included a hidden Easter egg with the couple's wedding date, 9-18-21.
Clean, white quartz countertops with a generous island provide plenty of workspace, and conveniences like a smart faucet are all about function. "You can wave your hand over it to turn it on or off, which is great if you have raw chicken hands or bread batter all over you," Johansen points out.
A generous refurbished farm table invites guests to linger. She says, "We love to be at home, and we wanted to create this space for friends and family to spend time and relax."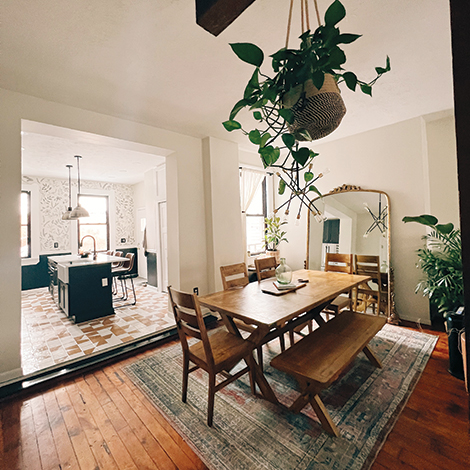 Reconfigured Conveniences
Moving laundry from the basement to the main level involved repurposing a coat closet, and a pint-sized office space next to it allowed for a powder room, which also features a Svonavec mural — this time, rainbows.
As for the lower level, walls with magnesium buildup from decades of water and salt buildup were scraped and waterproofed. Villa finished the floor with textured enamel and now the basement offers clean, dry built-in storage for extra dinnerware, serving dishes and photography equipment that Johansen uses for culinary shoots.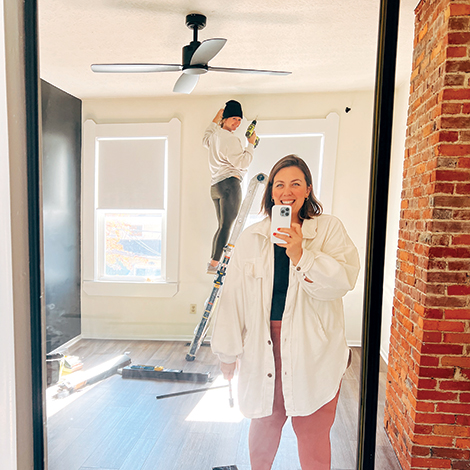 Upstairs Upgrades
With two roomy bedrooms and a bath upstairs — and minimalist closets with gilded-frame mirror doors — the Johansens considered how the level could better suit their lifestyle and future. With a baby on the way (due mid-July), they will carve a nursery out of the second bedroom while borrowing space for a walk-in closet that functions like a Jack-and-Jill.
Upstairs upgrades include warm luxury vinyl plank flooring that coordinates with the original hardwood on the main level, along with fresh creamy-colored paint and a sophisticated black accent wall in the master. The bathroom's pedestal sink frees up space.
The reimagined row house is home sweet home for the couple and promises to house many special memories in the coming years.
"It's an inviting place for gathering," Johansen says.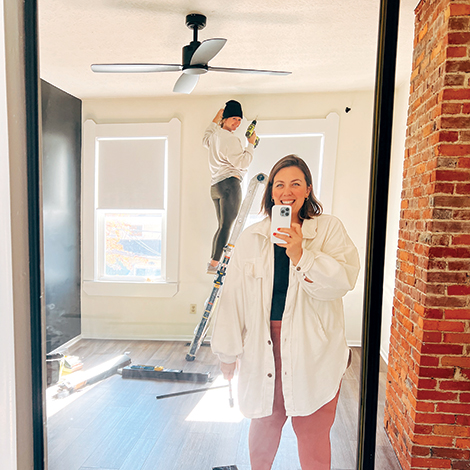 Get ahead of the weekend by signing up for our free weekly "In the CLE" newsletter — your guide to fun throughout The Land. Arriving in your inbox every Wednesday, this weekend to-do list fills you in on everything from concerts to museum exhibits — and more. Click here to subscribe.