Lush hues of deep burgundy spill over like red wine on the floor of the Mayfield Sand Ridge Club's high-ceilinged Grand Banquet room. One of the rich jewel tones repeated throughout the 2018 renovations by Linda Chittock Studio, it adds a vibrant electricity to the Frank B. Meade-designed English Tudor, which dates back to the early 1900s. Chittock uses artistic wall sconces and geometric shapes to complement the room's height, along with a lustrous chandelier. Two ruby colored couches anchor the fireplace, while traces of royal purple radiate on pillows and table bowls like hidden gems. Head designer Linda Chittock says the room's versatility is in large debt to these colors. "Those jewel tones are distributed throughout," Chittock says. "The commonality is the strength and the weight of the burgundy." 1545 Sheridan Road, South Euclid, mayfieldsandridge.com
Before revamping began in 2018, the Mayfield Sand Ridge Club resembled a refined medieval manor. Traditional to the English Tudor look, dark wood panels lined its floors and walls. Chittock's goal was to create a blended design that honored the building's history while also attracting young professionals from downtown Cleveland. New lighting, bright pops of color and a coat of white paint ultimately made this duality happen. "White [paneling] is not only popular in interiors right now, but it was also a wonderful fit," Chittock says. "[It lets] the beautiful historical beams shine through and be the feature element that you see visually without taking away any of the other elements of the Tudor."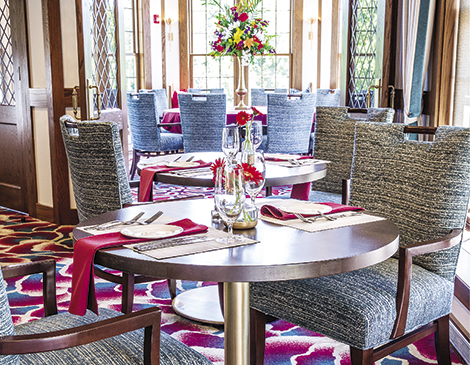 Fine Dining
The Members' Restaurant received new doors that open to an octagonal room brightened by windows. The custom carpet's hues of teal and magenta dazzle in the sunlight, while added warmth comes from the stained walnut and white oak on the aquamarine chairs. A contemporary edge comes from the pedal stool tables finished with sterile brass. "They all tie together with that dark, wonderful walnut wood," Chittock says.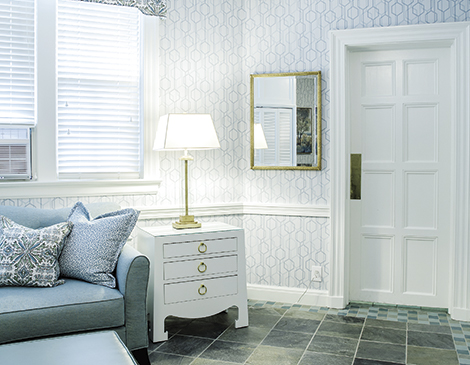 Cool Colors
The subdued and calm atmosphere of the Ladies' Lounge is largely due to an abundance of teal. The original blue tile in the connected bathroom set the color scheme for the new turquoise and blue cross tile and graphite slate in the lounge area. "Then I [looked] for feminine touches like the curve of the sofa," Chittock says. "[The room has] strong patterns that are appealing to both sexes, but yet it has this color that's soft."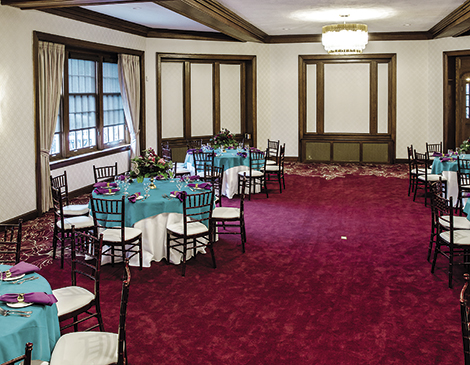 History In Action
Wooden beams cross above the Oakwood Room, which holds historic memories, from playing bridge to treasured wedding receptions. While Chittock painted smaller beams white, she wanted to use these to preserve the Tudor's charm. "All those [large] beams were gently restored. The stains [were] retouched," Chittock says. They balance the fountain of light that pours from the room's fluted, flush mount chandeliers which match those in the Grand Banquet room.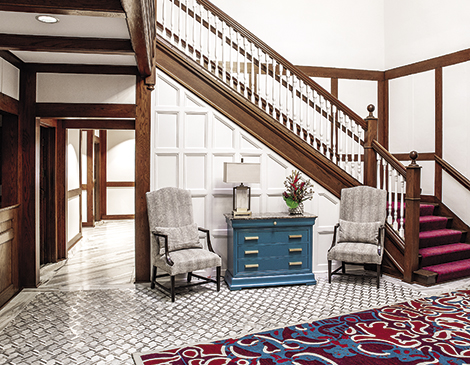 New Life
A blaze of spattered red, maroon and teal jewel tones, the carpet in the foyer teases the eye with what's to come. The less conspicuous marble mosaic tile from Thomas Brick Co. and gray sitting chairs complete the neutral look while allowing a bold, sapphire chest of drawers to pop. With an elegant marble top, this flamboyant piece is actually one of the club's revived antiques. "It's very modern," Chittock says. "And then we have traditional furniture, which [adds] a bit of a surprise to it."