Summer nights are decidedly more charming in this lush, symmetrical backyard oasis in Huron. The transformation from what was once a wide-open, empty grass field is completed by winding, natural stone paths, Bellevue limestone columns, blooming hydrangeas, perennials and colorful hibiscus plants and an eye-catching pool.

The owner gave the landscape designers at Green Impressions Landscaping inspiration drawn from Old World-style architecture and expressed a desire for multiple seating areas for different occasions. The design team also looked for ways to make the entire 20-acre space feel connected, even though it contains separate elements. "When we designed it, we kind of came up with these access points, or these lines," says Joe Schill, owner of Green Impressions Landscaping, "so when you look at things they intersect."

Beyond those flourishes, the design team let their imaginations run wild, placing a custom spa area near one end of the pool and multiple seating areas around a natural pond. To add more European flair, a bocce ball court was added to the outskirts of the property near the pond. "It's got everything you really want there for a staycation for sure," says Schill of the backyard.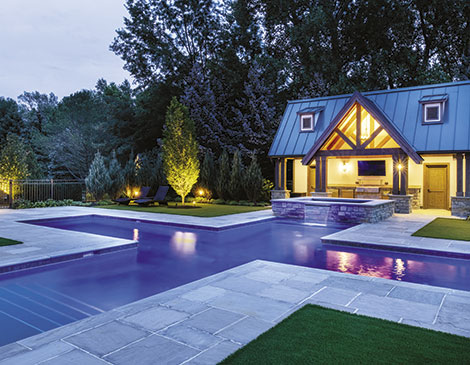 Feature Reflection:
The 10-by-50-foot cross-shaped pool is as practical as it is aesthetically pleasing. It serves as one of the centering areas for the entire backyard as it connects to various seating areas and the custom spa, but it's also great for a few laps or a refreshing dip. "When you're not using it as a pool, it's also kind of a water feature," Schill says, noting that the dark bottom of the pool reflects the structures around it, especially in the evening when illuminated by light.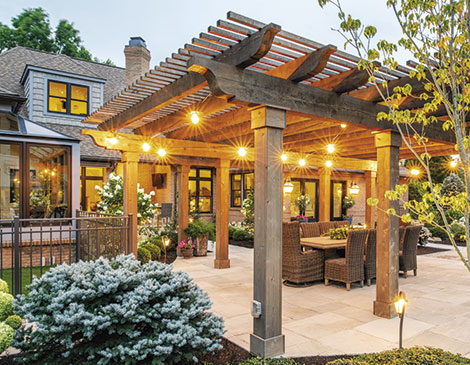 Outdoor Dining:
As you walk down the pathway out of the house framed by white florals and bright hibiscuses, you're greeted by a grand dining area that seats up to 10 guests perched under a cedar pergola. At night, the entire area glows with string lights. "There's a lot of direct sun in that area, so that gives them a chance to still sit out there and have dinner without having the sun beat directly on them," says Schill.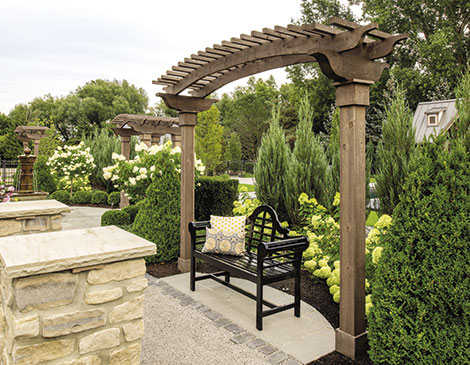 Secret Stops:
Each winding pathway leads to new sanctuaries for escape — whether it's a fire pit to sit around or something as simple as a well-placed bench. Each path is highlighted with matching masonry columns. "It's perfect for just wanting to take a stroll then sit down, have a glass of wine or hang out and read a book," Schill says. "So there's just a lot of neat little areas that are kind of hidden."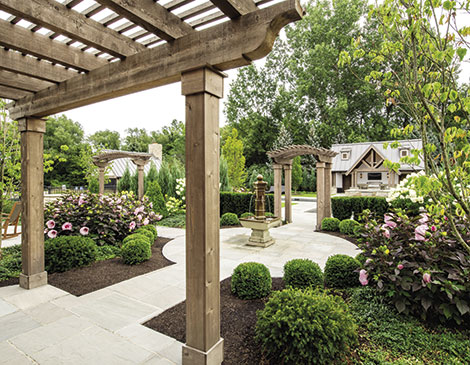 Fountain Head: Schill says the fountain is one of the many elements that takes inspiration from some of the styles in the house's interior, which has a more vintage English feel. The fountain stands between the dining area and the pool and serves as an intersection point for the various paths. "We let [the owners] know for this spot, we wanted to see some type of feature there, and they created an idea for the fountain," Schill says. "The whole idea was to give it a little bit of an Old World look."