Light crackles across a vibrant green tile. The polished ceramic and copper glaze blushes a million dazzling directions. The design recalls bygone days, when electricity was the latest invention; an ode to a Victorian style that seemingly drifts from a steampunk dream. But those who know the owner of this exuberant bathroom wouldn't be fazed by the fantastic scheme and color choices.

"It's a sin to love a house as much as I love mine," says April Hoy, a mother, Lakewood City School librarian and tap instructor who bought the house 12 years ago.

In an attempt to make the most out of her 1894 Lakewood home, Hoy decided to convert the guest bedroom into a bath and walk in-closet. "We don't have a sectional, we have a tufted velvet sofa … a copper ceiling in our kitchen," Hoy laughs. "It's a little quirky."
Sean Carter, a Sapphire Pear senior interior designer, helped bring Hoy's eclectic taste to life with bold, candy colors, while paying homage to traditional Victorian trends.
"It was really refreshing to have a client that was open to all those bold colors," Carter says. "I really focused my design on the closet. So that was a lot of fun to plot all those prints and all the contrasting things that are in that space."

Bold colors are Hoy's favorite, which explains the sugar rush of patterns blooming in the walk-in closet. The ceiling stands out with a peach and pink floral wallpaper, which plays with the globe shape of a glass light fixture Hoy had bought on her own. Below, it tugs a magenta hue out from the Rifle Paper area rug, like a reflection in a deep, navy lagoon.
Floral patterns weren't unusual in traditional, Victorian style, Carter says, though historically, the colors would be far more subdued. Turning the volume up to maximalism revitalized the space with an edge, while the lavender walls provided a calming backdrop.
"I wanted the wallpaper to be the focal point," Carter says. "I wanted the walls to kind of disappear."
Hoy's adoration for antiques can be seen amid the ornate jungle of shelves and racks. An emerald-and-flowered chair is an antique bought from a Lakewood estate sale. It was reupholstered by Carter particularly for the redesign, its brass nail head trim expertly preserved.
The peach globe lamps originate from Hoy's great uncle's antique shop, and they perch atop his sister's waterfall vanity from the 1940s.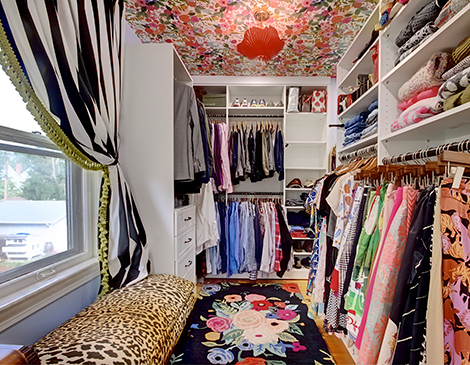 "A lot of my antiques are from family members. I get to think of them and feel like they're with me in this house," Hoy says.
A purge of her mother's garage led to the discovery of two stained glass windows, now paneling Hoy's emerald green bathroom. Their colors inspired Hoy to go with pink and green patterned window valances, which Carter had custom made. They reinforce the "whisper of pink" Carter applied to the bathroom wall.
The rest of the bathroom is anything but a whisper. The glossy emerald tile explodes like something from The Wizard of Oz. The brazen sinks are a call back to the 1800s, thanks to their traditional pedestal design and brass legs. The orb-like light fixtures bubbling from the mirrors above each sink are the modern element to the room.
"There's a very subtle nod to a floral design in them where the bulbs are," Carter says. Other details such as a clawfoot tub add even more character.
"It's still hard to believe that it's ours," Hoy says. "Everything in it is perfect. I wouldn't change a single thing."