Old and new styles intersect in this Cleveland home. Originally built in 1925, it boasts windows with a hillside view of the city skyline and an abundance of natural lighting throughout small, intimate areas. When the new owners purchased it in 2019, they wanted the home to retain its original character while also making it functional for their 21st century family.

Woodland Design Co., a three-year-old design build firm run by couple Molly and Fritz Machmer-Wessels, strived to keep the character of the home alive with a traditional approach by working in items such as a cream-colored sectional and a Samsung Frame TV as a piece of visual artwork. "I wanted the feel to be traditional, but a really fresh take on traditional," says Machmer-Wessels. "It also had some quirky spaces that were not just straightforward how you would design them."

This home includes elements such as an elegant living space and spa-inspired bathrooms that provide a specific sense of ambiance by blending the personalities of the owners — such as their expansive art collection — with the historical character of the home itself. While the space received a modern uplift, more traditional details were incorporated throughout the home to create a more cohesive style. "I think there's this magic that happens in these kinds of houses where you want to give everybody all the modern deliciousness of an updated space," says Machmer-Wessels. "But we really try to also marry it with a thoughtful approach to preservation."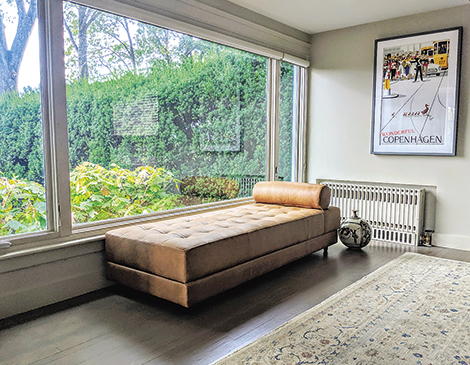 Natural Framing
Another element of the living room is a separate area solely created for sitting and staring into nature, since the home is surrounded by lush areas of greenery. With a large leather daybed and some wall art from the client's collection, this corner of the living room turns into a perfect spot to sunbathe in the comfort of their living room. "We thought since you already have this beautiful greenery around you, why not work with that to make it an art piece?" says Machmer-Wessels.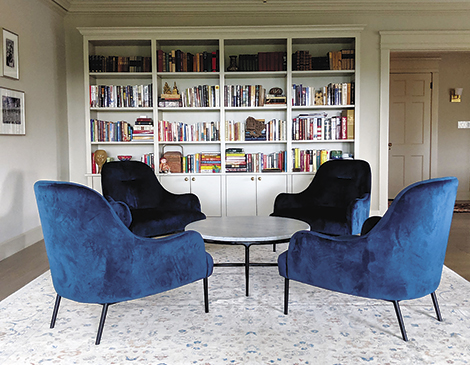 Sitting Pretty
Highlighted by four lush blue velvet chairs and built-in shelves to showcase the homeowner's sculptures, books and artifacts, this mini gathering space in the L-shaped living room becomes a perfect spot for games and conversation starters. "They have a lot of family so when they have holidays and stuff, they wanted to have different sections and vignettes where people could be chatting," she says. "I think those four chairs are just begging you to get in there, since they're kind of wide and you can curl up in them."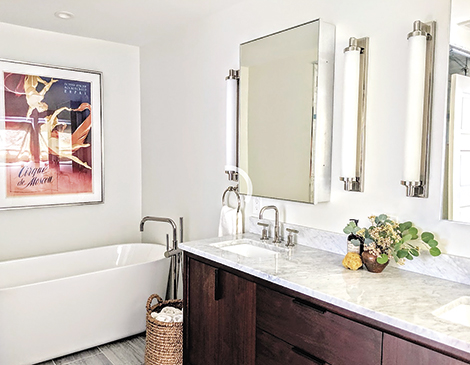 Spa Day
Machmer-Wessels creates a feeling of escapism in the master bath with a large, yet elegant soaking tub along with a steam shower lined with natural limestone and a soothing blue tile. Plus, instead of going with a predictable full marble loadout, she opted for a walnut mid-century vanity with a hint of marble. "We wanted everything to be low profile," says Machmer-Wessels. "We wanted the materials to be really rich, but we didn't necessarily want the shape of anything to be over-the-top."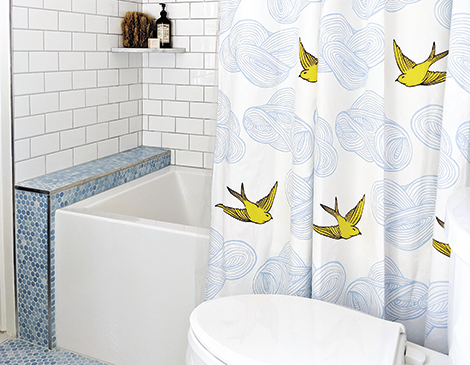 Bath Time
For the kids' bath, the vision was simple, yet fun. With classic white subway tiling for the walls, the pop of color comes from a playful curtain and a bright, sky blue tile that is also comfortable to walk on. "I think the other thing is that we didn't want it to feel too feminine, and we didn't want it to feel too masculine," says Machmer-Wessels. "We really just wanted it to feel fun, new and fresh."