Feeling unlucky? The artists over at Vagabond Comic Collective, Cleveland's self-described independently published, all-ages comic anthology, may be inclined to concur.
The collective's new issue, dubbed the "Unlucky Issue," is a 90-page collection from 20 authors (featuring a lineup that includes Brendan Tobin, Leigh Gonzalez, Lindsey Bryan, Allison Gajewski, Seb Ortiz, Serena Fantozzi, and Theo Bosak) that shows what it means to be down on one's luck.

Along with the stories that feature hilariously existentialist black cats, mummies and lottery tickets, Bostick says the high points of this issue's production were the matte cover art from Quill Kolat and the artists' character development from pervious issues. "The stories that came out of [our bad luck] were amazing," says Vagabond co-founder Sequoia Bostick. "My favorite part is how everyone chose to interpret what the unlucky issue was to them."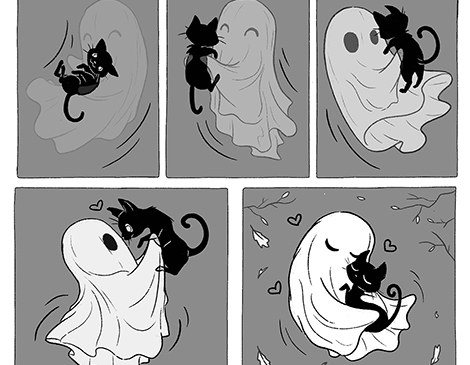 Bostick co-founded the collective with Amalia DeGirolamo. To be a vagabond is to be a wandering worker and Bostick and DeGirolamo are at the helm of Vagabond Comics' wayfaring ship, as the duo work as the collective's editors, illustrators and social media managers. Think of them as a pair of do-it-all artistic drifters.
But they're not alone.
Bostick says she envisions the group's aesthetic, and their mission, to be similar to stories told over a trash bin fire — everyone contributing what they can when they can to keep the light they put out into the world burning.
Nine years ago, she and five of her friends emerged from their studies at the Cleveland Institute of Art and their respective lives into a world they worried would be unforgiving. By July of 2015, they created a place where they could be themselves and encourage Cleveland's budding comic community to grow.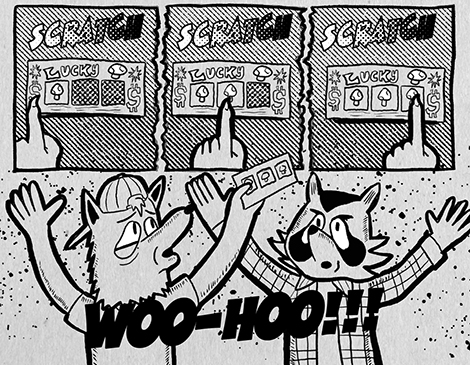 "We started to give others more freedom to create and put out the work [they] want to put out," Bostick says." She estimates that the team has grown from just their group of six friends to around 20 contributors consistently over the past seven years. Issue one included work from Sequoia Bostick, Amalia DeGirolamo, Fabienne Duteau, Luke Graber, Salem Powell and Hazen Becker.

After a two-year pandemic-related hiatus, the collective is back and bringing their storytelling to Cleveland. But between rising printing costs, all-virtual formats and tough decisions to make on submissions, the group has had its fair share of challenges.
"Everything that could have gone wrong with this issue went wrong," Bostick says.
To help support the collective and get your hands on your very own jinxed copy of this latest issue, visit their online Storenvy site or buy a digital download at their Gumroad site. You can also find Vagabond's print copies by visiting local shops like Superscript Comic, Mac's Backs - Books on Coventry, and Carol and John's Comic Shop.