Interest in vinyl has continued to soar in Cleveland and across the country, but collectors like it for different reasons. For some, like Bridget Ginley, the search for that one record she has wanted for years is just as important as the score.
"We're Midwesterners," she says. "We like a good hunt."
Ginley, the host of Erie Effusion on WRUW-FM 91.1, owns a couple thousand records with her partner. She cycled through the different formats — tape, CD, download — before coming back to vinyl. There's something about that sound that isn't present in other formats; and then there's the aesthetic.
"It's like a piece of art, to find the condition it's in and wonder where it's been," she says.
The spotlight on vinyl is perhaps brightest on April 22, when independent stores celebrate Record Store Day. Many also carry special releases, which this year includes everything from Taylor Swift to Art Blakey & The Jazz Messengers. Consider this your map to Cleveland's record store scene.
Blackbird Records
While the store named after the Beatles' song is a newcomer to suburban Medina, Blackbird Records has already established itself with locations in Wooster and Mansfield. Expect a mix of new and used wax. Need a turntable, some rock art for your wall or an autographed collectible? The store has you covered, says owner Joshua Lehman. Various locations, 234-802-4082,instagram.com/blackbird_records_wooster
Blue Arrow Records
The Waterloo neighborhood mainstay found its niche and stayed true to it: used rock, R&B, country and more. "We have a few new releases, but if they want vintage, they come this way," owner Pete Gulyas says. If you're lucky, you'll also get to pet a cat or two. 16001 Waterloo Road, Cleveland, 216-486-2415, bluearrowrecords.com
Brittany's Record Shop
Brittany's Record Shop is a go-to for hip-hop, R&B, soul, jazz and reggae fans. After several locations throughout Cleveland, a curated selection is now nestled in City Goods, located in the Hingetown enclave of Ohio City. 1434 W. 28th St., Cleveland, brittanysrecordshop.com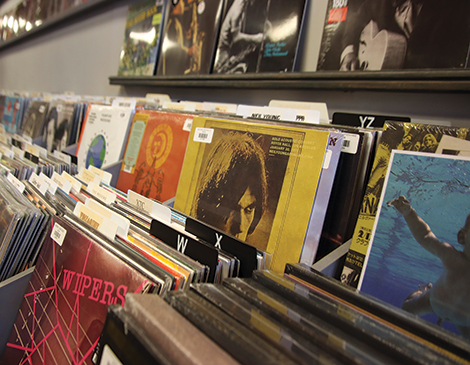 The Current Year
Perhaps best known nationally for its "Parma for Pavement" event, the store has an eclectic mix of vinyl. Find rock records, but also things off the beaten path, with a focus on mood music, exotica and lounge. 5580 Ridge Road, Parma, 440-879-7227, thecurrentyear.com
Hanson Records
Much like Oberlin itself, Hanson Records is just a little bit out there. The store stocks classic rock but also has a deep catalog of jazz, experimental and noise. The hardcore collectors who want to spend a bit more will surely find something on their display walls. 25 1/2 W. College St., Oberlin, 440-467-0855, hansonrecords.net
Hausfrau Record Shop
Don't let the small collection of this Gordon Square shop fool you. The quality of the punk, metal, R&B, jazz, world, experimental and noise records is remarkably high and as eclectic as it sounds. It's also really nice to literally go through an entire shop's inventory in one visit. 1388 W. 65th St., Cleveland, 216-394-5171, instagram.com/hausfraurecordshop
Hollow Bone Records
A strip mall in suburban Akron is not supposed to include a good record store, but Hollow Bone challenges that notion. The Fairlawn shop, open since 2015, has a large selection of new and used rock, jazz and other records ­— including some local picks — along with turntables. Don't miss the discount section either. 2721 W. Market St., Fairlawn, 234-334-7484, hollowbonerecords.com
Late Nite Records
Ever get the itch to shuffle through records but all the stores are closed? Late Night Records has you covered. Open until midnight every night, the new-ish Clark-Fulton shop has a variety of rock, hip-hop, electronic and more to peruse. If you're lucky, you'll browse while a DJ is spinning. 2602 Walton Ave., Cleveland, 440-915-1411, facebook.com/lateniterecordscleveland
Mistake by the Lake Records
A new kid on the block, the West Side shop has an ever-growing mix of used records and vintage media (think cassettes and VHS). But the real attraction is its selection of new Cleveland music. "We try to focus on local, be it cassette tape, vinyl or whatever format they put it out on," says owner Andrew Kirschner. 6502 Lorain Ave., Cleveland, 440-317-0317, mbtlrecords.com
My Mind's Eye Records
With a large collection of new records of all genres, your best bet to find a modern record is here. The store, next to the former Barry Buick, also has a quality used section. Note to true aficionados: Check out the store's higher priced collectible items. 16010 Detroit Ave., Lakewood, 216-521-6660, mymindseyerecords.com
Record Den
Sifting through the store's massive collection of new and used wax can be overwhelming, but the shop has it all on hand because it eschews niches and aims to please everyone. "We try and have the deepest catalogue of everybody around," assistant manager Victor Cooke says. "We take pride in having what people are looking for most of the time." 7661 Mentor Ave., Mentor, 440-946-9909, facebook.com/recordden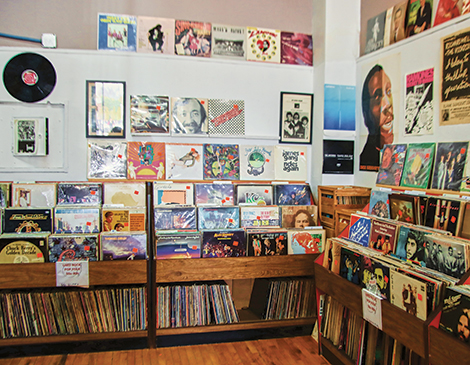 Square Records
New, used, indie, classic: Square Records seems to have it all. Located in the heart of Akron's Highland Square neighborhood since 2003, the store is known for its healthy selection of vinyl. Local musicians should also take note: The store will happily sell your new record, CD or tapes on consignment. 824 W. Market St., Akron, 330-375-9244, squarerecordsakron.com
Time Traveler Records
The store has a few thousand records, but owner Scott Shepard finds pride in being one of the last record stores in Northeast Ohio with a large selection of CDs, including many imports and hard-to-find items. "I think I have a really unique selection, with stuff that other stores don't bother carrying," Shepard says. 118 W. Market St., Akron, 330-819-8955, timetravelerrecords.com
The Vinyl Groove Records
Snuggled in a downtown Bedford storefront, owner David Wolfe says Vinyl Groove is "one of the stores that prides itself in specializing in everything as far as genre." People especially travel there for its new and used selection of rock, hip-hop, soul and jazz. It's also one of the few stores that repairs turntables. 679 Broadway Ave., Bedford, 440-439-8371, thevinylgrooverecords.com
Read more: Local Record Swap Events Welcome Vinyl Collectors and Appreciators
Get ahead of the weekend by signing up for our free weekly "In the CLE" newsletter — your guide to fun throughout The Land. Arriving in your inbox every Wednesday, this weekend to-do list fills you in on everything from concerts to museum exhibits — and more. Click here to subscribe.