Marcus Alan Ward found more things to say without singing a single word on his latest album Cruiserweight.
The Cleveland musician returned to his foundations of jazz guitar when crafting the project — eight funky tracks inspired by the musician's boxing hobby. Collaborators pop in and out, some singing, some rapping, but the mostly instrumental album never once features his voice.
"I took a step back from worrying about accessibility or making music for people to sing along to, and I think that was really a game-changer for me in terms of self-expression," Ward says.
In Cleveland, there are, of course, plenty of musicians making plenty of instrumental music, whether it's jazz, rock, hip-hop, classical, pop or something else. Those musicians have noticed a rise in the format in recent years, watching new subgenres pop up.
According to a 2021 report from the International Federation of the Phonographic Industry, people are consuming more music than ever before, listening for an average of 18.4 hours every week — some of it through TikTok and Facebook.
"A lot of our music is listened to in the background while we do other things," Ward says. "It's usually on while you're working out, doing laundry or commuting on the train, so instrumental music fits perfectly into modern life today."
(Courtesy This Lovely Light)
The Local Scene
In Cleveland, instrumental music takes all kinds of forms. Bands like Item and Oregon Space Trail of Doom dip into the genre, and other artists define themselves by it: post-rock band Royal Beasts, jazztronica performer Nathan-Paul, atmospheric horror duo Midnight Syndicate, electronic artists like ZOD1AC and p.stoops, experimental musicians like Stephan Haluska and ambient groups like Nomads.
Regardless of genre, they're all crafting textured soundscapes, rarely giving listeners any words to sing along to.
Elijah Bisbee, a solo artist and founding member of instrumental band Nomads, recently moved into singer-songwriter territory from his work hosting retreats and house shows in Cleveland. He still sees instrumental music as his musical base and makes it a cornerstone of his work, as seen in his 2022 collaborative album Geneva created with Chris Bartels and Blurstem.
Bisbee says he's heard from listeners who connected emotionally with his releases and were able to resonate with his instrumentals in helpful ways.
"There is something that's being expressed with [instrumental music], that might not land in the same way if there was a lyric trying to convey that idea," Bisbee says. "It's promoting introspection, promoting this idea of creating spaces for people to take time to themselves or accomplish something that they need a hand with."
He connected his musical "spaces" to the phrase "wallpaper music," a phrase popularized by Brian Eno. ("It's supplementing someone's environment rather than taking the focus of it," he says.)
"There's a lot of weight on the idea of creating a space for someone to find inspiration, find rest, find some other deeper part of what they need. It could be studying, it could be sleep," Bisbee says. "It's all about creating spaces, all about trying to get people to experience something."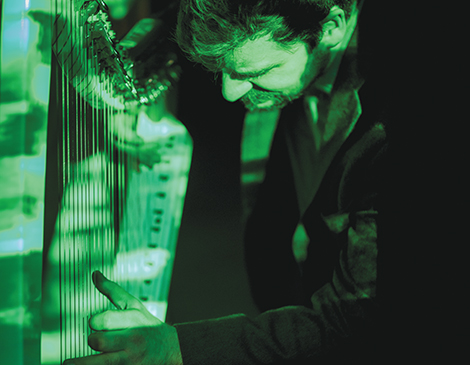 (Photo courtesy Jacob Swanson)
Making Space
Stephan Haluska, the managing director of Cleveland Uncommon Sound Project, aims for the organization to make performance space for music like the work he releases as an experimental harpist.
"We are very much on the 'cusp' of what is current, what is new in the new music sphere," Haluska says. "It really ranges in what music, what instrumental music, could be or what it means."
While Haluska performs some traditional covers and classical songs for events like weddings, he also focuses creative energy on inventive harp performances where he toys with the instrument itself. Wrapping tin foil around the harp's strings or dangling bells from its frame, Haluska forges new sounds in the process.
It's one of the ways he expresses musical ideas, through a format without any lyrics, Haluska says.
"Instrumental music is a way to express one's self through a rawer form of sound," he says. "That's something that certainly you have in music that incorporates vocals too, but when it does happen, that takes a secondary role. This is really much more on the forefront: being able to really explore sound, explore tambor, explore things like instrumentation."
Instrumental music took a backseat to the booming rock and pop genres of the 1950s. Now, the internet and electronic music have created new pathways for musicians and listeners alike, Haluska says.
"There's just been a large explosion of music all across the board, especially due to the internet and people being able to find all sorts of more niche kinds of genres," Haluska says. "Sometimes there's no real clear distinction."
For some, instrumentals offer a way to break out of their typical sound and to break expectations on their artistry itself.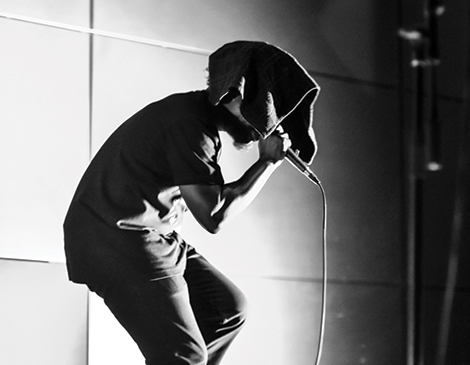 (Photo by Shane Wynn)
Producing New Vibes
Akron's Floco Torres, known for his solo material and as half of the hip-hop duo Free Black, uses instrumentals to show his ability as a producer. The artist composed music for and helped produce the 2022 podcast inCOPnegro: Black & Blue, examining Blackness and law enforcement. Torres composed the music real-time while listening to inCOPnegro interviews.
After the podcast's first season debuted, Torres also released his soundtrack to showcase his skills as an instrumentalist.
"I'm always going to be a child of hip-hop, but for most people, it also pigeonholes you. It's flexing that muscle that I can make things like this too," Torres says. "As a hip-hop artist people think I rap and that's it. But I play bass. I play keys. I know my way around the studio."
For Torres, the ethereal nine-track album tapped a new form of musical expression. ("I think I'm still having a little trouble shutting off the lyric part of my head," Torres says. "Everything I make, I want to rap to it.")
But it's also indicative of a larger trend within the music industry, of hip-hop artists showcasing a range of skills.
"There's been a big shift in all industries as a whole. Creators are trying to take their power back, and producers in the past 5-7 years, I'd say, have been into putting out instrumental albums and branding themselves instead of trying to get to one artist," Torres says. "If all I have is this batch of beats, I can put these out myself and now you'll listen to me."
Get a taste of Northeast Ohio's instrumental music scene in the playlist below, and be sure to follow Cleveland Magazine on Spotify:
(Photos: Marcus Alan Ward, courtesy Ellen Gobeille; Elijah Bisbee, courtesy This Lovely Light; Stephan Haluska, courtesy Jacob Swanson; Floco Torres, courtesy Shane Wynn)