Northeast Ohio is synonymous with rock 'n' roll. Kid Cudi and Bone Thugs-N-Harmony put the city on the hip-hop map, and our rich jazz history lives on through the Tri-C JazzFest. But what about country music?



"One of the best compliments is when people say, 'I don't like country music, but I like you guys,' " says Ryan Humbert, lead singer and guitarist for The Shootouts, a Northeast Ohio-based country and western band. "I laugh because we're as country as it gets."

Bullseye, The Shootouts' sophomore release, might just be the record that starts a honky-tonk revolution. Set to drop April 30, the record ranges from the barroom banger "I Don't Think About You Anymore" to the western swing ode "Bullseye" and the spaghetti western-esque "Rattlesnake Whiskey."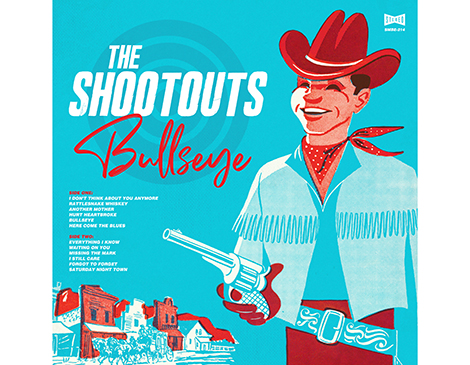 The band has already earned praise from Rolling Stone Country and No Depression. Often categorized as Americana, what you don't hear are the snaps, 808 beats or references to pickup trucks or drinking beers in parking lots synonymous with pop-radio country.
"I think a lot of that is just not knowing better," says Humbert, who hosts The Americana Roundup on Akron public radio station 91.3 The Summit on Sunday mornings and launched a 24/7 online radio channel in December. "What we're being told is country music right now isn't really country music."
Humbert started out more than 15 years ago as a solo singer-songwriter. Soon, he was recording with hitmakers in Nashville and leaned into the twang by recruiting country guitar phenom Brian Poston and a top-notch, well-rounded rhythm section in then-bassist Dan Nauss and drummer Dylan Gomez. The group played its first gig as The Shootouts at the now-defunct Euclid Tavern in 2015.
"The Shootouts literally reignited my passion for music," says Humbert. "It's been incredible to have this amazing group of musicians that understands the mission."
While working at The Summit as development director, long before hosting his radio show, he met 20-year-old intern Emily Bates. She said she could sing, and Humbert invited her to join the band one night on a few songs. She quickly became the Dolly Parton to Humbert's Porter Wagoner.
"Something just clicked," says Bates. "We've been like an old married couple ever since."
Its 2019 debut Quick Draw caught the attention of producer and country singer Chuck Mead. With the lineup solidified, the group hit the road, playing across the Midwest in Chicago, Indianapolis and Nashville and selling out gigs at Music Box Supper Club and in Columbus. The band hit the studio in March 2020 riding high on momentum.
"As we were recording, the pandemic started to take shape in the United States," says Humbert. "We were cutting all these songs and getting notifications that we were losing tour dates, $1,000 here and $1,000 there. But we managed to get it done."
Despite the circumstances, the impending doom didn't give the album that lonesome blues tone. It did, however, push its release back six months
"It was a conscious decision to make a fun album, as a whole," says Humbert. "It's been a rough year for everybody and we want to help people roll down the windows and take their mind off of it for 30 minutes."
The train is picking up steam again for The Shootouts. The band has played some livestream events, such as the Maltz Performing Arts Center's LIVE! streamed @ Silver Hall concert series, and booked its first acoustic gigs. Humbert hopes the band can start ramblin' in support of Bullseye this summer.
"We're going to wade back into the water, not dive in the deep end, by playing some outdoor gigs first," says the singer. "But I can't wait to get on stage again. The whole goal of the record was to inform the live show. That's what The Shootouts do best."