Annabella Andricks is very good at multitasking.
By 11 a.m. on a typical Saturday, Andricks has several desserts in the works. A cream, sea salt and sugar mixture heats on the stove. A chocolate cake cools, soon to be slathered with icing. Symmetrical squares of cold butter are tossed into flour to start a pie crust.
Nearby, a simple lined notepad keeps track of shopping lists, ideas and workflow.
She devises her own recipes, shops for ingredients and makes nearly 50 desserts each week for her growing list of restaurants, cafes and bars.
The freelance pastry chef has found a home for her Dramatic Snax business in the back of Saucisson, Melissa Khoury's Slavic Village butcher shop. Arriving just before the pandemic amid an avalanche of uncertainty, a sisterly bond forged between Andricks and Khoury. They cheered each other on through the darkest of times.
Saucisson's team quickly discovered the perks of having a resident pastry chef. Sometimes, there are leftovers and extras, bits of broken cookies and the like. "It's the worst," says Logan Dorado with a wicked grin, adding "we appreciate the scraps."
Naturally, Andricks has a sweet tooth (cookies are her sugary vice) but prefers to snack on saltines and good butter. "I taste everything, but my trimmings and things like that all go to them."
She starts the week making coffee syrups, cookies and brownies for Index Coffee and Books. Tuesdays are reserved for Juneberry: the legendary coffee cake and salted honey pie. Wednesdays, she fulfills the orders for LBM, Humble Wine Bar and Saucisson. Fridays and Saturdays she plays catchup and makes sure weekend brunch customers can meet demand. Sometimes she takes custom orders.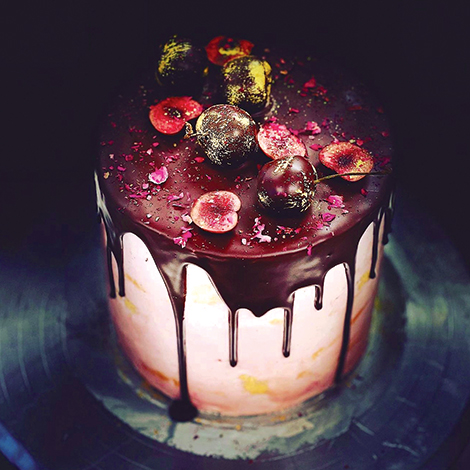 Time off is spent with her husband, James Rychak, dogs, cats and a bright yellow parakeet named Chicken.
There's something completely apropos about the name Dramatic Snax. Andricks' confections evoke audible expressions of pleasure and launch serious addictions. Even ordinary items reach another level — like her oversized Ho Hos, rolled with chantilly cream filling and a chocolate honey glaze.
Childhood favorites are core to her repertoire; among them are scratch-made ice cream, brown butter blondies, Rice Krispie treats, pies and cookies.
In her hometown of Bryan, Ohio, Andricks didn't find inspiration in the glass case of a gourmet bakery.
"I was always the grandkid in the kitchen with grandma, wanting to bake and cook and learn stuff from her," Andricks says.
Her pursuit started with gumdrop cookies. "When I was five or six years old, she gave me a pair of scissors to cut up gumdrops. I did it every holiday."
Fleeing small town life, Andricks enrolled in pastry school in Phoenix, Arizona, where she broadened her food knowledge, before returning to Cleveland where she'd work at Lola Bistro, On the Rise and The Black Pig.
Banter was her first customer, once she struck out solo in February 2020.
Her desserts are some of the most popular items at Juneberry Table. General manager Julia Simpson loves the way Andricks elevates classic recipes, like the cinnamon streusel coffee cake with brown butter icing. Her salted honey pie served with chamomile whipped cream is a menu favorite.
"The creamy filling is sweet but not too much so, and the crust is rich and buttery. The top is caramelized and salty to finish," Simpson says.
LBM, a craft cocktail bar in the Birdtown neighborhood, is also a client. Owner Eric Ho says Andricks' "texturally different" desserts fit their menu. "I call her giant Ho Hos 'baby burritos.'"
Andricks admits there's pressure in relying on herself but loves the freedom. "I love what I'm doing. I have so many connections across the city."
Bite into the Cleveland dining scene by signing up for our free weekly CLE Food & Drink newsletter — your guide to food and drink throughout The Land. Arriving in your inbox every week, this coverage fills you in on everything from mocktails to shareable plates — and more. Click here to subscribe.