Michael's Genuine Food & Drink offers simple but high-minded cuisine centered around one concept James Beard Award-winning chef and owner Michael Schwartz holds dear: "The secret to good food is good food." The latest expansion of his Miami flagship restaurant opens April 12 in the Van Aken District with a menu chock-full of Miami favorites and locally sourced ingredients. Heading into summer, the open-concept restaurant boasts a 58-seat shaded patio and an extensive list of wine, cocktails and beer. Here are three things to know about the new spot. 3427 Tuttle Road, Shaker Heights, 216-230-8022, michaelsgenuine.com

Genuine Vibes
You can see everything from the moment you walk in — the wood-fired oven hearth, the glass-encased dough room where pizza pies are kneaded and pasta extruded, and a raw bar showcasing the latest fresh imports of Alaskan king crabs, snapper ceviche and oysters from the northwest and northeast coasts. "The open concept is something that I love," says Schwartz. "It sort of tells people there's full transparency."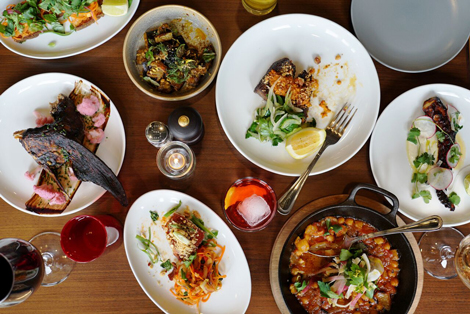 Dining Variety
Don't be misguided by the simple and concise menu. Categorized by small, medium, large and extra-large portions, each dish emphasizes an abundance of fresh ingredients to create dynamic, complex flavors. Snack on the liverwurst toast ($8), a crostini trio slathered with locally sourced liverwurst, mustard, raw red onion and iceberg lettuce, and follow that up with a roasted short rib ($37) with a cipollini celery and parsley salad, thick romesco and smoked almonds. Or, dive into the wood-oven-roasted whole chicken ($45) with three of your friends. "It really gives guests the flexibility to do whatever," says Schwartz.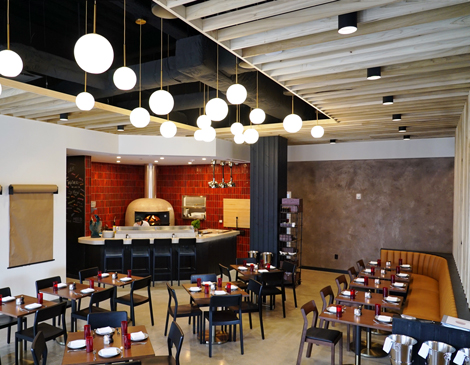 Oven Roasted
Get fired up about the wood-fired oven. Located near the back of the restaurant, this is where most of the menu comes alive. Try the wood-roasted stuffed onion ($15) filled with ground lamb, apricots, cumin, lemon and mint slow-roasted in a conventional oven for 45 minutes then finished over the fire for a smoky, rustic flavor. Double down on the wood-roasted octopus ($16), a Mexican take with crema and a sweet and spicy chipotle glaze served with sliced radishes, crispy onion and fresh cilantro. "I think our kitchens are small and they're not all tricked out with gadgets," says Schwartz. "That forces us to cook in a way that I think is simple."