Thanks to a partnership between, Brandon Chrostowski, founder of Edwins Leadership & Restaurant Institute in Shaker Square, and John Litten, executive director of the West Side Catholic Center, the new pizzeria boasts a brand new sit-down menu with authentic Italian cuisine and more than 100 bottles of wine.

By hiring graduates from both Edwins and the workforce development program at the West Side Catholic Center, the restaurant hopes to offer a second chance to impoverished communities. Proceeds from the restaurant feed back into the workforce development program to bolster future needs.

"The idea is to continue to break down barriers, and each population has barriers," says Chrostowski.

Here are three things to know before today's 5 p.m. grand opening.

The Space
With seating for up to 26, Ohio City Pizzeria is a quaint, familiar setting with lace doilies and checkered table clothes on every table, and vintage photos on every wall — Linten's own Sicilian mother is even pictured as a small girl. Don't miss out on reserving the private dining room — secreted away in the back and held for small parties. Its red walls and gold tile ceilings are reminiscent of an Old World aesthetic. "When you come into the shop, it's like grandma's house," says Chrostowski.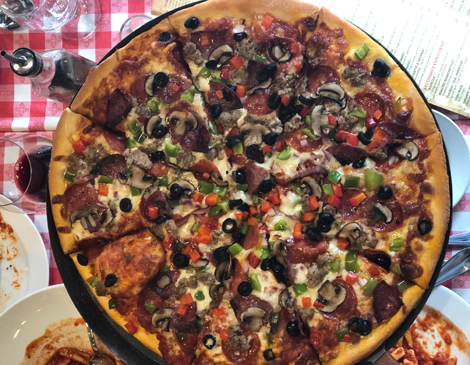 Pizza Pride
Chrostowski kept some of Ohio City Pizzeria's classics — from fried mozzarella sticks and chicken wings to garlic bread. Even the recipe for the dough used in 12 different pizzas has a classic, crisp crust that harkens to the decades-long legacy of the original restaurant. "We've retained the exact recipe with some very small tweaks," says Chrostowski. Try the Big Bill ($18-34) a hefty pizza pie covered with pepperoni, sausage, salami, mushrooms, red onions, black olives and red and green peppers.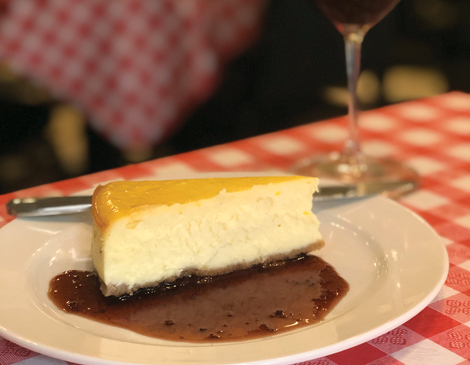 New Additions
There's a smattering of new authentic Italian cuisine to try, such as the enormous Cavatelli & Meatball ($14) made with pork, veal and beef in a rich red sauce. The Calamari ($12), cut thick, fried and sautéed with lemon in red sauce is must-try. But whatever you eat here, hold out for the Ricotta Cheesecake with Punch D'Abruzzo ($7) — a thin but punch-packed syrup made with pureed Amarena cherries and Super Punch Jannamico liqueur. "It's exciting to change gears here and invite people into our Italian house," says Chrostowski. "Those who are in this program deserve to be able to have the tools to be able to cook anywhere."