On any given day, you could walk into The Plum and be greeted with an ever-evolving menu that churned out one iconic dish after another — and it was possible your next visit would be entirely different. That's not the case with Heart of Gold, owner Jonah Oryszak's latest restaurant that opened Monday in The Plum's stead. After Brett Sawyer stepped away to focus on his sister restaurant Good Company, Oryszak and executive chef Adam Bauer decided it was time to flip the script by creating a smaller, consistent fast-casual menu with the same heart and soul that made The Plum sing.
"I hate the word approachable," says Bauer, who's previously worked at Moxie, Red, The Steakhouse, Trentina, Greenhouse Tavern and Sawyer's. "I wanted to do craveable food — things that were good for the soul."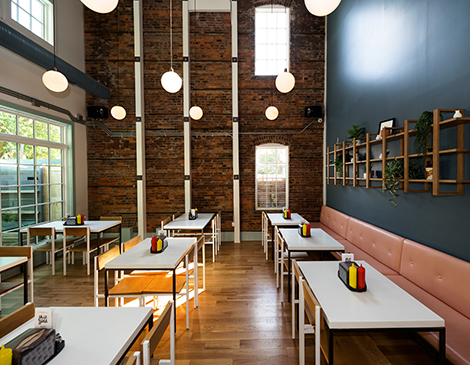 Bauer's menu is simple and straight to the point: from the top, he's created Lunchables ($16), a nifty starter pack for charcuterie board-loving Millennials that you can grab right out of the cooler before you seat yourself. But don't skimp out on getting the chicken drums ($10) — Bauer has taken what he learned at Greenhouse Tavern and perfected the approach to creating crisp, fall-off-the-bone drumsticks that are cured for 24 hours before undergoing an overnight confit process and fried to order.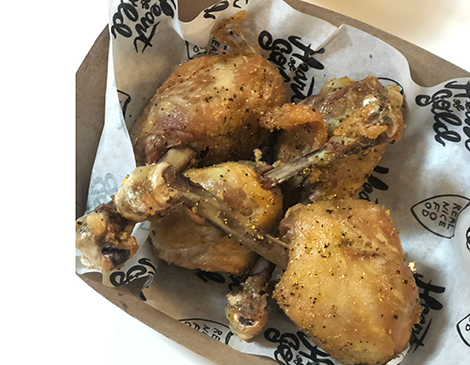 "It's treating something in a way that was kind of iconic," says Bauer.
With just four salads and grain bowls and six sandwiches, there's a lot to love in the little that's offered. "I purposely designed the menu to be small so we could be hyper-seasonal and run specials," says Bauer.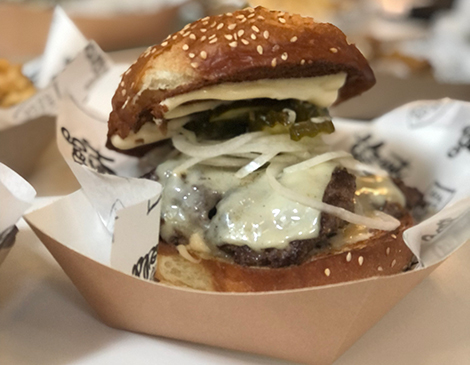 The smash burger ($14) isn't trying to reinvent the wheel, but it perfects what we already know and love about the local trend that's taken off in the last couple of years: with a subtly sweet mayo, American cheese, sweet onion and a plethora of dill pickles, it's a sandwich that's bound to satisfy any craving.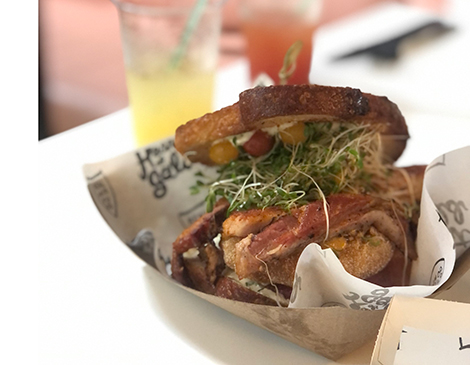 The king of the crop here is the Tomatopocalypse ($11): a beast of a sandwich, this bad boy pairs marinated heirloom tomato, fried green tomato and a hefty helping of tomato boursin cheese spread with a spice red pepper rouille. Add pork belly ($4) and you've got a strong contender for best sammi in town.
"My grandma is the reason I cook," says Bauer. "She had a garden in the back, and I would eat tomatoes off the vine like apples."
It's that level of care and attention to legacy that inspires Bauer to turn what was once The Plum into a new, hip gathering spot that welcomes innovation. In the next couple of months, Bauer is toying around with the idea of creating what he calls a Save It For Sundays series. While Heart Of Gold will be closed on Sundays, every once in a blue moon (perhaps even once a month) Bauer intends to host ticketed coursed events where he'll invite guest chefs to come in and show off their skills.
To test out the concept, Bauer is planning a Moxie reunion for Aug. 22 that will bring together eight former Moxie chefs such as Brandon Veres (now executive chef at Marble Room) and Sean St. Clair (now executive chef and owner of Nouveau Bistro & Lounge) for an experience that challenges those chefs to work together in new and surprising ways. Tickets for that event, which will be capped at 50 guests, will be available in the coming weeks.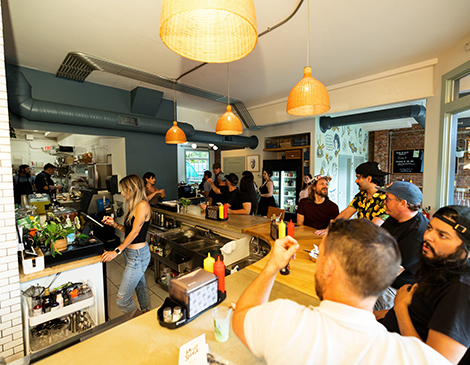 "We still have all the plates the Plum had," says Bauer. "A bunch of chefs in the city have been in previous high-end fine dining restaurants and have kind of gone the way of fast-casual or more approachable food in lieu of the pandemic, but we're going to save it for Sundays and bring in guest chefs."
When you go: 4133 Lorain Ave., Cleveland, heartofgoldcle.com