Circular symbolism weighs heavy at Sage Karma Kitchen. Centered around a round bar, the concept pays homage to the karmic cycle, most notably in the "what goes around comes around" painting on the ceiling.
Opened in July in the former Nickleby's Round Bar space in downtown Willoughby, the restaurant is dedicated to gluten-free and vegan options, such as tostadas, flatbreads and sandwiches. Still, fans of the owners' Tavern Six in Kirtland will enjoy heartier options such as grass-fed short ribs ($26) and keto chicken tenders/fries ($14).
Here are three things to know about the new Erie Street hot spot.

The Food
Anyone can find something to love on Sage Karma Kitchen's menu, where fresh, organic offerings are made from scratch. "It's not a traditional menu," says Teanna Vitantonio, who is vegan and gluten free and co-owns the restaurant with her husband, Dan, who eats meat but not gluten or much dairy. "It's something that caters to people who have dietary restrictions." But rather than being restrictive, the menu is impressively broad. A pair of diners could start with the pretzel sticks ($9), with plenty of creamy vegan ranch (vegan mayo base with secret spices) and vegan buffalo cream cheese for dipping. Then, one diner can enjoy a Senior's Psychedelic Burger ($13), a grass-fed burger with herbaceous mushrooms and Swiss cheese (gluten free bun available), while their companion tries the vegan Chakra Bowl ($12), a mix of zucchini, garbanzo beans, roasted tomatoes, corn, quinoa and homemade Zen vinaigrette. For dessert, the couple can enjoy some vegan and gluten-free cupcakes ($4) made in house by Vitantonio. Some offerings include vanilla cake with ginger turmeric "buttercream" and chocolate cake with dark chocolate chip cookie dough "buttercream."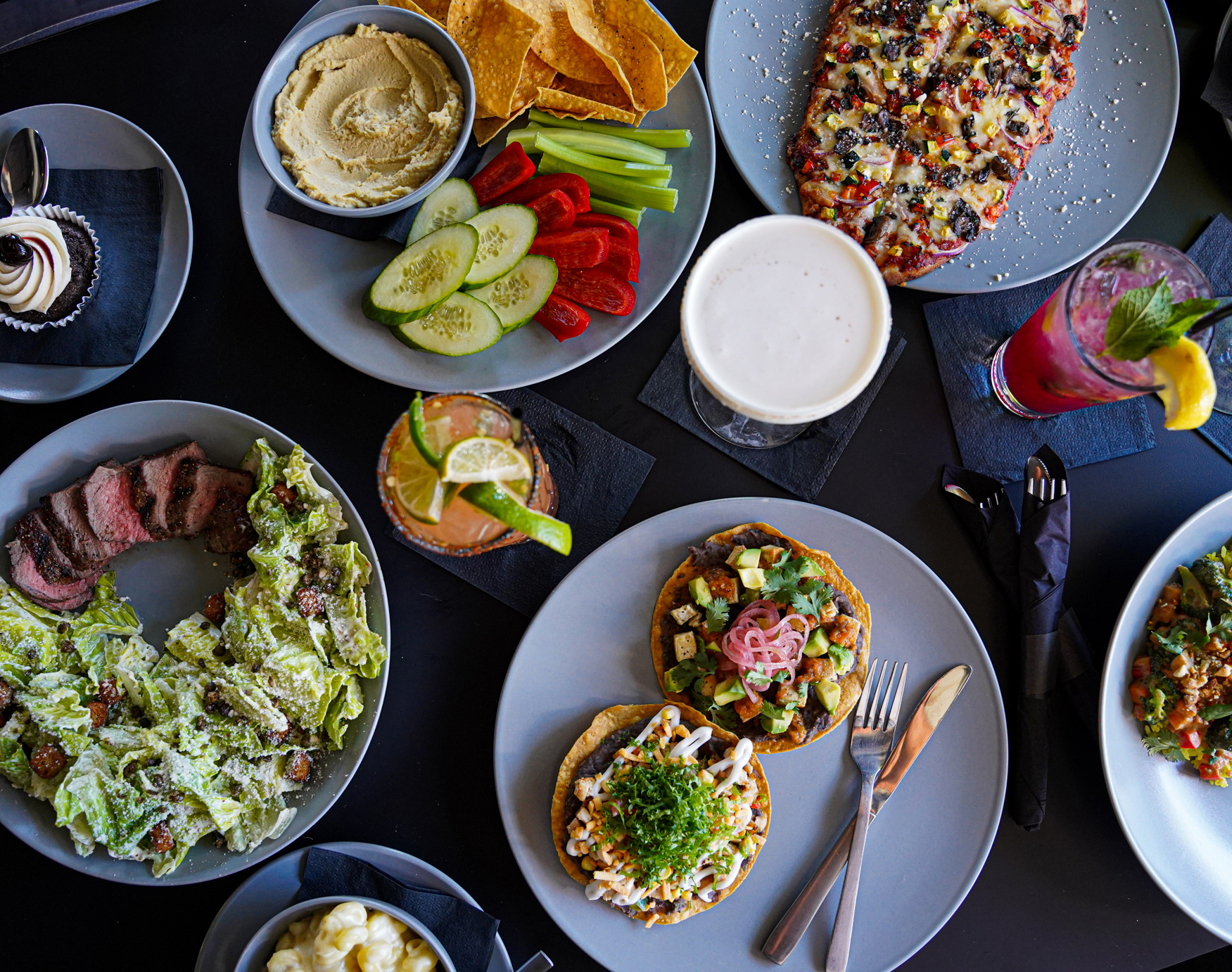 The Drinks
Vitantonio also creates the drink and wine list. A baker by training, she approaches her cocktails the way she approaches the cupcakes she bakes for Sage. "The first bite is the cake, then the frosting, then wanting the topper or filling to add something," she says. "That's kind of how I build my drinks. What's the first flavor — savory, sweet? How will it all come together?" The strawberry jalapeno margarita ($12) starts with quality tequila and Cointreau, then adds a strawberry simple syrup made with fresh strawberries, organic cane sugar and organic lemon. "When you taste it, you know it's not something that's been sitting in a jar," Vitantonio says. Fresh limes, fresh jalapeno and a sweet-and-spicy rim ensures that each layer of the drink has its own kick. And how's this for full circle: The hyper-fresh sage lemonade ($9) starts with sage iced tea, made in house from fresh sage at Sage, and contains Ketel One Botanicals peach orange blossom vodka and fresh lemonade.

The Space
Nickleby's Round Bar, which literally features a circular bar, in the historic East Side downtown perfectly fit Karma's tagline: "what goes around comes around," a karma-defining phrase painted on the ceiling. An enormous glass mural (painted by Vitantonio and crafted with her father and brother) displays the 12 Laws of Karma, including the restaurant-friendly "creation" and "giving and hospitality." The place is cleanly decorated with dark wood floors and simple, dark wood tables, gray walls and lots of light to counter it, including an in-wall extended fireplace. And don't worry if you're not feeling the calm, karmic vibe when you arrive. "At the door we are burning sage and palo santo [a South American tree]," Vitantonio says, "to get rid of bad energy and bring in good."

Try This: Since Sage opened, chef Chad Scott has topped corn tortillas with chicken ($12), salsa, vegan sour cream and vegan cheese or tofu ($11), avocado and pickled onions. In both offerings, creamy refried black beans with traditional Mexican and spicy, garlicy salsa roja add a base of flavor, heat and texture. The pan-fried diced tofu is crisp and firm, offering a surprising and refreshing bite when paired with a layer of velvety avocado and clean, crunchy pickled red onions. "When you take a bite, you get everything at once, all of the layers together," says Vitantonio.