Chef Zachary Bond is playing hero ball in Lake County right now.
First, in 2021, the former fine-dining chef, with resume stops like L'Albatros Brasserie, returned to Mentor to open the Spot on Lakeshore. The elevated breakfast joint is located in the former home of Lakeshore Eatery, where Bond got his culinary start. It's already a smash among Mentorites.
Now, Bond is setting his sights on another beloved Lake County gathering space: the Player's Club at Lost Nation Sports Park.
Bond and his wife, Marinda, have taken over ownership of the restaurant and bar inside the 13-acre sports complex on Lost Nation Road. After a soccer tournament this week, the couple will close from May 15 to June 4 for light renovations that include painting, cleaning and installing new lighting. The Bonds, who took over ownership from Mike Srsen, plan to rename the space the Club Lounge. Marinda plans to run the front-of-house and cocktail program, while Bond delivers the grub.
The foot traffic — with weekend tournaments bringing thousands of athletes to Willoughby — first attracted Bond when Srsen approached him about acquiring the Player's Club. But on a deeper level, the chef and his wife saw a gathering space built around competition.
"I always thought it was so cool as a kid when businesses would sponsor your T-ball jersey or something like that," he says. "To get a chance to do something like this and be involved in the sports community is really huge.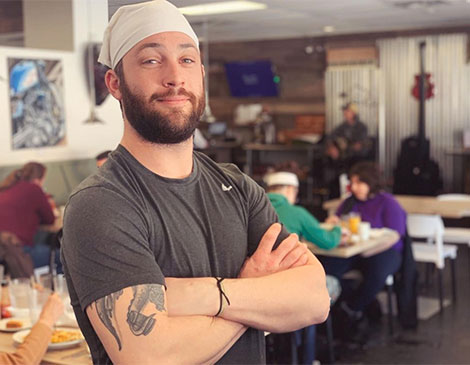 Lost Nation Sports Park opened in 1998. Hosting both youth and adult sports programming, the 80,000-square-foot former airplane hangar features indoor and outdoor soccer fields, virtual golf simulators, batting cages and basketball/volleyball courts. In 2015, a second location opened in Lorain.
When we spoke about the Spot on Lakeshore, Bond said: "​​I'm cooking for my friends and family — people that I understand."
The same goes for the crowd he'll see at Lost Nation. Bond, like many 20- and 30-somethings from the East Side of Cleveland, grew up at the complex practicing his sport of choice: baseball. Today, he still coaches hitting in the cages. So, he knows the space must serve families visiting for tournaments, adults after recreation and weekend visitors.
Bond won't say it, but I will: Many of us who grew up visiting the complex incorrectly thought The Players Club was a strip club because of the name. It obviously wasn't true, and we had a good laugh looking back on childhood ignorance when I admitted this to Bond. But the restaurant — which features two bars totaling almost 200 seats and an indoor-outdoor patio — was designed with a decidedly grown-up vibe for a place visited by so many kids.
More than just a new name, Bond hopes the rebrand feels just as welcoming for out-of-town families visiting for tournaments as it does for locals watching a game or a late-night fight on the weekend.
"Some of these people are coming from all over the state with their family for sporting events," he says. "But even just for Friday night, you should be able to come here and grab a pizza and play some video games while you wait for your food."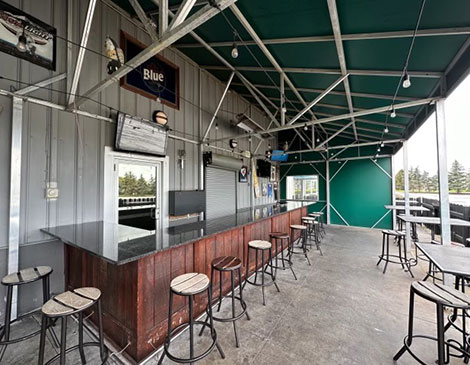 In addition to the two bars, the building features a 100-person event venue on the second floor. Bond hopes to host birthday parties, corporate events and more. There is also a large outdoor patio and a stage, where Bond hopes to host live music.
Regulars shouldn't expect too much of a shakeup on the menu, though Bond does plan to give it a personal touch. A popular hangout for those of Eastern European descent, the Club Lounge will continue to serve favorites like the Cevapi Dinner, a traditional Croatian sausage served with avjar (red pepper) spread and vegetables. The beloved wings won't leave either. Bond does, however, hope to add a gyro, loaded tater tots and maybe an over-the-top eating challenge if you didn't get your competitive fix on the court. He's also considering launching a menu for athletes looking for a post-workout smoothie.
"If you're a bar, you're gonna get a crowd," Bond says. "But with restaurants, you really have to put the effort and energy to do it right. That's where our team shines."
Mostly, though, he hopes to carry on the legacy of those before him in creating a gathering space for those in Lake County and beyond around sports.
"It should be family oriented," he says. "We want to be the place to celebrate that your team won a championship or where your kids want their birthday party."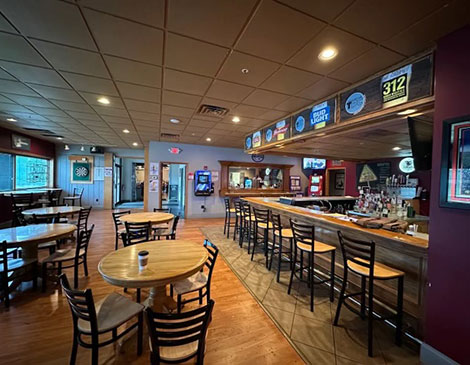 Bite into the Cleveland dining scene by signing up for our free weekly CLE Food & Drink newsletter — your guide to food and drink throughout The Land. Arriving in your inbox every week, this coverage fills you in on everything from mocktails to shareable plates — and more. Click here to subscribe.