Long before he opened Tiki Underground, Sean Coffey had a tiki bar in his basement — a tiki underground of very own. "I'd started reading about all these different drinks and decorations, and I was fascinated by how cool it all was," says Coffey, who lives in Bath.
He became immersed in "tiki culture," frequenting a digital message board where he befriended fellow enthusiasts and learned more about the history of the WWII-era movement inspired by Polynesian, Melanesian, and Micronesian cultures. In 2014, when Porco Lounge opened (and immediately thrived) in Ohio City, Coffey decided it was Summit County's turn.
With the help of his wife Jessie and the support of his online community, Coffey opened Tiki Underground on the Boston Heights/Hudson border in 2017. "It was a good, big place, and we really worked hard," he says, "but the location was tough." Then, just as the bar's five-year lease was running out, Coffey got a lead on a location in downtown Cuyahoga Falls, where Hunt's Bar and Grille was closing up shop. When he reached out to the longtime owner, she sold him the building without ever having listed it online as being for sale.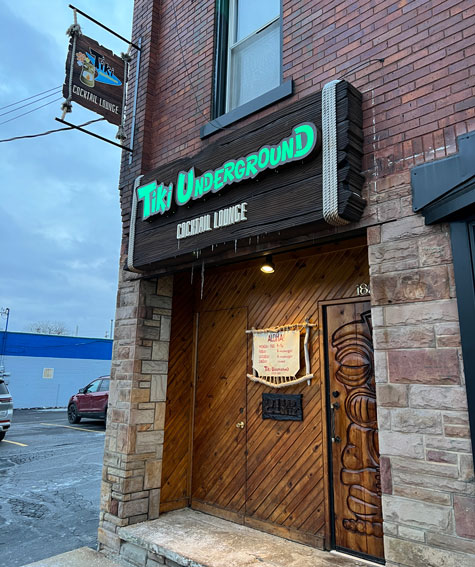 "I'm a big believer in fate," Coffey says now. "If you let things go the way they're supposed to, sometimes things just work out." Just a few months later, in September 2023, Tiki Underground opened its doors in its new spot — and business has been booming ever since.
Like all good tiki bars, the space is dark but not dingy; moody but still festive. It's lit mostly by hanging lanterns, and grass skirting, genuine bamboo and faux foliage abound, transforming what was once a bona fide dive bar into a true tropical paradise. The piece de resistance, though, is converted ceiling beams that now look like the hull of a real ship, thanks to the creativity and handiwork of local artist Bill Lynn.
"He practically lived here last summer while he was working on it," Coffey says of Lynn, a tiki lover who is also the drummer for Akron-based surf band The Kahuna Kings. "Now, if you compare us to any other tiki bar out there, even on the West Coast, I think we could match up."
But Lynn and Coffey aren't the only ones who have poured their energy and hard work into making Tiki Underground a success. The drink menu, which boasts more than 40 cocktails and mocktails, is an amalgam of recipes from bartenders both past and present. One in particular — renowned Cleveland mixologist Tim Hartnett, aka "Tonga Tim" — has taken the lead on adapting recipes from once-beloved now-defunct tiki bars like Hollywood's original Don the Beachcomber and Cleveland's own Kon-Tiki, once located in Public Square. His Luau Scorpion Bowl, for example (originally conceived in 1958 at the Luau restaurant in Beverly Hills) combines rum, gin, brandy, orange and fresh lime. It's served in a bowl with flowers and three-foot straws for sharing — and oh, yeah, it also arrives on fire.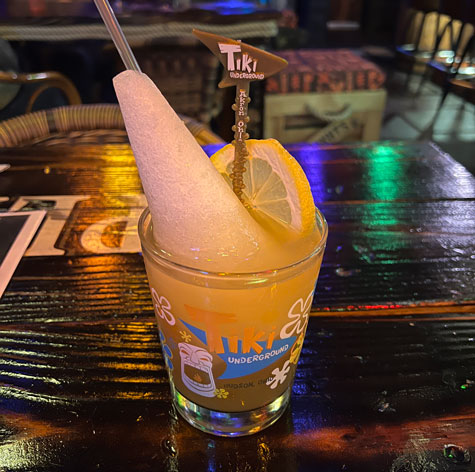 There are, of course, Mai Tais ($12), the iconic tiki libation. "Mai Tais are like the lifeblood of every tiki bar," Coffey says. And though Tiki Underground offers a classic version made with orgeat, he and his wife conceived of the bar's signature spin, which features falernum — a slightly spicy Bajan liqueur — instead
Not feeling totally tiki? Aim a bit closer to your comfort level with the Polynesian Riffssection of the menu, which includes tropical adaptations of other classic cocktails, like a Rum Negroni ($10), the Moai Margarita ($9) and an ancho-spiced Devil's Daiquiri ($11).
With so many drinks to sling, Coffey didn't want to have to manage a full food menu. Instead, he's leased out bar's kitchen area to chef Justin Collins, who operates his One Bite Kitchen out of the space on Tuesdays through Saturdays. Über-composed small plates like short rib empanadas with chimichurri crema and honey chili wings with sriracha ranch (both $13) help guests balance out all that booze.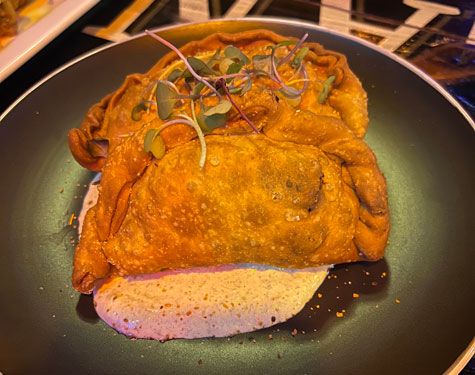 Less than a year into the new location, Coffey says the reception from the community has been almost entirely positive, as evidenced by packed crowds and rave reviews.
"The love and support we're getting has been overwhelming," he says. "We put so much effort into something we really love, and it's already become bigger than we ever expected."