In between meals, CLE Foodcast satisfies our cravings for deep dives into Northeast Ohio's best bites. After almost a decade in food media, Lisa Sands launched the podcast in 2021 and has racked up over 30 episodes, with highlights including a chat with personal chef April Thompson and Kate's Fish owner Tom McIntyre. Of course, the local food advocate has racked up a few favorites along the way. "I like to park once and have two experiences," she says. Here's where you might find her.
Cocktails: "I'm unapologetic about Cloak & Dagger in Tremont. It's like Cheers meets a Clue game board in an old library. There is so much creativity before they even serve a drink."
Sushi: "After Cloak & Dagger, I'd walk to Parallax. Owner Zack Bruell or Julian, his son, are almost always there, and I think that says something about the quality of the food."
Shot and a Beer: "I finally walked into Hotz's Cafe in Tremont last fall. There's no food. It's on the corner of West 10th, kind of close to La Bodega. There's two grandma ladies behind the bar. It's small. Very much a shot and beer place, but I love walking into a place like that as much as I love walking in to Cloak & Dagger. I often pick places based on my mood — maybe even more than the food."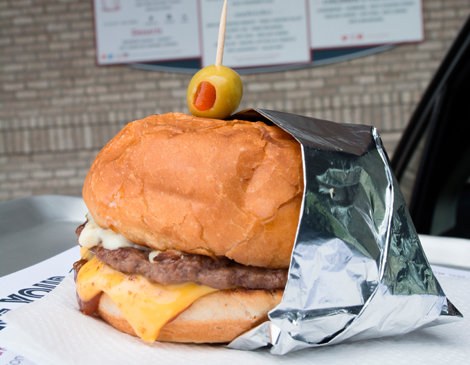 Cheap Eats: "I'm probably in my car eating a Swensons Drive-In burger."
Downtown: "People ask where to go before Playhouse Square. AsiaTown's Miega Korean BBQ is a fun, communal experience. You're cooking meat and veggies at your table, and you can be as adventurous as you want to be."
On Restaurant Ownership: "Owners like Dante Boccuzzi and Julian and Zack Bruell have proven they know what they're doing and what they're good at. They're almost always there, in their restaurants. I think that says a lot about the caliber of food. They're in there and making sure things are good."