Chef Dante Boccuzzi's culinary travels have taken him everywhere from Tokyo to Hong Kong to Italy.
He's brought this worldly cuisine back to his home of Cleveland, opening up a number of different restaurants in the area: Dante, Ginko, Dante Next Door, Coda, DBA, Dante's Inferno and Northside Speakeasy.
Boccuzzi adds to that impressive list with Goma, a Japanese fusion restaurant opening July 1 on East Fourth Street.
Boccuzzi knew that opening a restaurant on the iconic dining street was a great opportunity.
"You're right on a main street [with] a lot of traffic, a lot of people, a lot of action going on between baseball and football," says Boccuzzi. "It's just a great corner."
After delays, the long-awaited opening of Goma has taken on a new meaning for Boccuzzi.
"The timing got all rearranged, but I think it's even better now with Cleveland reopening and starting back up, and it's almost like a moment of rebirth," Boccuzzi says. Here are three things you should know about Goma before you visit.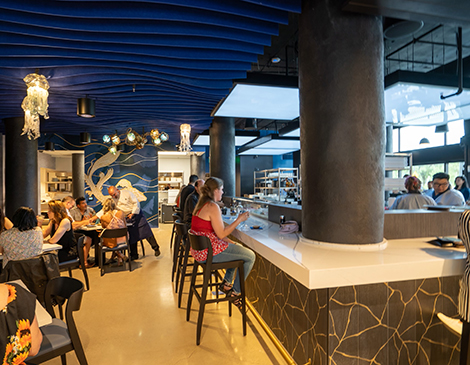 It's an entirely different space. Boccuzzi completely changed the space from its predecessor Chinato. A large white sushi bar, hot kitchen and stir-fry station have been installed, and the layout is more open. Boccuzzi describes the space as having a clean, Japanese feel. The restaurant is complete with aquatic-themed murals, lighting and sculptures. Another big addition is garage doors that, when open, will make for an energetic and lively atmosphere. "It's going to pull in energy from the streets and from the crowds going to the games," Boccuzzi says. "It's just a completely different space and experience."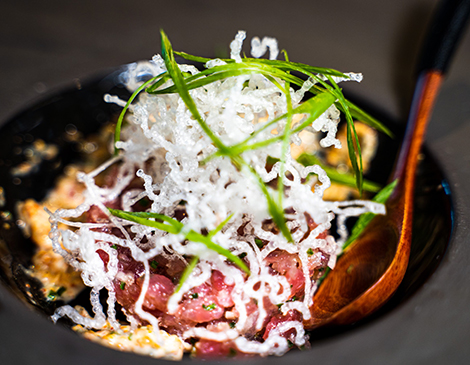 It has an all-new menu. Although Boccuzzi has another sushi restaurant, Ginko, the two have completely different offerings. "I purposely made the Goma menu different from the Ginko menus so that people can have their Ginko favorites, and then their Goma favorites," Boccuzzi says. "It's all new creations, new ideas, new flavors." Goma's menu will feature a large selection of sushi and sashimi plates, wok fried rice, tempura, noodles, maki rolls and more. The sushi nigiri and sashimi offerings include everything from sea eel ($8) to sweet shrimp ($6) to salmon ($5). If you're looking for specialty options, the list of maki rolls includes the Goma roll ($15) with tuna, salmon, hamachi, avocado, sesame sauce and more and the Angus roll ($17) with beef ribeye, yama gobo and scallions. The extensive menu has many shareable appetizers such as flash-cooked sashimi, and entrees of different sizes to be shared and enjoyed. Goma will also serve a wide variety of cocktails as well as desserts such as tempura brownies ($10) and exotic fruit tobanyaki ($10).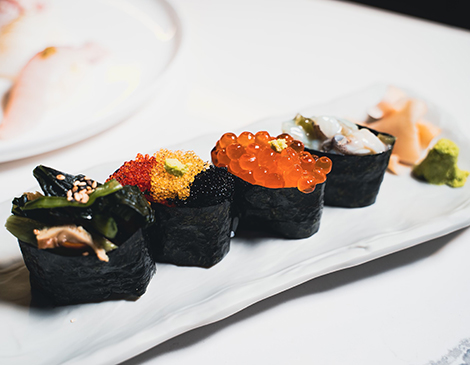 The menu is inspired by Boccuzzi's global experiences. Boccuzzi trained with famed Japanese chef Nobu Matsuhisa and ran the Nobu restaurant in Milan. His experiences working with Matsuhisa, training in Tokyo and working at the Mandarin Oriental San Francisco (now known as Loews Regency San Francisco) all come together in Goma's menu. "It's a blending of all my travels as a chef and all these different experiences," Boccuzzi says. "That's why I'm calling it fusion, because it takes a lot of the Japanese techniques, and I put my own spin on it."
When You Go: 2079 E. Fourth St., Cleveland, https://danteboccuzzi.com/goma-sushi/