Known as Fat Tuesday — the final day to feast on all sorts of pleasures that Catholics give up for Lent the next day — Mardi Gras has been celebrated in New Orleans since 1699. "It's all about indulging and eating rich, savory and sweet foods," says Baton Rouge native Johnny Schulze, chef at Bourbon Street Barrel Room and chef and owner of Zydeco Bistro. The holiday is no longer limited to one religion, so a lot of regional cuisines have joined the fun. "There's such a melting pot of different cultures and ethnicities in the Louisiana delta region: French, French-Canadian, African, Caribbean," says Schulze.

1. Muffuletta-Inspired Deviled Eggs
Put a New Orleans spin on the classic finger food. Thin slices of salami, green olive tapenade, aged provolone and hot sauce are inspired by a muffuletta sandwich. "These are a Southern staple, and a party food, so it fits well for Mardi Gras," says Nolan Konkoski, chef and owner of Soho Chicken & Whiskey. "[At the restaurant] we do a simple, classic deviled egg and top them with different things for different occasions."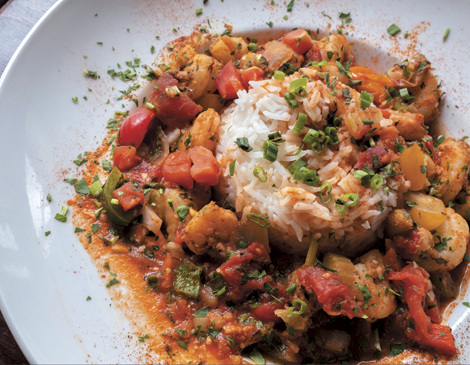 2. Shrimp Creole
Start with the holy trinity — bell peppers, onions and celery — a common ingredient trio in Cajun cooking. "I like this recipe for Mardi Gras because it is one you see all over New Orleans and features domestic Gulf shrimp," says Johnny Schulze, chef at Bourbon Street Barrel Room. "It can be made mild or spicy and takes little prep and cooking time to prepare at home." Serve over rice or with a side of French bread.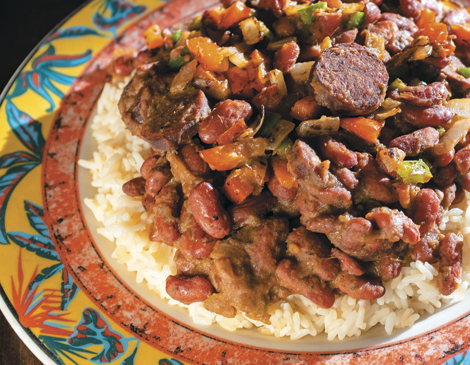 3. Red Beans and Rice
Smoked andouille sausage, kidney beans and lots of flavor — think bay leaves, thyme, parsley and Cajun seasoning — simmer to make this hearty entree. "[It's] traditionally cooked on Mondays to use up Sunday night leftovers," says Joe Zegarac, chef at Chow Chow Kitchen at Parkview Niteclub. "It serves a lot with a little pork, ham or sausage with slow-boiled beans and spice to bring forward a savory staple in Southern cooking."