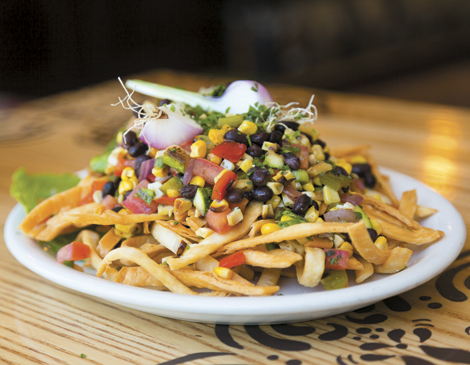 Grilled Corn and Tortilla Salad
"This salad is made with the vinaigrette, so all the vegetables soak it up. The corn flavor pops, and the contrast between the richness of the grilled vegetables to the tartness and tang of the vinaigrette — it's a unique sweetness, almost umami." — Heather Haviland, chef and owner of Lucky's Cafe
Preheat your grill. In a thick-bottomed skillet, pour vegetable oil to a depth of 1 inch. Heat oil at medium-high heat until a candy thermometer reads between 350 and 375 degrees. Working in batches, place 8 8-inch flour tortillas, cut into 1/4 inch strips into the oil, turning occasionally with a slotted spoon until strips are crisp and golden brown. Using the slotted spoon, transfer the strips to a baking sheet covered in three layers of paper towels. Sprinkle with kosher salt and set aside while you prep the rest of the salad. Place 2 tablespoons vegetable oil, 1/4 cup olive oil, 1/3 cup Champagne vinegar, 2 pressed and minced garlic cloves, 2 teaspoons chopped fresh thyme, 1/2 teaspoon black pepper, 1 tablespoon finely chopped chives and 2 teaspoons kosher salt in a medium bowl and whisk together. Set aside. Brush the following vegetables with olive oil and sprinkle with kosher salt: 5 ears husked sweet corn, 2 medium zucchini (cut into planks), 2 medium sweet red peppers (cut into quarters and seeded), 1 medium green pepper (cut into quarters and seeded) and 1 medium red onion (quartered). Grill until tender and brown in spots, turning occasionally for about 10 minutes. When vegetables have cooled, cut corn off the cob and cut the remaining vegetables into 1/4-by-1/4-inch squares. Rinse and drain 2 15-ounce cans of black beans. In a large bowl place the black beans, all the grilled vegetables, 3 medium plum tomatoes (seeded and chopped) and 6 thinly sliced scallions, then stir in the vinaigrette. Set aside for at least 1 hour, stirring occasionally to marry the flavors. To serve, toss in the tortilla strips and sprinkle the top with 2 tablespoons fresh chopped parsley.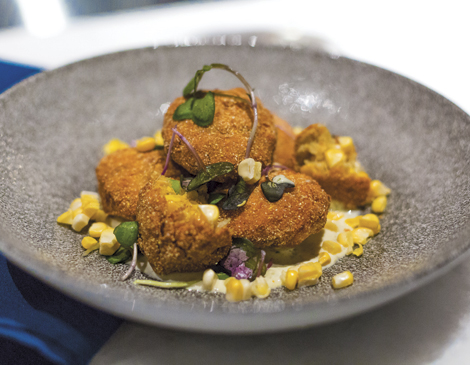 Sweet Corn and Crab Fritters
"Sweet corn and seafood — shellfish in particular — are a natural pairing. They all have their own inherent sweetness that balances with the brininess of the ocean." — Marc Standen, executive chef at Kingfish
In a large mixing bowl, whisk together 1/4 cup stone-ground cornmeal, 1/2 cup all-purpose flour, 1 teaspoon sugar, 1/2 teaspoon baking soda, 1 teaspoon kosher salt, 1/4 teaspoon freshly ground black pepper and a pinch of cayenne. Gently fold 3 finely sliced scallions, 1 1/2 cups fresh corn kernels and 1 pound Maryland or Louisiana jumbo lump blue crab meat into dry cornmeal mix and set aside. Over low heat in a small saucepan, melt 1/4 cup butter. Once melted, whisk in 1 cup cultured buttermilk and 2 eggs. Next, with a spatula, gently fold together wet and dry ingredients, trying not to break up the crab meat. Set mix in refrigerator for 20 minutes to allow cornmeal and flour to absorb the buttermilk and eggs. Heat 2 quarts vegetable, canola or corn oil to 325 degrees in a heavy Dutch oven or electric fryer. Once oil is up to temperature, use two tablespoons to scoop 1 to 1 1/2 ounce portions of fritter batter and carefully place fritters in oil. Fry in small batches of 6 to 8 for about 5 to 7 minutes. Place on paper towels to drain when finished frying.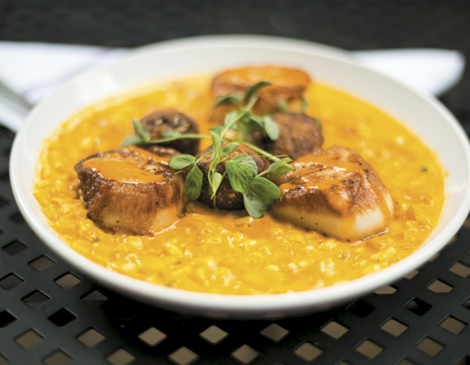 "Esquites" Jalapeno Creamed Corn with Scallops
"Esquites is a very common, traditional Mexican side dish. The combination of the sweet corn, scallions, red pepper and jalapeno with the fattiness of the cream give it a
well-rounded flavor." — Eric Williams, chef and owner of Momocho and El Carnicero
Clean and husk 6-8 ears Ohio sweet corn. Cut kernels from cobs into a mixing bowl and save the cobs. Finely dice 1 small Spanish onion, 2 scallions, 1 red bell pepper, 1 clove garlic and 1 jalapeno chile. Add all to bowl. Saute with 2 tablespoons vegetable or corn oil in medium sauce pot for 5 minutes. Place 2 tablespoons annatto seed in a cheesecloth sachet and toss into pot with sauteed vegetables. Add 1 tablespoon kosher salt and 1 teaspoon ground cumin. Add 1 quart heavy cream and the cobs. Simmer over low heat for 30-40 minutes, until kernels begin to break down. Meanwhile, season approximately 2 dozen scallops with kosher salt and hard-sear in a hot skillet. Remove sachet and cobs from creamed corn before serving into individual serving bowls. Top with scallops.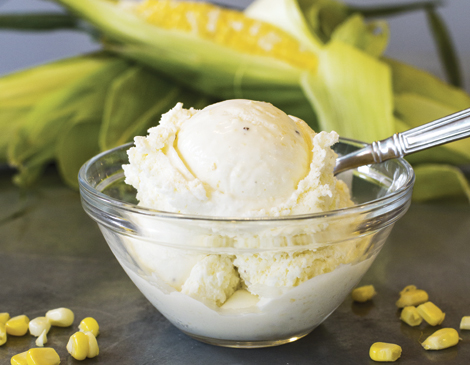 Sweet Corn Ice Cream
"This recipe is really very simple. You only use one ear because you don't want a lot of added moisture. The corn has extra starches and those combine with the egg yolks to make it silky smooth, similar to gelato." — Jesse Mason, co-owner of Mason's Creamery
In a blender, combine 1 cup whole milk, 1 cup heavy cream and kernels from 1 ear of corn. Pulse once or twice, just enough to break up the kernels and mix the juices. Transfer ingredients to a heavy saucepan and bring to 120 degrees. Turn off heat and allow mixture to steep for 5-10 minutes. Put ingredients through a strainer and return liquid to the pot and discard solids. In a separate bowl, whisk together 6 egg yolks and 1 cup granulated sugar to create a slurry. Slowly incorporate slurry into corn liquid in pot on the stove. Turn on heat, scrape the bottom and bring to 140-145 degrees, allowing egg yolks to set and thicken. Remove from heat completely and transfer to a mixing bowl. Place bowl in fridge for 2 hours or put in an ice bath. When cool, transfer to ice cream maker and follow manufacturer's directions. Serve topped with fresh strawberry jam or berry compote.