1. Larder Pastrami Lox
"Chocolate is equally suited in savory applications [as in sweet ones] where intense earthy, smoky and deep, seductive, fruity flavors are desired. The chocolate adds those wonderful earthy and fruity flavors that complement the black pepper and coriander in the spice mix."
— Jeremy Umansky, chef and co-owner at Larder

Note: It's important to start with good-quality fish for this recipe. (Umansky recommends Kate's Fish at the West Side Market.) Let your butcher know you are planning to cure it.

In a blender or spice grinder, coarsely grind 1 teaspoon juniper berries, 2 teaspoons granulated garlic, 2 teaspoons granulated onion, 2 teaspoons coffee beans, 1 tablespoon dark cocoa powder, 2 tablespoons coriander seeds, and 3 tablespoons black peppercorns. Rub 1 1/2 tablespoons salt onto 2 1/2 pounds steelhead, lake or rainbow trout. Sprinkle the spice mix on the fish, wrap the fish tightly with plastic wrap and store flat in a non-reactive dish (glass, stainless steel or plastic) in the fridge for 2 days. This will cure the fish. Slice thinly and serve on toasted rye with cream cheese and dill.

2. Watercress and Poached Pear Salad with Chocolate Port Wine Dressing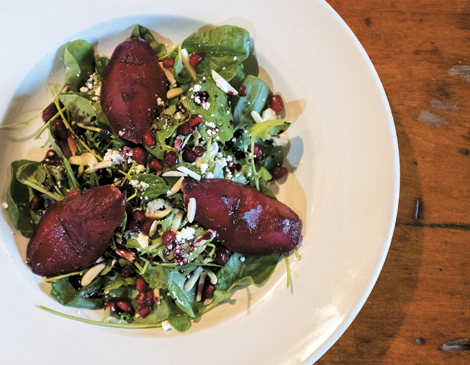 "One way to pair chocolate with a savory salad is to create a liaison between the chocolate and main components of the salad. Port wine became that bridge. It has a natural affinity to chocolate and has traditionally been paired with pears." — Rusty James Phillips, chef and owner at the Pompadour

To poach the pears, bring 1 1/2 cups port wine and handful of sage leaves to boil for one minute, then bring down to simmer. Add 2 ripe pears, cored and quartered, and simmer until sauce is reduced down to about 2 ounces (4 tablespoons) and pears are red. Remove pears from poaching liquid and save poaching liquid in pan for dressing. To make dressing, grate 1 1/2 ounces grated dark chocolate (90 percent cacao or above) into poaching liquid and stir until chocolate is melted. To assemble, combine 1 tablespoon balsamic glaze and 1 tablespoon extra-virgin olive oil and toss to lightly coat 1 large bunch watercress. Add 2 tablespoons slivered almonds, 2 tablespoons pomegranate seeds and the poached pears to watercress and toss. Pour dressing onto salad mixture and toss. Top with 3 ounces crumbled goat cheese.



3. Winter Squash Soup with Mexican Flavors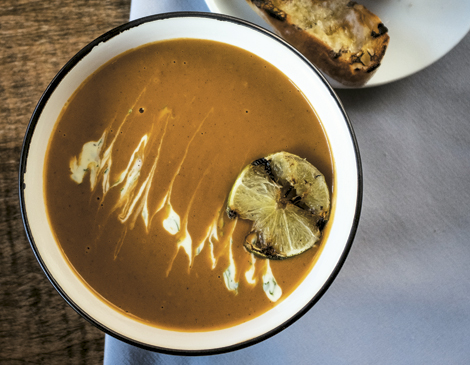 "Chocolate is an under-used ingredient, because it seems one-dimensional to most people. But because it's sweet and can take other forms when paired with heat, spice and herbs, it can really bring ingredients together." — Hunter Toth, co-owner
and executive chef at Hook & Hoof

Place 2 dried ancho chile peppers and 2 dried guajillo peppers in a bowl and cover with boiling water. Soak for 30 minutes. Meanwhile, combine 1/4 cup butter, 3 cups heavy cream and 3 pounds cubed butternut squash in a pot, bring to a boil and cook until tender throughout. While squash cooks, bring 2 tablespoons olive oil to a simmer in a saute pan and cook 1 large chopped yellow onion and 3 finely chopped cloves of garlic. Remove chiles from water and strain, remove stems, ribs and seeds, then finely chop. Empty pot with squash and liquid into blender or food processor along with softened onions, garlic and seeded chiles (you can add 1 chipotle pepper in adobo sauce, reserving sauce for later use, if more heat is desired) and blend until smooth. Pour contents back into pot while adding 3 cups chicken stock, 1 teaspoon ground cinnamon, 2 teaspoons sugar, 2 teaspoons ground cumin, 1 tablespoon chopped oregano and adobo sauce from can (if desired). Bring to a low boil and cook for 10 minutes. Bring heat down, add 1/4 cup finely chopped bittersweet chocolate and whisk until smooth. Add salt and pepper to taste. To make sour cream, combine 1 cup sour cream, 1 tablespoon honey, juice from 1 lime and a pinch of finely chopped cilantro in a bowl and mix until all ingredients are incorporated. Serve with a dollop on each soup and a lime wedge.


4. Coffee and Cocoa-Rubbed Steak with Mole Steak Sauce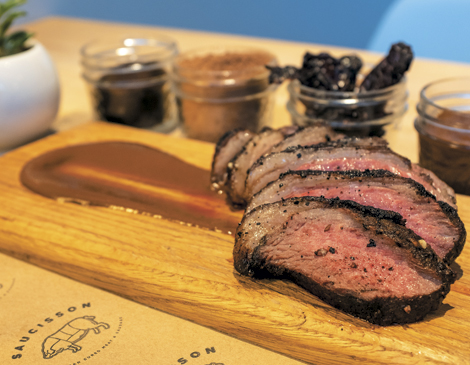 "The coffee cocoa rub on the culotte imparts a unique, earthy flavor. The tomatoes in the mole sauce work well with the chocolate because sweet and acidic are always a great, overlooked flavor combo." — Melissa Khoury, co-owner of Saucisson

To prepare the steak, preheat oven to 325 degrees. Combine 2 tablespoons cocoa, 2 tablespoons strong ground coffee, 1/2 teaspoon chopped garlic, 1 teaspoon brown sugar, 1 teaspoon chili powder, 1 teaspoon salt, 1 teaspoon black pepper and enough extra-virgin olive oil to make a paste. Rub all sides of 4 6-8 ounce culottes (or other boneless steak). Sear in cast-iron pan for 3 minutes on each side, then place in preheated oven for 10 minutes. Remove from oven and allow to rest. To make mole sauce, heat 1 tablespoon extra-virgin olive oil in medium saucepan over medium heat. Add 1/2 cup chopped onion and 2 minced cloves of garlic and saute for 5 minutes or until onions are tender. Add 2 dried ancho chile peppers, 1/2 cup bittersweet chocolate chips, 1 cup chopped plum tomatoes and 1/2 cup beef stock or water and bring to a boil. Reduce heat and simmer for 8-10 minutes, stirring occasionally. Transfer to a blender and blend until smooth. Slice steak and serve with mole sauce.