Cook Off
Pork ribs can be an awfully personal dish. When it comes to preparation, some people swear grilling is the only way to go, while others argue that if they're not smoked, they're lacking in flavor and texture. According to Victor Searcy Jr., executive chef and owner of Sauce the City, each of these methods has its merits. "Ribs can come in many different styles," says Searcy. Here, he talks us through the variations of grilling, smoking and oven-baking ribs.

Grilled
Searcy prefers using charcoal because it makes the meat more crisp. Once the coals are a grayish-white, place the ribs on the grill and use a water bottle to tamp down any flames that arise. Fill a bowl with a half-water-half-vinegar mixture and dab the ribs with a brush before flipping them every 10-15 minutes to keep the meat from drying out. "You've got to keep your eye on it," says Searcy. When the meat is cooked to medium-rare or medium, remove the ribs from the grill, slather them in sauce before finishing them in the oven for 15-20 minutes at 200 degrees.
Oven-Baked
If the mood for ribs hits in the middle of a downpour, no problem: oven-baked ribs can be marvelous. "The oven seals in all the sauce," says Searcy. Preheat your oven to 275 degrees and season both sides of the ribs with salt, pepper and onion powder to taste. Wrap the ribs in foil and bake for four hours, making sure to check the tenderness after about three hours. Add the sauce and lower the temperature to 175-200 degrees, leaving the ribs in the oven for another 30-45 minutes to an hour. "I like to open the foil a bit when they go back in there," says Searcy.

Smoked
By smoking your ribs slowly on low heat, you'll lock in a number of complex flavors. "You want at least half a day to lock in the flavor," says Searcy. Place hickory wood, for a strong, pungent flavor, or cherry wood, for a mildly fruity taste, directly on hot coals. Once the grill is set at 250 degrees, place dry-rubbed ribs on the grill for three hours, then remove, wrap in foil and continue smoking for an additional three hours. The process will produce a dark pink meat that's flavorful. "When it's done right it, these can be the best ribs," says Searcy.


Smoke Machine
It's easy to turn your charcoal or gas-powered grill into a smoker. Start by soaking your wood chips in water for 30 minutes. Keep in mind harder woods, such as hickory and mesquite, are potent while softer woods, such as cherry, are less invasive. Once you've soaked your wood chips, drain them using a strainer and dry them on a towel for five minutes. For charcoal grills, place 1 cup of wood chips directly on the hot charcoal before putting your meat on the grill. For gas powered grills, wrap the wood chips in foil, place the pouch near the flame and poke holes in the pouch so smoke can escape. Close off any ventilation and smoke the meat for roughly an hour and a half. "You want to keep the grill closed and keep the smoke in there." says Melissa Khoury, butcher and co-owner of Saucisson.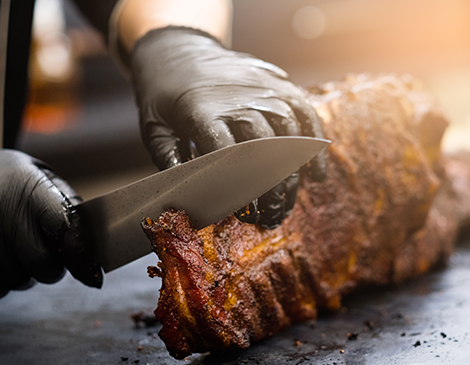 Prime Cuts
You may have secret family spices and sauces, but how you slice your ribs matters. "Seek out local butchers," says Melissa Khoury, butcher and co-owner of Saucisson. "You'll have access to different cuts." Here are four cuts to consider.
Baby Back: Smaller than other cuts and known as riblets, these are pulled from along the spine. These cuts are mighty meaty, despite their size. "Baby back ribs are pretty tender," says Khoury.

Country Style: Cut from the pig's shoulder, there's no bone in a country style cut, so there's very little fat and not as much preparation needed. "It's got the same flavor profile as ribs, but it's a bit more filling and gives you a quicker cook," says Khoury.

Spareribs: These classic cuts come from behind the shoulder and come with a brisket flap that adds texture. "Spareribs have a lot of cartilage and a lot of great meat in there," Khoury says. "Some people like that gristle."

St. Louis Style: No bones about it: this cut is a cleaner version than the sparerib since the butcher removes the brisket flap and rib tips. What remains is a uniform slab of meat that cooks more evenly and quickly. "It's essentially a trimmed-up sparerib," says Khoury.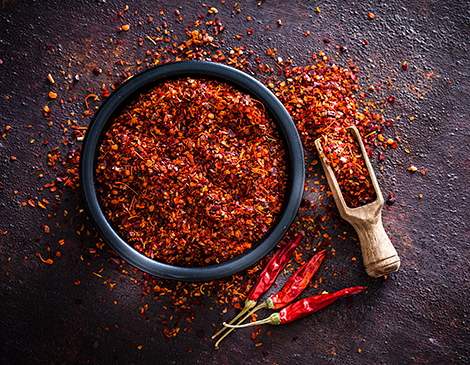 Meal Prep
Victor Searcy Jr., executive chef and owner of Sauce the City, gives us one dry rub and two scratch-made sauces that will elevate your ribs.

Bourbon + Red Pepper Flakes + Butter
In a saucepan on medium heat, combine 1/3 cup red wine vinegar, 1/2 cup red pepper flakes, 1/2 cup bourbon, 1 stick of butter, 1 cup brown sugar, 2 cups ketchup, a pinch of rosemary and a full bottle of Open Pit Original barbecue sauce. Cook on medium-high heat for 15 minutes. "Bourbon is one of our secret ingredients we love to add to our sauce," says Searcy.

Red Wine + Lemon Juice + worcestershire sauce
In a saucepan over high heat, combine 1 gallon of your favorite barbecue sauce, 1 fresh-squeezed lemon, 2 cups red wine vinegar, 3 cups light brown sugar, 1 cup red wine, 1/3 cup red pepper flakes, 1/2 cup Worcestershire sauce, 1 stick of butter, 2 small cans tomato paste, and salt and pepper to taste. To thin sauce, add 1/2 cup water. "I like to serve extra on the side along with hot sauce," says Searcy.


Smoked Hungarian Paprika + Cayenne Pepper + Garlic Powder
Combine 1/2 cup smoked Hungarian paprika, 1/3 cup cayenne pepper, 4 teaspoons salt, 1 teaspoon pepper, 1/3 cup garlic powder, 4 teaspoons onion powder and brown sugar to taste, then rub the ingredients into the ribs. "You want some pepper in a sauce, especially when smoking," says Searcy.