Seeds of Changes: Go beyond apple pie with these three fun recipes.

1. Arugula Salad with Apples, Blue Cheese, Walnuts and Honey Vinaigrette

It's a classic for a reason. The bright tartness of the apples and the blue cheese are reined in by the smooth vinaigrette and accented with the peppery arugula.

As for the choice of apple, go for Honeycrisp, says Eric Wells, owner of Skye LaRae's Culinary Services. "I like how crisp it is, and I like adding crunch to a salad without using croutons or any type of bread." The walnuts add another level of crunch too.

2. Pork-Stuffed Apples with White Barbecue Sauce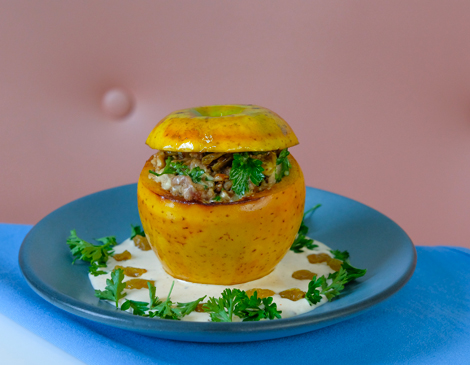 This savory take on the baked apple offers up plenty of sweetness thanks to raisins and, of course, the apples themselves. "GoldRush is hands down my favorite apple," says Brett Sawyer, chef and owner of the Plum.

"They're tart, crisp and bright, and the rich fattiness of the pork works with the acidity and crisp and bright apple flavor." The white barbecue sauce is a bit of a surprise, adding a welcome layer of heat to all that sweet.

3. Roasted Duck Apple Bombs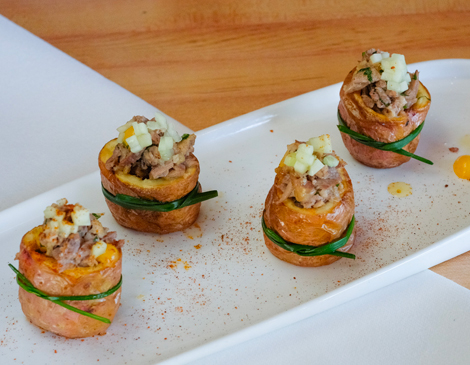 Granny Smiths are known for being tart but cooking them with duck changes the texture and flavor of the apple. "They absorb the fat and become sweet," says Natasha Pogrebinsky, executive chef at the South Side and Hi & Dry.

Stuff a mixture of apple and duck inside hollowed out red skin potatoes and you get one flavor-packed baked potato. "Duck isn't usually paired with apples the way pork is, but it should be," says Pogrebinsky. A topping of pickled apple salad on top offers a pop of brightness.

Variety Show: Look out for these five popular options across Northeast Ohio.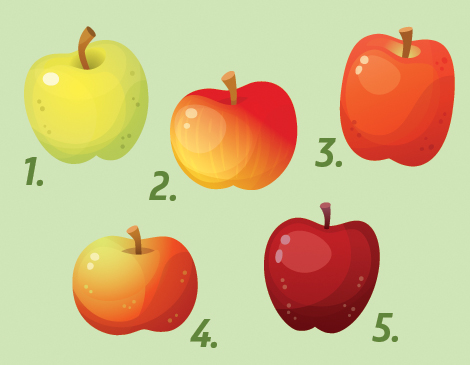 Golden Delicious: These sunny yellow apples taste like they're filled with honey. "It's a good sauce apple, and it's great for eating," says Bill Patterson, owner of Patterson Fruit Farm.

Honeycrisp: The name says it all: these super-sweet apples pack an undeniable crunch. "We tend to recommend this as an eating apple," says Patterson.

Jonagold: "These are some of the best baking apples," Patterson says. The hybrid of Jonathan and Golden Delicious has both a sweet and tart flavor and a mildly crisp flesh. Their thin skin and large size are two practical reasons they're so good for baking.

Macintosh: These red-and-green gems are the perfect size for smaller hands to nibble on, and their taste has just the right amount of bright tartness. "They're also a decent apple for making applesauce," says Patterson.

Melrose: This is our hometown apple, a hybrid of the Jonathan and Red Delicious varieties created in Wooster, Ohio, during World War II. These official state apples are equal parts sweet and tart, says Patterson.

Cider House Rules: Stir up a fall-inspired cocktail.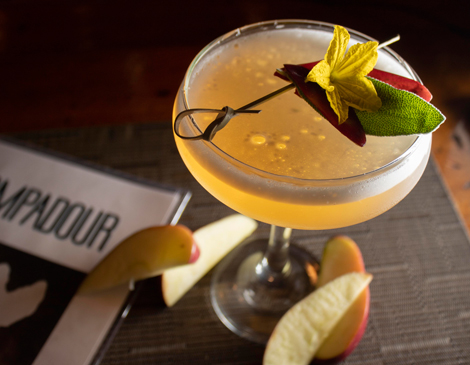 If you've got a half-gallon of apple cider taking up space in your fridge, put it to good use this weekend by mixing up this cocktail reminiscent of spiced, warm apples. Created by Sydney Trobenter, a bartender at the Pompadour, it uses mezcal, a Mexican spirit. "Apple cider really complements mezcal's smoky, bold flavor," she says.

Sidre de Oaxaca: Makes 1 cocktail

Add 10-12 sage leaves to a shaker tin and muddle. Add 1 1/2 ounces Del Maguey Vida Mezcal, 2 ounces local apple cider, 1/4 ounce Domaine de Canton (a French ginger liqueur), 1/2 ounces St. Elizabeth Allspice Dram (an allspice spirit) and 1/2 ounce Mathilde Peche Peach Liqueur. Add ice, shake and strain into a coupe (or martini) glass. Top with remaining sage and 1-2 thin slices of apple peel.

Grab Bag: These farms are our go-to pick-your-own apple spots.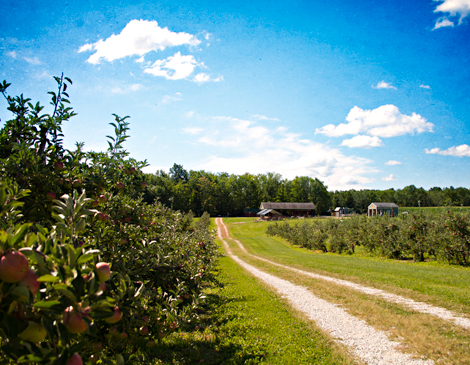 Miller Orchards

Come here for tangy-sweet Fujis, which combine Red Delicious with the lesser-known Virginia Ralls Janet. The nearby Miller's Apple Hill offers field trips, wagon rides and farm animal encounters.

Miller Orchards, 8690 Vermilion Road, Amherst, 440-988-8405, millerorchardsltd.com; Miller's Apple Hill, 50549 state Route 113, Amherst, 440-965-7077, millersapplehill.com

Patterson Fruit Farm

Picking gets in full swing here in September. On weekends, a wagon will take you right to the best picking spots. For seven weeks starting in mid-September, Patterson holds a daily Family Fun Fest with wagon rides, cornstalk mazes and all sorts of fall family activities.

11414 Caves Road, Chesterland, 440-729-1964, pattersonfarm.com

Richardson Farms

Don't miss its Winesap variety, an heirloom apple that resembles a Red Delicious but has a sweeter, spicier meat. It's great for pies and, yes, with cheese and wine. Bring a group and after picking, stick around for a hayride and games like horseshoes and badminton.

6984 Lafayette Road, Medina, 330-722-4029, richardson-farms.com