It's like a colorful babushka accenting our rich Eastern European heritage. Dyngus Day, a Polish celebration the day after Easter, has become a way to honor the traditions, treats and rituals of Polish-Americans. Since organizing Cleveland's annual event in 2010, Cleveland Vegan owner Justin Gorski — who also moonlights as the accordion-playing, suspender-wearing DJ Kishka — has seen how the festivities help Clevelanders bond over polka, pierogies and beer. "It's like a little foodie holiday," says Gorski, who will make 2,500 pierogies for the April 2 event. "Not a lot of people are from the old country and don't necessarily speak Polish anymore. But I think some of the customs, the food, polka music and dancing are a fun way to remember where you came from."


KIELBASA SHOWDOWN
The Polish meat is a treat whether you enjoy it the traditional way or with a modern twist.
The Rebel
Sauerkraut balls with aioli
"Some people consider it blasphemy to do anything different with kielbasa, which I kind of agree with," says Adam Lambert, co-owner of Ohio City Provisions. "So the modern approach to kielbasa can be done a little more in terms of refinement of execution." He recommends dicing kielbasa and rendering the fat, then adding the diced meat into sauerkraut balls. "Use the reserved fat in place of oil to make aioli when you serve it."
The Traditionalist
Sliced with buttered rye bread
Go the classic route by letting the Polish sausage shine on its own. "It's best eaten with rye bread on the side so you can put butter on the bread," says Mary Sokolowski, co-owner of Sokolowski's University Inn. "Then have some mustards on the side: horseradish, Cleveland ballpark, brown. Then, maybe some sauerkraut or beet horseradish." But it's also about presentation. "Slice the kielbasa on the slant, medium-thick, and enjoy looking at the nice big beautiful pieces of pork."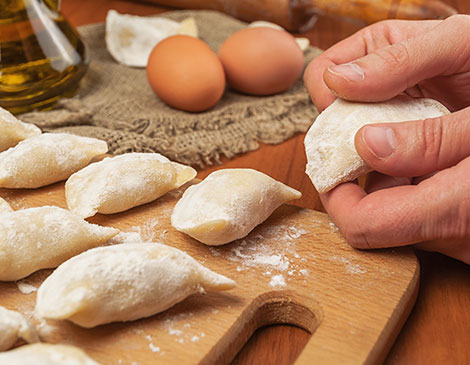 POCKET ACES
Score big with these three creative ways to fill your pierogies.
Mac & Cheese
Amp up the flavor with a cheesy filling of cheddar, Muenster, Gruyere and a provolone and mozzarella mix. "The Gruyere gives a smoky, nutty, multilayer depth," says Natasha Pogrebinsky, executive chef at the South Side.
Sour Cherry
There are only two ingredients to this one: sour cherries and a little sugar. "It's tart and sweet, combined with the unexpected texture of the dough," Pogrebinsky says. "Dessert like you've never had before."
Stewed Sauerkraut
The trick here is to cook the sauerkraut with butter and carrots until it's sweet. "That fermented flavor still comes through," she says. "Serve it with traditional sour cream and onions."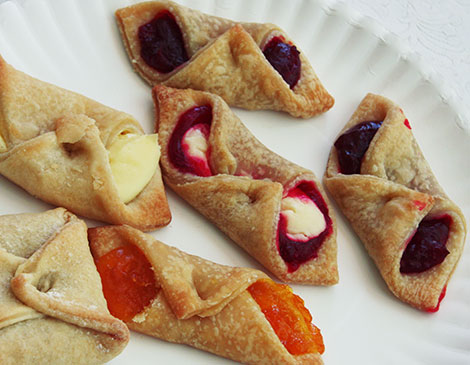 COME INTO THE FOLD
How to make the perfect kolacky.
Paczki get a lot of attention this time of year, but don't overlook the kolacky. Leslie Srodek-Johnson, third-generation baker and decorator at Stan's Northfield Bakery, gives us advice on how to make these filled and folded pastries at home.
Take a beat. Srodek-Johnson, whose secret family recipe has been passed down for generations, suggests letting your dough rest for about 30 minutes in the fridge. "The more you work it, the tougher it gets," she says. "You want it to be tender and flaky and light."
Cut it out. Once you've floured your surface and rolled out your dough, cut out 2-by-2-inch squares.
Get your fill. Choose from Polish fillings such as apricot, nuts or prune. Jelly works as well. "The traditional cheese is known as baker's cheese, dry farmer's cheese or Danish cheese," she says.
Build it. Put a teaspoon of the filling in the center of your dough square. Fold the two opposite sides over. "Top with an egg wash and granulated sugar, or coarser sugar if you like a crunch," she says. Bake for 15 to 20 minutes at 350 degrees.