1. Cleveland Hot Cotija Fried Asparagus Pieces

"This is super-flavorful due to the Cajun seasoning," says Victor Searcy Jr., executive chef of Sauce the City. "Once you dip into the cooling sauce it's crazy. It's a game day treat."
Rinse 5-7 stalks fresh asparagus and trim the last inch off each piece.
Soak asparagus in a bath of 2 cups buttermilk and 1 tablespoon garlic powder for 5-10 minutes.
Coat the asparagus in a mix of 3 cups Italian seasoned panko, 2 cups flour and salt and pepper to taste. Make sure the panko mix adheres to the pieces evenly and double coat if necessary.
Place in freezer for 10-15 minutes.
Fry in canola or vegetable oil at 360 degrees until spears achieve a golden-brown color, about 3-5 minutes.
Once desired caramelization is reached, remove from oil and let sit on a drying rack or paper towel for about 3 minutes.
Combine 1 cup cotija cheese with 3 tablespoons Sauce the City's Cleveland Hot Seasoning.
Sprinkle blend over the asparagus, add a pinch of parsley for color and enjoy dipped in a cooling sauce of 2 cups mayonnaise, 1 cup buttermilk and a teaspoon or two of ranch.



2. Pan Roasted Salmon with Grilled Curry Asparagus and Fermented Pickle Remoulade
"Asparagus is one of those vegetables that's pretty versatile with protein," says Ricardo Sandoval, chef and co-owner of Fat Cats. "When they're older and thicker, they're good with meatier proteins like steak. For salmon, use something younger and more tender."
Preheat oven to 350 degrees. Heat 4 tablespoons olive oil or grapeseed oil in ovenproof skillet over medium high heat. Salt 2 pieces of cut, skin-on salmon.
Press salmon, flesh-side down, in the skillet.
Cook for 4-5 minutes until surface of salmon is a caramelized dark brown.
Turn salmon over and place in oven for 3 minutes. Heat grill to high temperature.
After trimming the 1-inch ends, toss 8 thin or 6 large asparagus with 2 tablespoons olive oil or grapeseed oil then sprinkle with 1/4 teaspoon curry powder and salt and pepper to taste.
Grill for 3-4 minutes, turning until tender and charred.
To make fermented pickle remoulade, mix 1 cup mayonnaise, 1/4 cup chopped fermented pickles, 2 teaspoons lemon juice, 2 tablespoons finely chopped chives, 3/4 teaspoon Chesapeake or Old Bay seasoning, 1 tablespoon finely cut mint and salt and pepper to taste.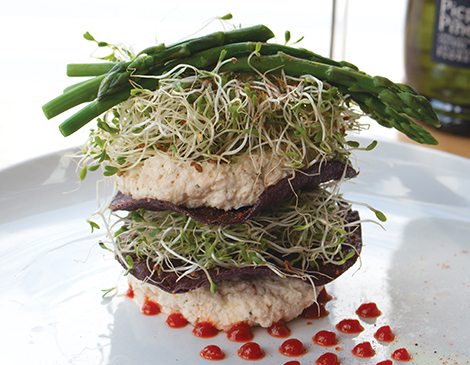 3. Layered Asparagus & Crab Salad

"Crab can be very sweet, and asparagus, when cooked, develops an earthy sweetness as well," says Natasha Pogrebinsky, executive chef at The South Side and Hi and Dry. "After heavy winters, in spring, I really like that layering of light, subtle flavors."
Preheat oven to 375 degrees.
Wash and trim 15-20 stalks of asparagus about 1 inch from the bottom.
Boil a small stockpot with 2 quarts water and 1 ounce salt.
Submerge asparagus and cook until tender when it's easily pierced with a knife or toothpick, about 1-3 minutes.
Remove and strain, run under cold water or submerge in cold water to stop from cooking further.
Set aside. Spray or brush 10 corn tortillas with oil and season generously with Cajun spice combined with equal parts paprika, chili powder and celery salt. Bake for 10 minutes or until crispy and hard.
Cool on a plate. Strain 1 pound can of crab meat and place in a mixing bowl.
Fold in 2 ounces mayonnaise, 1/2-ounce fresh ginger zest, 1 chopped scallion, 1/2-ounce sweet Hungarian paprika, 1/2-ounce celery salt and 1/2-ounce lemon zest.
Squeeze Sriracha out of the bottle to make a circle in the center of each plate.
With a spoon, place 4 ounces of salad in the center and fill in the circle.
Place 2 tortillas on top, add 2 ounces of crab salad on the top tortilla, spread desired amount of alfalfa sprouts on top. Add 3-5 asparagus stalks and finish with a dash of spice mix.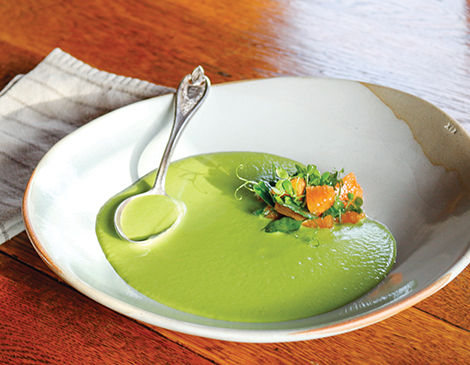 4. Asparagus Soup with Pea Tendrils
"Orange and asparagus are a beautiful complement to each other," says Jamie Simpson, chef liaison for the Culinary Vegetable Institute at The Chef's Garden. "It's hard to latch onto asparagus by itself to pair with wines, for example, but once you start to add spice and citrus it's easier to lean into."
Wash 1 pound green asparagus.
Cut the entire asparagus stalk, including the ends, into 1/2-inch pieces.
Peel and dice 1 Yukon Gold potato.
Roughly chop 3 garlic cloves, 1/2 yellow onion and 2 ounces spinach leaves.
Zest 1 orange and set all aside.
Heat 1 tablespoon olive oil in a heavy-bottom sauce pot.
When oil is hot, add onion, garlic and 1/2 teaspoon coriander seeds.
Saute until onions are soft, about 3 minutes.
Add diced potatoes, 1 and 1/2 cups of low sodium chicken stock or vegetable stock and 1/2 cup of cream.
Bring to boil, then simmer until potatoes are fork-tender, about 10 minutes.
Add the asparagus and cook until asparagus is tender and bright green in color, about 4 minutes.
Take soup off the heat and add the chopped spinach. Process in a blender until soup is smooth.
Before removing from the blender, add orange zest, salt to taste and fresh milled black peppercorns.
Blend on high one last time, strain and transfer to bowls.
Top with a few pea tendrils or other microgreens and serve.