No matter how you slice and dice it, from fillings, salsas, guacamole and protein, there's more than one way to take on a taco. We asked Mark Pettitt, Nuevo Modern Mexican & Tequila Bar's executive catering and event chef, for a few twists on traditional fillings to elevate your taco bar at home. "Have fun making these," Pettitt says. "Give them a taste, adjust ingredients to your liking, and enjoy them the way you like them."
Korean Beef Tacos
"Korean beef is the holy grail of food truck tacos. This one does take longer to make but it's well worth it. I use short ribs, but you could use any beef that you would use for roasting or braising. This recipe has a nice, sweet, rich teriyaki flavor with hints of ginger coming through in the background. This is an Asian-Mexican fusion. It brings the two worlds together into one nice little dish."
Season 3 pounds beef short ribs with salt and pepper and brown in a pan on the stovetop on medium heat. Put the meat into a deep roasting pan or slow cooker. Roughly chop 6 cloves garlic and 6 green onion stalks. Add 1 cup soy sauce, 1/2 cup sweet soy sauce, 1/2 cup Mirin (or dry white wine), 1/2 cup dark brown sugar, 1/4 cup sesame oil, and 2 teaspoons grated ginger and add to the roasting pan or slow cooker. If using a slow cooker, put the lid on and cook for 4-6 hours. If using a roasting pan, cover with foil and cook at 250 degrees for 2 and 1/2 to 3 hours. When done, remove meat and let cool a bit so you can pull it apart. Save the liquid and add a lit bit back into the beef to help with flavor and moisture. To make the Korean barbecue sauce, in a small saucepan, combine 3/4 cup brown sugar, 1/2 cup soy sauce or Tamari, 1 tablespoon rice vinegar, 1 tablespoon gochujang paste, 2 teaspoons sesame oil, 1 teaspoon minced ginger, 1 teaspoon minced garlic, 2 tablespoons honey and a pinch of black pepper. On low-to-medium heat, bring sauce to a simmer, constantly whisking. In a small cup mix 1 tablespoon water and 2 teaspoons corn starch. Once the sauce comes to a small boil, add the water and corn starch mix. Whisk everything together. When the sauce starts to thicken, cut the heat and let it sit and cool. When you serve the taco, finish off with kimchi if desired.
Tofu Tacos
"These will surprise you, even if you think you hate tofu. Use extra-firm tofu, which has less moisture, holds spices and can handle cooking — softer tofu will turn to mush and not get that ground-beef texture you're looking for. The syrup gives a bit of sweetness and acts as an emulsifier, holding all ingredients together and giving more depth to the entire dish."
Preheat oven to 350 degrees. In a large bowl, mix together 2 tablespoons tomato paste, 2 tablespoons low sodium soy sauce, 1 tablespoon olive oil, 1 tablespoon maple syrup, 1 teaspoon onion powder, 1 teaspoon garlic powder, 1 teaspoon smoked paprika and 2 teaspoons chili powder. In a separate bowl, crumble down 14-16 ounces extra firm tofu after draining its liquid until it's the size of cooked taco meat. Add tofu to the bowl with the mixture and toss everything together until evenly coated. Spread the tofu out evenly on a flat baking tray. Bake for 10-15 minutes, moving the tofu around occasionally so it cooks evenly. The tofu will firm up and have a meaty texture once it's done. For the corn and tomatillo salsa, combine 4 cups fresh or frozen corn, 1 whole diced green pepper, 3 diced tomatillos, 1/2 diced red onion, 1/2 cup chopped cilantro, juice of 1 lime, 1 diced jalapeno, 4 minced cloves garlic, 1/2 teaspoon sugar, and salt and pepper to taste.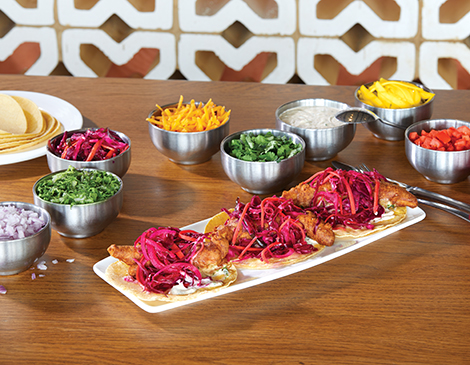 Walleye Street Tacos
"Fish tacos are traditionally made with tropical fish like mahi-mahi or wahoo. Walleye is more of a cold-water fish, so the texture is different overall from the tropical types. It's mild and flaky, not heavy or oily or with a fishy flavor you get from others out there. Walleye holds up for a lot of types of cooking, so you can bake this rather than fry if you'd like."
To make the Baja cream sauce, combine 1/2 cup mayonnaise, 3/4 cup sour cream, 3 tablespoons lime juice, 1 teaspoon garlic powder, 1/4 cup chopped garlic, 2 teaspoons Sriracha, 1 teaspoon salt, 1/2 teaspoon pepper, 1/2 teaspoon cumin, and 1 teaspoon honey and mix well with a whisk or spoon. For the Curtido, in a small pan, combine 2 cups apple cider or red wine vinegar, 1/4 cup salt, and 1/4 cup sugar. Heat mixture to boil or until salt and sugar dissolve. Remove from heat. Place 1/4 head of cabbage, sliced into thin strips, 1/2 julienned red onion, 1 julienned carrot, and 1 julienned jalapeno in a glass canning jar or small container. Pour the vinegar mix in while it's hot and add a few ice cubes. This will lightly cook the vegetables and speed up the pickling process. Put in fridge uncovered and enjoy when cooled. In a big bowl, combine 2 cups all-purpose flour, 1 and 1/2 teaspoons baking powder, 2 teaspoons chili powder, 2 teaspoons garlic powder, 1 and 1/2 teaspoons dried oregano, 1 teaspoon dried mustard, and 1 teaspoon salt. Stir in 1 bottle of beer of your choice until batter reaches pancake-batter consistency. Cut 1-2 pounds walleye into thin long strips, 3 to 4 inches in length. Coat each strip in corn starch or flour then dip into the batter. Pan fry strips in 2 inches of oil, 4-5 minutes per side, until batter is golden brown. If using an air fryer, cook for 12 minutes. When done, top with Curtido and Baja cream sauce.
Hot Tips For Tortillas
If you're tired of bland store-bought tortillas, Cristina Jaramillo, co-chef and co-owner of Twisted Taino, says making tortillas at home brings a fresh perspective. Jaramillo recommends using Maseca flour for perfectly soft tortillas. In the same bowl, mix together 2 cups of corn flour, 3/4 cup of all-purpose flour, 1 teaspoon of salt and 1 and 1/2 cups of warm water. For 5-7 minutes, mix everything together with your hands until it feels soft, like a dough, with no bubbles. When it's no longer sticking to your hands, shape the dough into small golf balls. Put a little flour on one side of a cutting board and layer it with plastic wrap. Place one ball in the center, then layer it with another piece of plastic wrap. Using a second cutting board, press down hard on the dough so it flattens thin. Heat a Teflon pan on medium heat and slide the tortilla on the pan when hot. After 1 or 1 and 1/2 minutes, flip the tortilla and cook for 3-4 minutes. "The store-bought [one] has all the preservatives, and when you try to make the taco, it will rip," says Jaramillo. "When you do it on your own, everyone will ask if you're selling them."
Super Salsa & Greater Guacamole
Eric Williams, chef and owner of Momocho and El Carnicero, offers a couple outside-the-tortilla mix-ins for perking up your sides.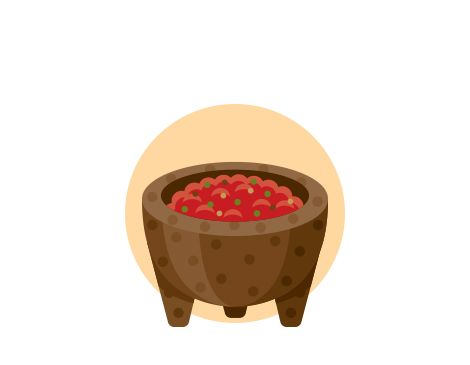 Salsa + Crushed Nuts + Grated Chocolate
Warm up a jar's-worth of salsa in a pan, pulverize some party nuts and grate in a frozen Hershey bar using a zester or cooking rasp. "It'll add sweetness, but also richness, to create a savory profile in the salsa," Williams explains. "Once it cooks down, you can pour this on roasted chicken, a homemade burrito or taco, and you're on your way to making a homemade mole, all derived from a simple salsa but with much less prep."
Guacamole + Cream Cheese + Everything Bagel SpiceJust fold in as much cream cheese as you'd like to about 6 ounces of guacamole, then top with a heaping tablespoon of everything bagel spice, and you've got a smooth, flavorful twist on an everything bagel with schmear. "Eat this with pita chips instead of corn tortilla chips," he says. "It adds texture and flavor and a nice riff for a home cook."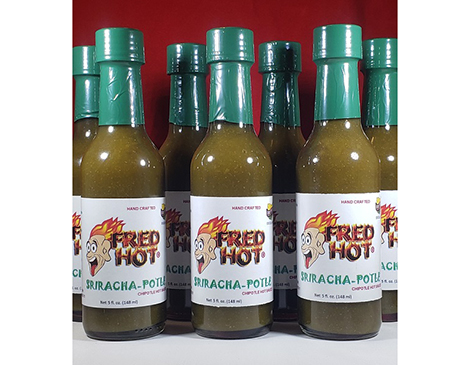 Sauce We LoveWhat can top a homemade taco? Hometown sauce, of course. Euclid's own Fred Stoldt whips up an impressive assortment of around 50 treats, toppings and a wide variety of hot sauces. Try Fred Hot's Sriracha-potle to add a smoky depth to your tacos which includes smoked jalapeno. The result is a terrifically layered taste, with a balance of sweet and smoky flavors. "It's on the mild edge of flavors due to the jalapenos," Stoldt says. "When you add a splash of it to chips and salsa, it brings a smoky flavor that balances the sweetness with the acid." 216-313-6877, fredhotspice.com