Once you start thinking outside the portobello umbrella, you may find that wild mushrooms offer a whole range of flavors for experimenting. "There's a wild mushroom to replace literally every protein out there," says Gyasi Wingo, owner of Kai's Kultured Mushrooms. "Lion's mane tastes like lobster, maitake tastes like chicken and oyster mushrooms taste like steak if you do it right."
Fields of Dreams
Jeremy Umansky, owner of Larder Delicatessen & Bakery, has a knack for foraging for
mushrooms. He gives us his field guide on three varietals found in Northeast Ohio.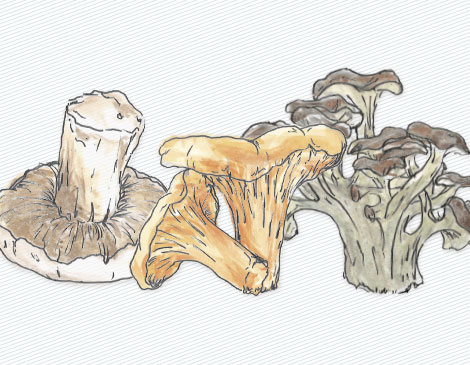 COMMON
Meadow mushroom (Agaricus campestris): You'll find these in meadows and lawns sometimes in the spring but mostly in late summer and throughout fall. "The meadow mushroom is definitely an earthy mushroom, but lighter than the earthiness you'd find in deep-forest mushrooms," Umansky says. Since meadow mushrooms are from the same genera as white button, cremini or portobellos, they can be prepared similarly. "It's great for a saute and pairs with any meats, from seafood to rabbit," he says.
LESS COMMON
Chanterelle (Cantharellus cibarius): Chanterelles are very expensive to buy, but this is due to their location rather than their relative occurrence in the wild. "They're often found in deep forests. So someone's got to hike a distance to pick them and then haul them," says Umansky. "A considerable amount of work goes into obtaining them." The work and the price are worth it for the taste. "Their aroma is described as apricot and fresh black pepper. It's great with lighter proteins or even in vegetable dishes."
RARE
Umbrella polypore (Polyporus umbellatus): This kind is so rare that Umansky has only found it at three locations. "This fungus is passively parasitic so it will eventually kill its host," he says. "But it can take 25 to 30 years to do it." If you do find these mushrooms you'll more than likely find one clump anywhere from the size of a softball to a basketball. Try grilling them over high heat. "The flavor is intensely woodsy, very earthy, very umami and savory," he says. "It's also good in heartier dishes like braises or stews."
Search Party
Watch the weather. "Right after a forest fire, right after a thunderstorm, those are incidents that make the mushrooms say, 'Oh snap, something is going down — time to release spores and procreate,' " says Wingo.
Join a group. "It's always better with more heads. The more you know, the better," says Wingo. He suggests the Ohio Mushroom Society, which sponsors group forays. Check it out at ohiomushroomsociety.wordpress.com.
Do your research. Even the most minute details are important, he says. "Sometimes the only difference between two mushrooms is the spore color. One can be the most delicious billet mushroom you've ever had, and the other can be the most poisonous ever."
Market Finds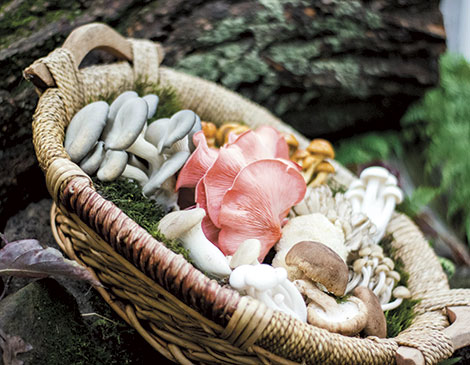 Avant Gardens Farm & Mushroomery
At their West Side Market stand, Corey and Bethany Maizel offer a mushroom medley that includes their trademark oysters along with two other seasonal varieties. You can also find the couple at farmers markets throughout Northeast Ohio. West Side Market, 1979 W. 25th St., Cleveland, 216-664-3387, westsidemarket.org
Killbuck Valley Mushroom Farm
While Tom and Wendy Wiandt mostly supply restaurants such as Fire Food & Drink, Lola and the Flying Fig with their cultured mushrooms, you can snag some at the Shaker Square North Union Farmers Market. Look for morels in early May, oysters in June and chanterelles in July and August. northunionfarmersmarket.org
Mushroom Heads
You've got your bounty, now it's time to cook them up. Here are three quick and easy dishes from the chefs at Spice Kitchen & Bar.
Pickled Dryad's Saddle Salad with Garlic Mustard Vinaigrette
"Dryad's saddle surprisingly tastes like cucumber or melon rind, which lends itself well to a salad," says Alex Hrvatin, chef de cuisine of catering. "Choose mushrooms that are less than 4 inches in diameter. Remove the tough stem and turn them over to remove the gills with the back of a knife. The gills can produce an undesirable texture when cooked."
Bring 1/2 cup apple cider vinegar, 1/2 cup water, 2 tablespoons honey, and 1/4 teaspoon salt to a boil. Pour hot liquid over 2 cups Dryad's saddle, cleaned and sliced thin. Allow to cool to room temperature and store refrigerated, where they will last indefinitely. Prepare an ice bath in a bowl with a colander. Bring 2 quarts lightly salted water to a boil. Toss in 2 packed cups of raw garlic mustard (tender stems and leaves), and cook for about 30 seconds. Immediately remove from the pot and cool in your ice bath. Drain by lifting the colander, place in a clean kitchen towel and wring out any excess moisture. To make vinaigrette, combine 1 cup oil (a neutral oil such as canola or a light olive oil), 1/2 cup apple cider vinegar, 1/2 teaspoon Dijon mustard, and 1 tablespoon honey in a blender and puree on high until thoroughly combined. In a bowl, combine 1/2 cup drained pickled mushrooms, 1/2 pound clean lettuce, 1/2 cup shaved carrots, 1/2 cup shaved radishes, 1 cup shaved asparagus, and a few tablespoons of vinaigrette (as little or as much as you like). Lightly toss and garnish with 1 cup shaved firm cheese (Owl Creek Tomme from Kokoborrego or other hard cheese).
Foraged Mushroom Toast
"You'll begin to see ramps, wild mushrooms and pea shoots popping up at your local farmers market and you know that spring has sprung," says Adam Stafford, chef de cuisine. "I love this recipe because it is light and delicious and takes care of a bread course and a salad course simultaneously."

To make cured egg yolk, combine 1 cup sugar and 1 cup kosher salt in a small mixing bowl and spread a layer in a small shallow pan or baking dish. Using one of 3 eggs, make three small "wells" in the cure mix for the egg yolks to rest. Separate the eggs (avoid breaking the yolks; discard the whites) and place the yolks in the wells. Spoon the rest of the cure completely over the yolks. Refrigerate up to 2 weeks. To make pickled ramps, combine 1 cup cider vinegar, 1/2 cup water, 1/2 cup sugar, 3 pods star anise, 1 tablespoon yellow mustard seed, 1 teaspoon ground turmeric and a pinch of kosher salt in a small sauce pan. Whisk to combine and simmer gently to dissolve the sugar and salt and bloom the mustard seed and anise. While the brine is heating up, remove the leaves from 1 pound of wild ramps with a paring knife or kitchen shears and reserve them for another use (like pesto). Split ramp bulbs vertically. Add 2 tablespoons vegetable oil to a hot saute pan and gently place the bulbs cut-side down. Sear the ramps until they begin to darken and caramelize around the edges (about 4 minutes). Remove from the pan and place in pickle brine. Simmer 3-4 minutes and remove from heat. Pickled ramps are ready to be used or can be cooled and stored in the refrigerator where they will keep for a couple of weeks. To assemble the toast, cut 12 ounces fresh morel mushrooms vertically and submerge in cool water. Slightly agitate to knock loose any sand or grit and quickly remove mushrooms to a paper-towel-lined plate. While the mushrooms are drying, heat a saute pan, add a tablespoon of vegetable oil, and place mushrooms in pan cut-side down. Sear for about 2-3 minutes and add 1 tablespoon butter. When the butter foams, add 1 tablespoon fresh thyme and a pinch of salt. Spoon butter and herb mixture over the mushrooms. Finish with the juice of 1 lemon and remove mushrooms from pan to a clean, dry paper towel. Cut 2 loaves French baguette long-ways and brush liberally with olive oil. Place the baguette cut side down on a hot spot on your grill for about 1 minute, being mindful of flame-ups. You want to get strong grill marks on your toast without burning it. Remove bread from grill and spread 8 ounces ricotta cheese on the grilled side of the bread. Remove the egg yolks from the cure mix and rinse under cold water. Cut the bread into 4-5 inch long pieces and place on a serving platter. Adorn with the roasted mushrooms and pickled ramps. Using a microplane, grate the cured egg yolk over the toast in the same fashion as you would for a block of parmesan cheese. Garnish with fresh pea shoots and a bit of lemon zest and enjoy.
Mushroom-Powdered Hanger Steak with Ramp Chimichurri and Roasted Oyster Mushrooms
"Crystallized mushroom powder is very easy to find at the Asian markets, and it's an umami bomb," says chef and owner Ben Bebenroth. "You can also make your own out of dried wild ones. The chimichurri is a nice touch because its acid helps cut the umami of the mushroom steak."
In a mortar and pestle place 1 tablespoon fennel seeds, 2 teaspoons black peppercorns and 1 teaspoon white peppercorns along with 2 tablespoons salt and 1 teaspoon coriander seed. Pulverize until very fragrant and the texture of fine sawdust. Mix in 2 tablespoons mushroom powder and 1 tablespoon crystalized mushroom powder and place in a sealed container. Keeps for 1 month. Rinse 2 hanger steaks and blot dry. Season thoroughly with prepared mushroom seasoning powder and grill to mid-rare over a raging hot hardwood grill. Remove from the grill, dot with 2 ounces of butter and sprinkle with additional seasoning and allow to rest for 5-10 minutes. Slice on the bias against the grain. To roasted oyster mushrooms, drizzle 2 clusters of wild oyster mushrooms with extra virgin olive oil and season lightly with 1 teaspoon mushroom powder seasoning from above. Grill over high heat (preferably over hardwood coals) until the edges of the cluster brown just slightly and the sides/stems have taken on marks from the grill. Remove from the grill and rest with a small drizzle of extra virgin olive oil. To make chimichurri, In a food processor add 4 cloves spring garlic, minced, 1/2 teaspoon sea salt, 1/4 teaspoon black pepper, pulse. Add 1 bunch parsley, 1/2 bunch cilantro, 1 sprig fresh oregano and 1/4 cup extra virgin olive oil, 1/2 teaspoon maple syrup, 4 shakes hot sauce and 4 ramps, cleaned bulbs only, sauteed and cooled, pulse 4-6 times. Remove from the machine and cover with juice of 1 lime and stir to taste. Add extra salt and pepper if desired. Place in covered container; will keep for 3-5 days in fridge but degrades quickly. Saute 2 bunches hakurei turnips, cleaned and greens trimmed to 1-2-inch and quartered, in brown butter first for approximately 2 minutes in order to get a golden edge on one side, when turning add 6 ramps, cleaned, with bulbs cut in rings and leaves chiffonade and saute 2 minutes till translucent, add 4 cloves spring garlic with greens, sliced and 1 dozen fiddle head ferns, cleaned and double blanched and shocked and toss for 30 seconds. Season with salt and pepper and deglaze with 2 ounces of sweet white wine, reduce to au sec and add a 1-ounce knob of butter to swirl and plate. Sea salt and pepper to taste.