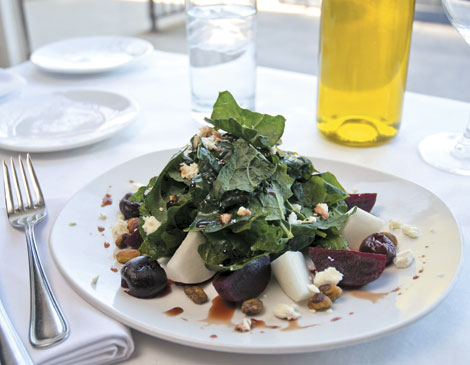 1. Ohio Cherry Salad with Roasted Beets, Summer Turnips and Toasted Pistachios
"I love the earthiness of roasted beets and spiciness of the turnips, and the sweetness of the cherries adds a balance of flavors." — Douglas Katz, chef and owner of Fire Food & Drink
Heat oven to 375 degrees. Tear off a large piece of foil and place 2 medium red beets in the center. Drizzle the beets with 1 1/2 teaspoons of rice wine vinegar, 1 tablespoon extra virgin olive oil and sea salt to taste. Add 2 stems of fresh thyme. Gather the corners of the foil and twist gently to create an airtight package, while still leaving an air pocket inside. Repeat this process with 3 baby white turnips, vinegar, oil, salt and thyme. Place packages on a separate baking dish or cookie sheet and bake for 35-45 minutes for the turnips and 1 hour and 15 minutes for the beets. Let cool for 20-30 minutes. Peel beets and cut into bite-size wedges. Repeat with the turnips. Place 1/4 cup shelled unsalted pistachios on a cookie sheet and bake at 350 degrees for 10-12 minutes until toasted. To make the dressing, combine 1 large finely diced shallot, 1 tablespoon Dijon mustard, 2 tablespoons honey, 1/3 cup freshly squeezed lemon juice, 2 teaspoons finely chopped mint leaves and sea salt and freshly cracked black pepper to taste in a high-speed blender. Slowly pour in 2/3 cup chilled grapeseed oil. Stir the dressing and spoon it into the bottom of a large mixing bowl. Place 2 bunches coarsely chopped kale in the bowl, season with sea salt and freshly cracked pepper. Gently toss until all of the leaves are coated. On the outer edge of pre-chilled salad plates, arrange the beets, turnips and 5 pitted and sliced cherries per plate, alternating colors. Place a large handful of salad in the middle of each plate and top with 1/2 ounce crumbled goat feta and toasted pistachios to taste.




2. Grilled Steak Kebabs with Macerated Ohio Cherries and Basil
"The Worcestershire sauce adds an umami component to the sweetness of the Ohio cherries. The two may sound like they don't go together, but I promise they complement each other very well." — Brett Sawyer, chef and owner of the Plum

Cut 2 pounds eye of round beef (or other tender cut of beef) to 1-2 inch cubes. Marinate in 1 cup red wine vinegar, 1 cup water and 2 tablespoons salt for about an hour. While beef is marinating, pit 1 pound Ohio cherries and chop roughly. Place cherries into a mixing bowl and add 1/4 cup sugar, 2 tablespoons red wine vinegar, 1/4 cup Worcestershire sauce and 1 cup torn basil. Mix all ingredients until sugar dissolves. Let mixture sit at room temperature until ready to use. Take steak out of the marinade and skewer. Season well with salt and pepper and grill to medium. Right before the kebabs are done, use a brush and coat the steak with liquid from the macerated cherries. When the meat is done, place on a plate and cover it with the cherries. Garnish with torn basil.



3. Seared Pork Chops with Cherry Mostarda
"I love whole grain mustard because it provides a tart little pop of acidity to match the rich fat of the pork and the sweetness of the cherries." — Melissa Khoury, co-owner
of Saucisson

In a small pot, combine 1 cup pitted cherries, 1 tablespoon yellow mustard seeds, 1 tablespoon brown mustard seeds, 1 teaspoon dried ground mustard, 1/4 cup dry white wine, pinch of salt and 2 teaspoons sugar. Simmer until cherries become tender. Remove half of the mixture and smash with a fork. Combine everything back together and cool slightly. Heat 2 tablespoons oil or lard in a large skillet over medium-high heat. Season 4 bone-in pork chops with salt and pepper. Cook pork chops in skillet until bottom side is golden brown for about 1 minute. Turn and cook on the other side for about 1 minute before turning again. Repeat this process until chops are deep golden brown and an instant-read thermometer inserted into the thickest part registers 135 degrees. Plate chops and pour mostarda over top or serve on the side.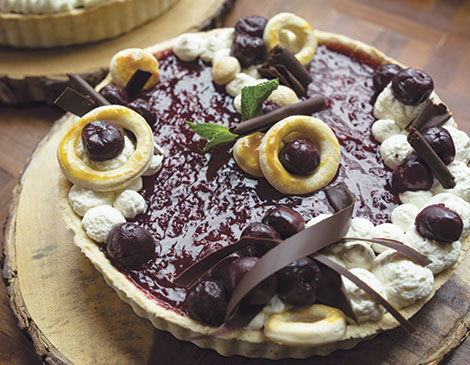 4. Dark Chocolate Cherry Tart
"This is a fun play on a cherry pie. The
dark chocolate, with the bitterness and sweetness of the cherries, gives you a nice balance. The soft chew and the snap from the crust adds a balance of textures as well."
— Erica Coffee, pastry chef at Sol

Put prepared pie crust into a 9-inch tart mold with a removable bottom and bake according to package directions. Let shell cool. To make ganache, boil 1 1/2 cups heavy cream in a heavy saucepan. Turn off the heat. Add 1 pound chopped semisweet or bittersweet dark chocolate and let mixture rest until melted. Use a rubber spatula to stir the mixture. Pour into a bowl, cover with plastic wrap and set aside until crust has cooled. Spread ganache evenly into crust and cool in refrigerator for one hour. In a small saucepan, combine 1 1/2 pound pitted and coarsely chopped cherries (reserve half-pound for decoration), zest of one lemon and 2 tablespoons lemon juice. Over medium-high heat, bring the cherry mixture to a boil. Immediately reduce the heat to medium to medium-low and continue to simmer for about 20 minutes, stirring occasionally. Add 1/4 cup pure maple syrup and bring the mixture back to a simmer. Stir occasionally for another 20-25 minutes or until the mixture thickens. Once thickened, carefully transfer to blender. Puree on high until smooth. Remove from blender to heat-safe bowl. Place plastic wrap directly on the jam to avoid a film forming and let cool. Once cooled, remove plastic wrap. Remove ganache-filled tart from refrigerator and evenly spread jam over the ganache layer. Return to refrigerator for 30 minutes. While the tart is setting, slice remaining cherries. Decorate and serve.