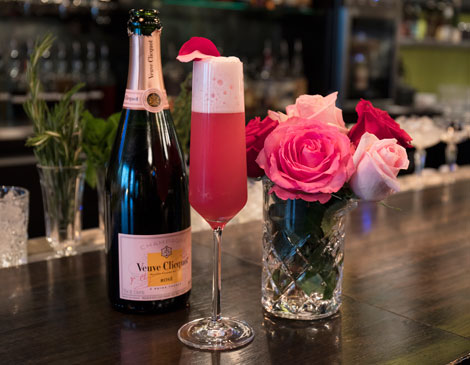 2 Tingles Intermingle
"We use rosewater because roses add an earthiness, almost a herbaceousness, that grounds the sweetness of the cocktail." — Ryan King, co-owner of Crumb & Spigot
To make a hibiscus simple syrup, thoroughly whisk 16 ounces sugar with 16 ounces water over heat. Bring to a simmer. Take off heat and steep 8 hibiscus tea bags for 20 minutes, covered. Chill. To make the hibiscus rose water foam, combine 2 ounces lime juice, 1 1/2 ounces hibiscus simple syrup, 4 ounces water, 1 ounce Fee Brothers rose water and 4 egg whites. Add half the mixture into a chilled shaker. Using the spring of a Hawthorne strainer inside the shaker, close and shake vigorously until a frothy foam forms. Repeat with remaining ingredients. To build cocktail, add 3 mint leaves and 3/4 ounces fresh squeezed lemon juice in shaker pint. Add 2 ounces Tito's vodka, 3/4 ounces hibiscus simple syrup and 2 dashes Fee Brothers rhubarb bitters. Fill shaker pint halfway with ice, cover with cocktail shaker tin and shake vigorously until chilled and diluted, about 20 seconds. Fill a champagne flute 3/4 way with hibiscus rose water foam. Strain cocktail over foam; foam will rise. Top with Brut Rose Champagne, about 1 1/2 ounces. Foam will rise above liquid. Garnish with rose petal.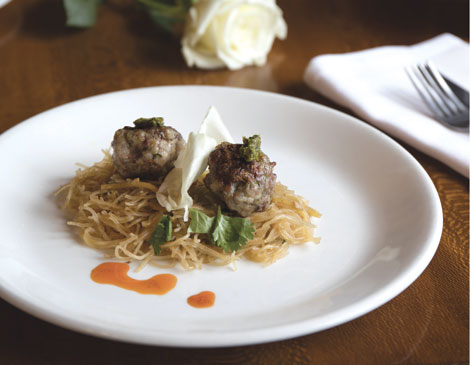 Pancit Pinoy Pork Meatballs with Pickled Rose Petals
"There's a bitter component to rose petals. The acid in the fish sauce cuts through all that. Nothing overpowers." — Ricardo Sandoval, chef and owner at Fat Cats
To make the pickled petals, heat 1 cup rice wine vinegar, 1 tablespoon salt, 1 inch of peeled and thinly sliced ginger and 1 1/2 tablespoons honey in a pan. Chill for 10 minutes. Pour liquid brine over 1 cup organic rose petals in a glass or ceramic bowl. To make pancit, heat 4 tablespoons olive oil and 2 tablespoons garlic on medium heat until garlic is lightly browned and fragrant. Add 4 cups chicken broth, 2 tablespoons soy sauce, and 2 tablespoons fish sauce and simmer. Prepare 1 package pancit thin rice noodles according to directions and add 1/4 cup shredded carrots and 1/4 diced scallion. Toss until heated through. For the pork meatballs, preheat oven to 450 degrees. Combine 1 pound ground pork, 2 diced scallions, 2 tablespoons diced cilantro, 1 tablespoon peeled and finely diced ginger, 1/2 finely diced jalapeno, 1/2 teaspoon salt and 1 1/2 tablespoons fish sauce. Mix all ingredients, then shape into 1 1/2 ounce meatballs. Bake for 20 minutes. To serve, place a small portion of pancit on each plate, then top with a few meatballs. Top with a few pickled rose petals next to the meatballs.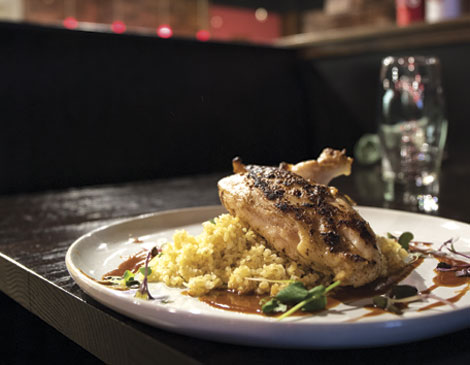 Rose-brined Chicken with Rose-Petal Harissa
"Rose water is really pungent. A little goes a long way. You only need couple drops here and there." — Anthony Scolaro, chef and owner of 111 Bistro
To make the brine, combine 5 halved lemons, 24 bay leaves, 1 bunch parsley, 1 bunch thyme, 2 tablespoons rose water, 1/2 cup honey, 10 garlic cloves, 1/4 cup peppercorns, 2 cups kosher salt and 2 gallons water in a large pot and bring to boil. Remove from heat and cool completely. Add 6 uncooked chicken breasts and allow to sit, in fridge, for at least 12 hours. Remove from brine. Sear chicken in skillet until brown on both sides; finish in oven until cooked through. To make harissa, place 1 red pepper under a very hot broiler or open flame, turning occasionally for about 25 minutes, until blackened on the outside and completely soft. Transfer to a bowl, cover with plastic wrap and allow to cool. Peel the pepper under running water and discard its skin and seeds. Place a dry frying pan over low heat and lightly toast 1/2 teaspoon coriander seeds, 1/2 teaspoon cumin seeds and 1/2 teaspoon caraway seeds for 2 minutes. Move them to a mortar and use a pestle to grind to a powder. Heat 1 1/2 tablespoons olive oil in a frying pan over medium heat and fry 1 small chopped red onion, 3 chopped garlic cloves and 3 seeded and chopped hot red chiles for 10 to 12 minutes, until ingredients are almost caramelized. Add 4 tablespoons ground rose petals at the end. Use a blender or a food processor to mix all paste ingredients, plus 1 1/2 teaspoons tomato paste, 2 tablespoons freshly squeezed lemon juice and a 1/2 teaspoon salt until smooth, adding a little more oil if needed. Store in a sterilized jar in the fridge for up to 2 weeks or longer. Serve each chicken breast on a plate and divide harissa over each.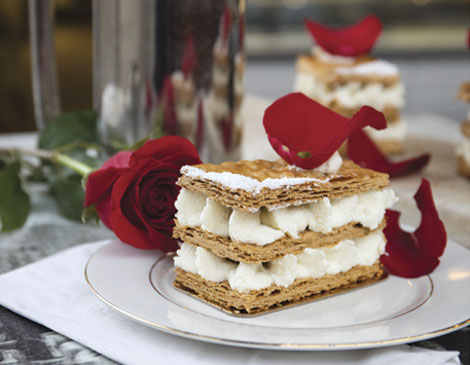 Pistachio Rose Napoleon with Pistachio Florentine
"The pistachio and rose really blend well together, both the textural component and the flavor profile." — Britt-Marie Culey, chef and co-owner of Coquette Patisserie
To make the mousse, dissolve 1/2 cup sugar in a little water in a small pot. Bring to 240 degrees. In a separate bowl, whip 2 egg whites to stiff peaks. In a slow steady stream, add the cooked sugar to the egg whites. Whip on high until cool. Sprinkle 1 tablespoon gelatin over 3 tablespoons water and let it absorb the water, about 5 minutes. Slowly warm the gelatin mixture over a water bath or in the microwave until melted. Fold 1 tablespoon vanilla bean paste (or vanilla extract), 1/2 tablespoon rose water and melted gelatin into the meringue. Fold 1 cup whipped heavy cream into the meringue. To make the pistachio Florentine, mix 1/2 pound butter, 3/4 cup sugar, 2 tablespoons corn syrup and 2 tablespoons cream in a pot. Bring to a boil. Remove from heat and add 2 cups chopped pistachios. Bake 3 sheets of puffed pastry according to package instructions. Then, pipe a border of mousse around the outside edge of the first piece of puff pastry. Fill the center with a layer of pistachio Florentine. Layer the second sheet of puff pastry on top carefully. Pipe another border of mousse and fill the center with the Florentine. Top with the final sheet of puff pastry. Dust with powdered sugar and serve. Decorate plate with edible organic rose petals.