Step 1: Create a ghoulish gourd.
What's Halloween without a pumpkin? Kick off your party with this edible centerpiece that's incredibly easy to make and requires basic items such as chocolate cake mix, a round Bundt pan, food coloring, frosting and a cake cone. "I like this because it's a crossover that would work really well for an adult party and is whimsical enough to work for a kids' party as well," says Tara Berger, creative director and owner of One Stylish Party. Just place your creation on a cake stand and set it on your party table. "Accent the stand with seasonal items like candy corn and votive candles, and possibly a textured orange table runner underneath," says Berger. "It's the way you're displaying this that takes it to a separate level."
Pumpkin Bundt Cake
Prepare 2 boxes of chocolate cake mix according to package directions, baking each in a round Bundt cake pan. Remove from pans and cool completely. Trim the flat side of each Bundt cake to make even. Place the first cake, rounded side down, on a cake platter. Spread 1/4 cup from 2 containers of white frosting across the surface. Place the second cake on top, round side up. Tint 1/4 cup of frosting with green food coloring. Frost a cake cone and allow it to set. Warm the second container of frosting in the microwave, 30 seconds at a time, until it is the consistency of a thin glaze. Tint with orange food coloring and drizzle on the top of the cake. Place the frosted cake cone in the middle of the cake as the pumpkin stem. Slice as you would a regular Bundt cake.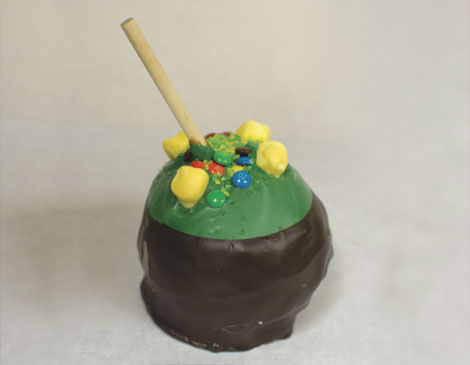 Step 2: Craft a bewitching caramel apple.
Your party guests will cackle with delight when they see this witch's cauldron in caramel apple form. Whether you start with the store-bought variety or make your own, it's as simple as layering different colors of tinted chocolate, says Jeff Campbell, co-owner of Campbell's Sweets Factory. Start by dipping a caramel apple partway into melted dark chocolate to represent the pot. Then tint some white melting chocolate with green food coloring and spoon the green chocolate thickly around the top. Add some mini M&Ms, sprinkles and mini marshmallows to mimic the ingredients. "It doesn't look like a normal caramel apple. It represents Halloween and something spooky," says Campbell. "This is something that would be great for parents to do with their children."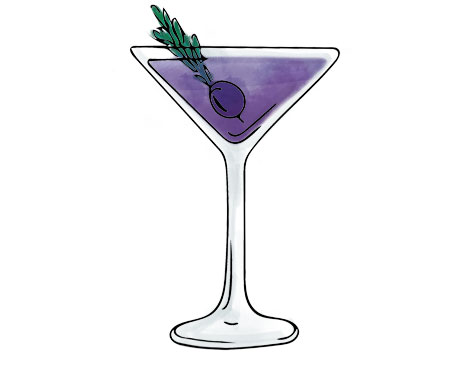 Step 3: Stir up a ghostly brew.
Add a little mystery to your cocktail by mixing up a batch of the Dark Passenger, says Danina Calame, a bartender at the Velvet Tango Room. It starts with 2 ounces of Plymouth gin, 1 ounce of blackberry syrup, 3/4 ounces fresh lime juice and 1/2 ounces balsamic fig vinegar. Garnish with a rosemary sprig with a seedless black grape on the end. For an extra eerie note, use tongs to add a cube of dry ice — just be sure to remove before drinking. "The vinegar gives this drink a tang that mimics the taste of grapes," she says. "It's dark and mysterious, and the dry ice would make it look awesome."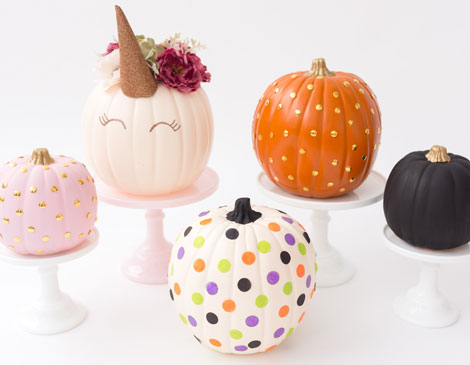 Step 4: Have a great pumpkin adventure.
Sure, pumpkin carving is a time-honored family tradition, but there are other ways to decorate a pumpkin that look equally fun and festive. One Stylish Party's Tara Berger offers three ideas.
Pushpin Pumpkin
Paint the pumpkin, if desired, with chalk or acrylic paint in your choice of color using a foam paintbrush. Allow to dry completely. Place gold thumbtacks in the pumpkin in a random fashion. "Try gold pushpins with a plain orange pumpkin or paint the pumpkin white or black," Berger says. "If your home has a nautical feel, you can paint it navy."
Confetti Pumpkin
Paint the pumpkin with chalk or acrylic paint in your choice of color using a foam paintbrush and allow to dry completely. Coat the painted pumpkin with a layer of Mod Podge. Sprinkle tissue paper confetti on the pumpkin or fill a container with confetti and dip the bottom of the pumpkin for unexpected flair. "Buy precut confetti or involve the kids at home by having them cut up tissue paper," she says.
Unicorn Pumpkin
Paint the pumpkin with white chalk or acrylic paint using a foam paintbrush and allow to dry completely. Create the unicorn horn by cutting a cone shape from gold glitter cardstock. Glue faux or real flowers around the horn. Use a brown sharpie to draw eyelash eyes. "Unicorn parties are a hot trend," says Berger. "I took that trend and transferred it to a seasonal holiday decor."