For fresh pasta that's more than just a mere vehicle for an herbaceous sauce, you need just a few basic ingredients — olive oil, water, eggs and a 50/50 mix of regular and semolina flour. Restaurateur Dante Boccuzzi tosses up five tips for turning out fresh dough.

Process Power:
Skip the Pinterest-worthy cracked egg in a well of flour. Instead, put everything in a food processor and pulse it until it all comes together in a not-too-thick mix that you don't have to knead. "It takes some ritual out of [pasta making], but it's pretty fool-proof," says Boccuzzi. Rest Easy: Ball up the dough and wrap it tight in plastic wrap. Let it sit at room temperature for a half-hour. "If you don't let the dough rest, as soon as you start stretching it out, it will bounce right back," says Boccuzzi.

Machine Works:
Feed the dough through a hand-cranked pasta machine to knead the dough into shape. Set the machine to 1/4-inch thick, fold the dough over and run it through a few more times. "It will change the elasticity of the ingredients," says Boccuzzi. "Every time I fold and run it through, I drop the number down a notch until you get the desired thickness."

Band Together:
"The biggest step in making pasta that home cooks mess up is the consistency of the dough," says Boccuzzi. Before using the machine to cut the dough into noodles, make sure the sheet of dough feels elastic, almost like a rubber band. "You have to knead it enough so each noodle keeps its integrity and its firm bite," he says.

Salt and Settle:
Add water to a pot but pour in a generous amount of salt before boiling. The salt will boil into the dough, giving it just enough flavor to keep well when served with sauce. "It will take about a minute [to cook]," says Boccuzzi. "Once [the pasta] floats to the top, it's basically there."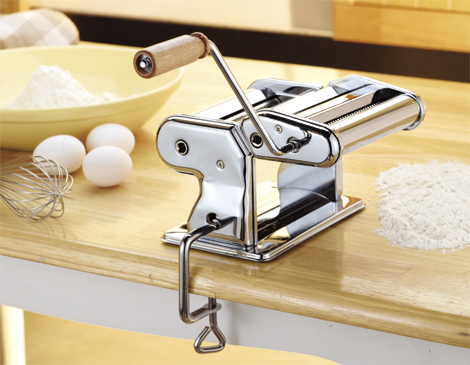 An Item We Love: Fante's Great Aunt Gina's Pasta Machine

Once your dough is set, use a pasta machine to churn out your noodles: the dough is fed in between two rotating parts, flattened on its way through, and pushed out the other side. It's a design that hasn't changed much in generations.

But we especially love Fante's Great Aunt Gina's Pasta Machine ($39.99) because it embraces its past by adding touches a nonna would appreciate: the wood handle is easy to grip even with eggy, wet hands and the extra-wide clamp grabs onto the table edge and won't let go.

Bonus: the included pasta recipe, passed down through the Fante family, really is the only one you'll ever need — generations of trial and error result in a go-to crowd pleaser. Loretta Paganini School of Cooking, 8700 Mayfield Road, Chesterland, 440-729-7340, lpscinc.com

Fresh Perspective
There's no need to dry out your noodles. Flour's co-owner and executive chef Matt Mytro makes the case for sticking with fresh pasta for your next carb-centered course.

Because pasta out of the box is dried, your cook time will be anywhere between 10-15 minutes. Once you commit to taking it out of the water you have no room for error. You can't recook it. With fresh pasta it's much easier to get that al dente [state] you're desiring. But my biggest frustration with dried pasta is that a lot of the manufacturers use Teflon dies [or molds]. Where the pasta comes out, they put Teflon inserts and there's no friction. That's why the sauce doesn't stick to the pasta — it's too smooth to catch it. We use bronze dies [when we extrude pasta], not Teflon, and when the pasta gets extruded it heats up between 88 and 90 degrees. The friction generates heat. If you're making it at home, pushing it through the extruder, it's going to be rough, not at all uniform, and that's going to help absorb the sauce. -As told to Ruth Corradi Beach



Keep It Saucy


Slather on these sauces from Adam Bostwick, owner and chef of Polpetta, for an alternative finishing touch to traditional marinara.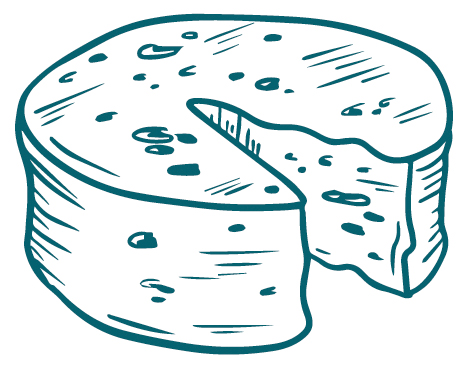 Blue Cheese Cream Sauce
Combine 2 diced medium shallots, 2 tablespoons Tabasco sauce, 2 1/2 cups heavy cream, 1 teaspoon salt and 1 teaspoon pepper in a medium pot. Simmer over medium heat for about 5 minutes. Remove from the stovetop and immediately add 3 cups blue cheese crumbles and 2 tablespoons chopped chives. Whisk until cheese is melted.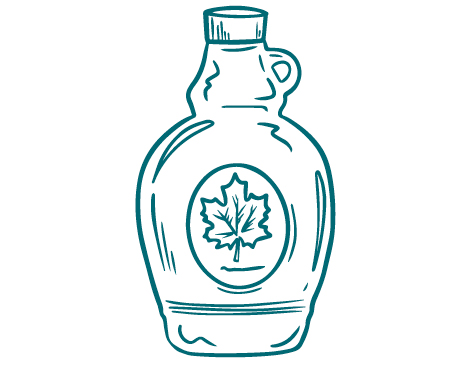 Maple Hot Sauce
Combine 2 cups Frank's RedHot, 1 tablespoon chopped ginger, zest and juice of 1 lime, and 1 tablespoon salt in a pot. Let this simmer on low heat for 20 minutes. Remove from the stovetop and add 2 cups Ohio maple syrup. Mix well with a whisk and let the sauce sit overnight in a refrigerator to bind the flavors together.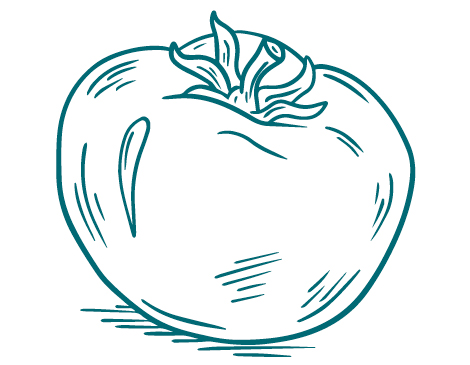 No-Cook Tomato Sauce
In a blender, combine 1/4 cup honey, 4 cloves roughly chopped garlic, 4 cups roughly chopped heirloom tomatoes, juice from 1/2 lemon, a splash of honey and salt and pepper to taste. Puree all ingredients until smooth, 1-2 minutes. With the blender on high, slowly add a stream of 1 1/2 cups extra-virgin olive oil.