Pulled Jerk Chicken Tacos with Summer Peach, Jalapeno and Mint Chutney
"The mint, lemon, honey, peach — the acid and sweetness are what balances the spice in the jerk, and then that creamy goat cheese. It all just blends so well in the bite." — Douglas Katz, chef and owner of Zhug and Fire Food & Drink.
In a blender, puree into a paste 1 large stemmed and halved habanero chile, 2 roughly chopped scallions, 2 roughly chopped shallots, 2 large peeled garlic cloves, 2 tablespoons jerk seasoning, 1 teaspoon kosher salt, 1 teaspoon soy sauce, the juice of 1/2 lime, 1 tablespoon vegetable oil and 1 tablespoon fresh thyme leaves. Thoroughly coat 8 skinless, bone-in chicken thighs with the spice paste. Place chicken in a sealed bag, refrigerate and allow to marinate for 1 hour or overnight. Preheat oven to 375 degrees and place chicken on a foil-lined sheet tray. Pat the marinade evenly onto chicken, making sure it is on the surface rather than pooled around it. Cook for 40-45 minutes, until chicken is browned and tender. Allow the chicken to cool for 15 minutes and then pick it off the bone, removing any sinew, and place it in an ovenproof dish. To make the chutney, stir to combine 2 quartered and sliced peaches, 1 seeded and diced jalapeno, 6 chiffonaded mint leaves, 2 tablespoons lemon juice and 1 tablespoon local honey and set aside for at least 15 minutes. Serve with 24 taco-sized tortillas, heated over an open flame or in a dry pan for 10-15 seconds per side. Garnish with goat cheese.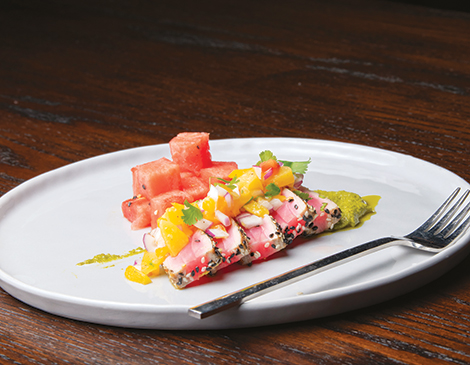 Seared Tune with Pistachio-Mint Pesto, Watermelon, and Chipotle-Peach Relish

"The fattiness from the tuna and the fresh, crisp watermelon play off each other. The spiciness in the chipotle is a good pair with the sweetness of the peach." — Mike Smith, chef and co-owner of Thyme Table.


Cut 1 pound of ahi tuna into 4 equal pieces. Season with salt and pepper. Heat 1 tablespoon vegetable oil in a sautepan until it starts smoking. Sear the tuna for 30 seconds on each side, and then set aside to cool. When cool, slice the tuna into strips.
Cube enough ripe watermelon to produce 1 cup and set aside. Preheat oven to 350 degrees and toast 2/3 cup raw pistachios for 5 minutes. Let cool. In a food processor, combine the toasted pistachios, 2/3 cup extra-virgin oliv eoil, 1 teaspoon kosher salt, 1/4 teaspoon freshly ground black pepper, 1/2 cup finely grated Parmesan and the juice of 1/2 lemon. Blend until chopped. Add 2 cups packed mint leaves and process to finish the pistachio-mint pesto. Quarter and dice 3 or 4 medium, ripe peaches. Roughly chop 1/4 red onion into very small pieces. Peel one-inch fresh ginger and grate into a bowl. Peel and grate 3 cloves garlic into the bowl as well and stir in the peaches and onions. Pick the leaves off 1/2 bunch of cilantro and roughly chop. Add to the salsa bowl and stir. Add 1 teaspoon salt, 1 teaspoon chipotle powder and the juice of 1 medium lime into the bowl and stir again. Place 1 tablespoon of the pesto on each plate, top with tuna, cubes of watermelon and salsa.





Basil Cream Crepe
"The basil cream is something we use quite often in summer pastries. Basil is bright and fresh, with a floral essence. It's one of those herbs that lends itself well to sweeter things." — Bridget Thibeault, chef and owner of Luna Bakery & Cafe

To make the pastry cream, combine 1 cup whole milk, 10 basil leaves and 1/4 cup sugar in a pot. Heat to a simmer, remove from heat and cover with lid or foil. Steep for 30 minutes. Whisk together 2 egg yolks and 1 tablespoon cornstarch in a small bowl. Remove basil from milk. Reheat milk to a simmer. Temper with egg mixture by adding a little warm milk to egg mixture, whisking and then adding the mix back into the pot. Return to low heat and stir until bubbles form around the edges, stirring constantly. Remove from heat, add 2 tablespoons unsalted butter, and whisk to combine. Strain cream into a bowl. Cover tightly, with plastic wrap touching the cream, and refrigerate. To make peach filling, cut 4 ripe, firm peaches into 8-10 wedges each. Drizzle with 2 tablespoons maple syrup. Heat 2 tablespoons avocado or canola oil in a nonstick pan over medium-high heat. Saute peaches until golden brown, turning halfway through. Transfer onto a plate to cool. Warm premade crepes, individually, briefly in a pan. Plate and spread 1 tablespoon pastry cream inside. Fold in half and top with peaches.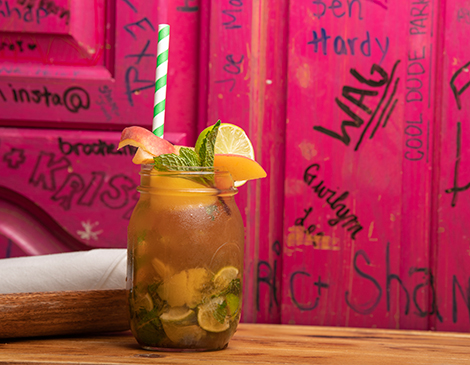 Peach Mojito
"The peach adds a different profile to the whole mojito. The peach and mint combined are very aromatic and fruity." — Juan Vergara, owner of Barroco Arepa Bar and Hola Tacos

Cut 1/2 lime into wedges and place in a 16-ounce glass. Crush 4 or 5 mint leaves with your hands, making sure to include at least 1 stem for the aroma, and add them to the glass. Shave around 1 ounce panela (unrefined whole cane sugar) into a powder, or 2 ounces if you like it really sweet. Add 2 ounces Bacardi Silver, 1/2 peach, peeled and cut into wedges and muddle all ingredients. Fill the glass with ice, as desired, and top with soda water or Sprite. Splash with 1/2 ounce Kraken spiced rum and serve with a straw.