1. Roasted Butternut Squash Apple Bruschetta
"The butternut squash provides a sweet balance with its earthy tones. The sage adds a different complement to the herbs to create a warm, fall feeling. And I am a big fan of balsamic glaze. Adding that flavor to the squash, goat cheese and apples strikes a balance of sweet and acidic." — Erica Coffee, pastry chef at StoneWater Golf Club

Preheat oven to 425 degrees.
In a large mixing bowl combine 2 cups peeled and diced butternut squash, 1 cup peeled and diced Gala or Fuji apples, 2 tablespoons olive oil, 1/2 teaspoon ground cinnamon, 1/4 teaspoon ground nutmeg, 1/4 teaspoon ground allspice, 1/4 teaspoon ground cloves, 6-8 fresh chopped sage leaves, 1/2 teaspoon kosher salt and 1/2 teaspoon black pepper.
Place on a parchment-lined baking sheet and roast in the oven for 15 minutes. Remove and cool completely when done.
On a separate parchment-lined baking sheet, lay 8 slices of French bread flat and brush 4 tablespoons olive oil evenly on both sides.
Bake for 4-5 minutes or until desired texture.
In a medium bowl, blend 1/2 cup ricotta and 1/2 cup goat cheese until smooth.
Add another 1/2 teaspoon kosher salt and 1/2 teaspoon black pepper.
Once the apple mix and toast are cool, spread the goat cheese ricotta mixture evenly on each piece of bread.
Top with the apple mix.
Drizzle with balsamic glaze and serve.





2. Grilled Tomahawk Pork Chop with Apple Chutney
"It's the sweetness of the apple, the tartness of the cherry and the tenderness of the pork that work well together. I love grilling asparagus at home. I marinate it in balsamic vinegar and garlic, then place it on the top burner of the grill to get a sweet char on there." — Paul Mendolera, chef and owner of Element 41

Preheat oven to 350 degrees.
For each serving, marinate 6-8 asparagus spears in chopped garlic and balsamic vinegar and set aside.
Quarter 5-6 red skin potatoes, toss in olive oil, salt and pepper and roast in the oven for 35 minutes.
Season 1 10-12-ounce tomahawk pork chop with Montreal seasoning and cook on grill to desired doneness.
Combine 3-4 skinned, cored and chopped Red Delicious apples, 1 chopped white onion, 1 cup dried cherries, 1 cup water, 1/2 cup sugar, 1 teaspoon cinnamon, 1 teaspoon nutmeg, 1/4 cup cider vinegar and 1/2 teaspoon salt in a saucepan and simmer on medium heat until onions and apples are soft.
Reduce heat and simmer until liquid is reduced by half.
Add cornstarch and water until desired thickness, and then top the pork chop and potatoes with the apple chutney.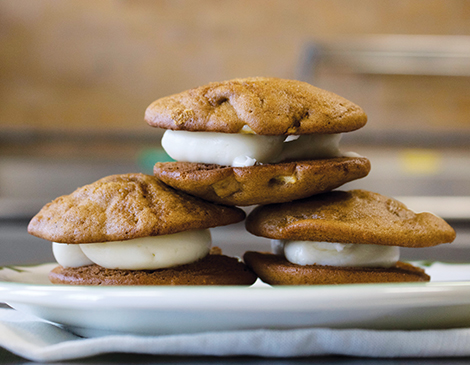 3. Spiced Apple Whoopie Pies

"Molasses, cinnamon and ginger complement apples very well. The molasses makes the taste softer, warmer and adds a good flavor, and then the apple offsets the sweetness a bit. I like the chopped texture of the apples: you can see them and it gives a bite to the pies." — Ann LoParo, owner of Annie's Signature Sweets

Preheat oven to 350 degrees.
Separately, set aside 6 ounces mascarpone cheese, 8 ounces cream cheese and 4 ounces cubed, unsalted butter and bring to room temperature to be used in the filling later.
Line 2-3 sheet pans with parchment paper.
Peel, core and chop 1 apple into 1/4-inch pieces and set aside.
Beat another 1/2 cup unsalted butter, 2 tablespoons molasses and 1 cup brown sugar in a bowl with a hand mixer until fluffy.
Incorporate 2 eggs into the mix.
Add 1 teaspoon baking soda, 1 teaspoon salt, 1 tablespoon cinnamon, 2 teaspoons ground ginger and half of 2/3 cups buttermilk.
Mix for about 1-2 minutes, then add the other half of the buttermilk and 2 cups all-purpose flour.
Mix for about 2 more minutes, then fold in the apple with a spatula. Scoop onto a sheet tray in even rounds, leaving at least 3 inches between each cake.
Bake 8-12 minutes until the cakes flatten and the tops set.
Prepare the mascarpone cream cheese filling by mixing the now-softened 4 ounces of butter until fluffy and creamy.
Add the now-softened cream cheese and mascarpone cheese and combine.
Slowly add in 3 cups powdered sugar.
Frost half the cakes with this filling and create sandwiches.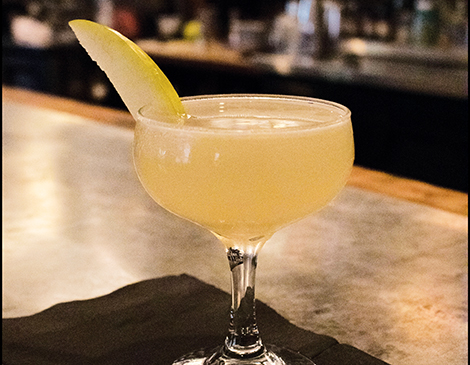 4. Granny's Daiquiri

"The lighter, sweeter vinegar helps it be more apple forward, with vinegar taking a back seat. The sage leaves add a fall flavor, and sage and apples complement each other so well. It also helps temper the sweetness of the shrub and bring out the characteristics of the apple itself, as well as more aromatics." — Alex Arsham, executive chef at Toast

Make Granny Smith apple shrub by combining 1 1/2 cups water, 6 torn sage leaves, 3/4 cup sugar and 3 ripened and thinly sliced Granny Smith apples in a small sauce pot.
Lightly simmer for 20 minutes.
Add 1 cup rice wine vinegar and continue to simmer for 5 more minutes, then remove from heat.
Once cooled, strain the shrub and transfer into storage container for future use.
Combine 2 ounces white rum, 1 ounce Granny Smith shrub, 1/2 ounce fresh lime juice, 1/2 ounce simple syrup and 1 dash apple bitters in a cocktail shaker with ice. Shake for 30 seconds and strain into a chilled glass.
Garnish with an apple slice and twist of expressed lime peel.