Simple, warm meals that require more effort to eat than they do to prepare are perfect for January's cold, dark days. No wonder it's National Slow Cooking Month. Here's a quick round-up of an entire day's worth of slow-cooked meals from some of our favorite chefs.
For Breakfast:
Candy Bar Overnight Oatmeal
Nothing says good morning like oatmeal — especially one that mimicks your favorite sugary splurge. Anna in the Raw's Anna Harouvis combines quinoa, nuts, chocolate chips, dried fruit, cocoa powder and maple syrup for a hearty, just-this-side-of-gooey morning treat. The recipe, which makes eight to 10 servings, is also vegan and gluten-free. "Working on my feet all day, I love having a decadent, filling, healthy breakfast. This is so decadent that it is almost like having dessert for breakfast!"

Combine 1-1/2 cups steel cut oatmeal (must be steel cut), 1/2 cup quinoa, rinsed and drained, 5 cups non-dairy milk (almond, cashew, or coconut), 1 teaspoon sea salt, 1/4 cup cacao powder (regular or raw) and 1/4 cup syrup (maple or agave) in a slow cooker. Cook on low for 6 hours (overnight). In the morning, turn cooker to warm. Mix in 1/2 cup cashew or peanut butter and 2 ripe bananas, mashed. Add more non-dairy milk if needed. Add toppings as desired, including nuts, chocolate chips, nut butter, fruit, dried fruit or cinnamon.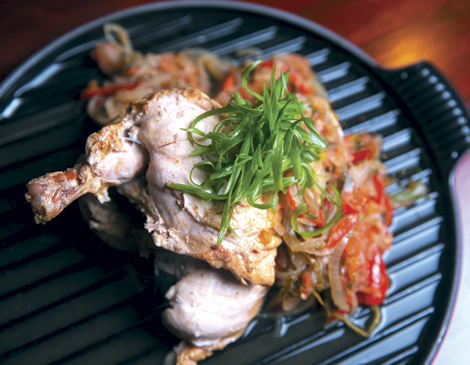 For Lunch:
Tasty Chicken
This simple recipe, which makes six to eight servings, combines marinated chicken with an assortment of veggies to create a warm dish that's a basic go-to. Personalize it with your favorite vegetables such as diced butternut squash or fresh tomatoes, suggests Rocco Whalen, chef and owner of Fahrenheit. "This one's perfect for when you don't want to brown anything. You're not looking for technical perfection, you're just looking for a really great pot of something."

Twenty-four hours in advance, marinate 8 boneless, skinless chicken breasts (cut in halves) in 1/2 cup orange juice, 4 tablespoons lemon juice and 1 ounce garlic, chopped. Place covered in fridge. In crock pot, combine 2 poblano peppers (julienned), 2 bell peppers (any color, julienned), 1 jalapeño (seeded and diced), 4 cups tomato (seeded and chopped), 1 gallon stock (chicken or vegetable), 2 onions (julienned), 1/2 cup minced scallions, 1 teaspoon ground coriander, 2 teaspoon chili powder, 2 teaspoon cumin, 1 teaspoon cayenne and the pre-marinated chicken breasts. Place setting on high till mixture boils, then simmer for 6 hours. Divide among individual bowls and serve.

Serving suggestions (Keto): Add salsa, sliced avocados and/or black beans to taste.
Serving suggestions (Non-Keto): Serve over wild rice, rice pilaf or tortillas.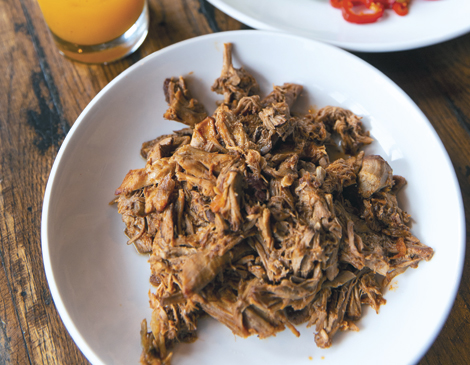 For Dinner:
Carnitas
Classic carnitas use lard, while this version, which serves six to eight, gets its flavor from citrus, vinegar and beer. The extra step of broiling the Mexican-indebted pork after cooking for 8 hours is totally worth it, since it adds a crunch that plays with the zip of citrus, acid and heat of the chipotle en adobo. "I love this recipe," says Eric Williams, chef and owner of Momocho and El Carnicero. "Plus it gives me plenty of time to enjoy the day while dinner is cooking."

Cut 3-4 pounds boneless pork butt/shoulder into three or four equal size pieces (leaving the bone will add flavor). Combine 2 teaspoons ground cumin, 1 teaspoon coriander, 1 teaspoon dry oregano and 2 tablespoons kosher salt and rub spices into pork.

On the stovetop, sear the seasoned pork in batches in 2 tablespoons vegetable oil. Remove meat and place in slow cooker. Saute 1 Spanish onion (rough cut), 1 carrot (rough cut), and 4 cloves garlic (rough cut) in pan, then add to slow cooker. Add 12 ounces beer (lager), 1-2 cups water, 1⁄4 cup orange juice, 1⁄4 cup red wine vinegar, 2 bay leaves and 2 tablespoons chipotle en adobo (the reserved liquid from a can of chipotles). Place lid on slow cooker and cook on low for 8 hours or until meat is fork tender.

Remove meat onto a baking sheet and pre-heat broiler. Set cooker to simmer and reduce liquid. Meanwhile, using a fork, shred the pork. Strain and reserve reduced liquid. Broil the shredded pork until crisp and season crisp pork by drizzling with reduced broth. Serve with your choice of toasted flour tortillas, salsa, guacamole, pickled onions and limes.

Spice of Life




It combines all our favorite flavors: pumpkin spice, chocolate and cinnamon. This deliciously warm punch gets a boost from Baileys and bourbon. It's perfect for parties or just hanging out with loved ones on those chilly winter nights. "It's not too bourbon-heavy, it's not too much pumpkin," says Jaret Havanchak, executive chef and owner of Square Bistro in Chardon. "Using a slow cooker allows you to throw it together and forget about it while it warms up. When it's done, it can be kept warm, allowing for guests to serve themselves as they please."
Prepare 10 cups of hot chocolate using your favorite recipe or by following the directions on the box. Pour the hot chocolate into a slow cooker, then add 4 cups bourbon of choice and 4 cups Baileys Pumpkin Spice Liqueur. Add 5-10 cinnamon sticks, cook on low for 2 hours or on high for 1 hour, then turn your slow cooker to warm and enjoy.

Slow cooker or crockpot: what's the difference?
Not much. Crockpots have ceramic (crockery) pots, while slow cookers are metal (though most have a removable crockery interior). Also, slow cookers generally offer a few more temperature settings than a crockpot. All these recipes can be made in either one.

Cook Time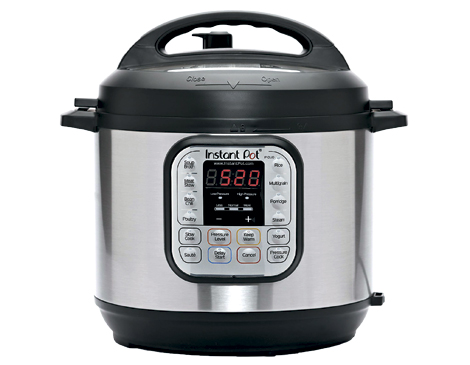 The names pretty much set up the dichotomy: slow versus instant. But there's more than just time that sets slow cookers and Instant Pots apart. Here, we break down the differences between these two kitchen staples.
Speed: The average time required to prepare a dish in an Instant Pot (which is an electric pressure cooker) is about an hour. In a slow cooker, the average is about four hours.
Functionality: Slow cookers are great for cooking meats, soups and other dishes that benefit from the long mingling of flavors. Instant Pots are pros at sauteeing or browning items that normally require a pan-sear.
Surprise feature: You can bake a cake in a slow cooker, and we don't mean a spoon cake. Spray the inside of the cooker and then add the mixed ingredients. In about three hours, you'll have the moistest cake you've ever eaten. Once it cools (about 30 minutes), flip it out onto a plate and frost. And an Instant Pot is an ideal way to make your own yogurt, although it's far from instant: A mild-tasting recipe takes around three hours, while a tart one takes about 12. That's how long it takes to incubate the culture.
Pro: If you want to cook something overnight or all day while you're away, a slow cooker is your jam. They cook at a steady, even temperature for hours at a time. The Instant Pot's speed means that foods are ready faster, of course. But that speediness also prevents flavors from melding into one another to create complexity and depth in your dish.

Con: Fast but not as fast as you might think, the Instant Pot requires up to a half-hour to preheat and another half-hour for the pressure to release once the dish is cooked. Meanwhile, slow cookers can tend to create a mush if you're not careful: Between the long cook times and the condensation that gets trapped during those hours, food does a lot of stewing in its own juices.