Fresh Peach and Pecan Salad
"Everyone does grilled peaches [in a salad], so I went with the basic fresh wonderful peach as it is. Any green leaf lettuce works as long as it's not too soft. I want them to have a little bit of bite to go with the peaches." — Justin Gorski, chef and co-owner at Cleveland Vegan
Combine 2 heads of loosely chopped green leaf lettuce, 2 sliced ripe peaches, 1 cup chopped candied pecans, 1 cubed avocado and 1/4 cup chopped red onion. Set aside. Blend together 1/2 cup olive oil, 1/4 cup rice vinegar, 1 tablespoon soy sauce,
1 minced garlic clove, 1 tablespoon minced ginger, 1 tablespoon brown sugar and 2 teaspoons sesame oil. Toss salad with dressing. Combine 1 1/2 tablespoons liquid smoke, 1 tablespoon Bragg Liquid Aminos, 1 tablespoon maple syrup and 2 teaspoons water. Add 1 cup coconut flakes and bake at 350 degrees until browned for about 5 to 10 minutes. Serve salad with coconut "bacon" sprinkled on top.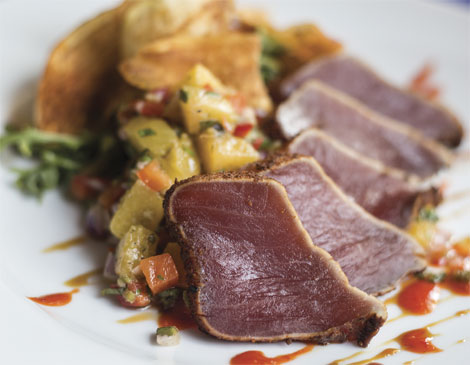 Mole Dusted Rare Seared Tuna with Grilled Peach Salsa and Fingerling Chips
"The peaches pair great with the spiciness of grilled fish and savory of the dish." — Michael Herschman, chef at Lopez Southwest Kitchen & Tequila Saloon
In small bowl, mix together 1 teaspoon ancho powder, 2 tablespoons dark cocoa, 2 tablespoons toasted sesame seeds, 1 tablespoon kosher salt, 1 teaspoon ground black pepper, 1 tablespoon ground coriander and 1 tablespoon ground cumin. Slice 1 pound sushi-grade tuna into 4 long pieces. Roll tuna in mole dust. Heat a saute pan and coat with canola oil. Sear each side of tuna to form a deep crust. Remove, drain, cover and refrigerate. Thinly slice 6 fingerling potatoes and soak in 1 quart of cold water with 2 tablespoons kosher salt. Heat 3 cups canola oil in a deep saucepot to 325 degrees. Drain and dry fingerling chips and gently fry until crisp. Drain and season with kosher salt and ground black pepper. Set aside. Halve and pit 6 peaches. Brush flesh side with canola oil and char on grill until caramelized. Remove and cool. Peel and dice peaches. In large bowl, combine peaches with 2 diced red bell peppers, 2 seeded and finely diced jalapenos, 1 bunch chopped cilantro, 1 finely diced red onion, 1 tablespoon chopped garlic and 2 tablespoons extra-virgin olive oil. Mix then recoat with the juice of 3 limes. Season with kosher salt and ground black pepper. Mound salsa in center of platter. Thinly slice seared tuna across the grain (perpendicular to the length of the long pieces of tuna) and fan around salsa. Top salsa with fingerling chips.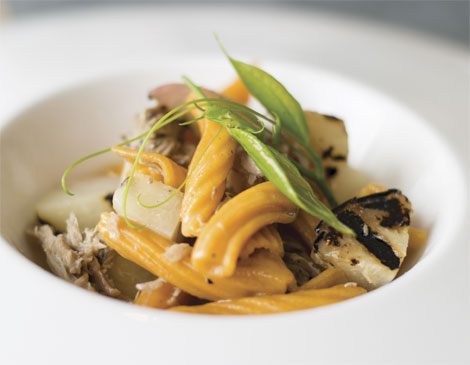 Peach and Duck Confit Garganelli
"The peach flavor is not necessarily detectable in the pasta, but it's fun for color and to echo the grilled peach. The flavor in the pasta is more of a nuttiness and essence of the peaches." — Matthew Mytro, chef and co-owner at Flour
Combine 2/3 cups salt with 1/3 cup sugar to create a curing mix. Generously season both sides of 2 duck legs with the curing mix and place, uncovered, in refrigerator for two days. Rinse and pat dry. Place legs in a baking pan and cover with 1 cup duck fat (heated to liquid) and 3 sprigs of thyme. Cover with foil and bake at 300 degrees for 3 to 4 hours. When cool, shred meat from bone. Discard fat. Wrap 1/2 pound cheese rinds in cheesecloth and simmer for 5 hours in a pot with 1/2 gallon of water and 4 sprigs of rosemary. Reserve brodo or remaining stock. To make pasta, mix 300 grams (or 1 1/4 cups) of peach puree, 2.2 pounds (or about 8 cups) of double-ground semolina flour and 2 eggs evenly and run through a stand mixer's extruder using the garganelli attachment. Set aside. Slice 2 peaches around pit and brush lightly with oil. Grill one side and cool. Dice peaches and set aside. In a large saute pan, add duck, peaches, 3/4 cups brodo liquid and 2 tablespoons butter. Boil until a sauce consistency is formed. Cook pasta in boiling water for 1 to 2 minutes. Drain pasta, place in sauce and mix well. Season with salt and pepper and garnish with kale or other desired greens.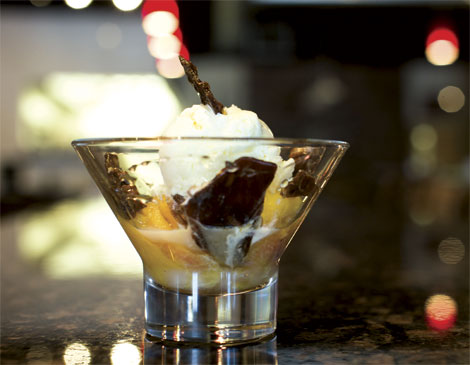 Pecan Praline
"This is a classic pairing that highlights the simplicity and flavor of the peaches. The pecan praline adds texture and nuttiness." — Anthony Scolaro, chef at 111 Bistro
Bring 3 cups brown sugar and 2 tablespoons corn syrup to a boil and cook until deep caramel in color. Turn off heat and add 3/4 cups buttermilk, 1/4 cup butter, 2 cups pecans, 1 teaspoon vanilla and incorporate. Pour mixture on a lined sheet tray to cool. Set aside. In a large bowl, beat 1 cup egg yolk, 1 cup sugar and 1 vanilla bean (or 1 tablespoon vanilla bean paste). Heat 1 quart heavy cream in a saucepan to a simmer and slowly pour the cream into the yolk mixture, stirring constantly to temper the yolks. Return the mixture to the pan and slowly heat, stirring constantly, until mixture thickens. Do not boil. Chill completely and churn in an ice cream maker. Set aside. Heat 1 1/2 quarts water, 1/4 cup brandy, 1 cup sugar, 1 teaspoon ginger, 1 star anise and 1 cinnamon stick to a low simmer. Add 2 cored, peeled peaches cut into wedges and poach until tender. Remove peaches and chill. Reduce the poaching liquid to a syrup and strain into a jar or bottle to cool and use to top peaches and ice cream.