Take a bite out of the plump, juicy seasonal tomatoes you see popping up at farmers markets this summer.
Few memories invoke the flavor of summer like biting into a juicy, freshly plucked tomato. As the sun beats down on baskets brimming full at farmers markets, a rainbow of rich red San Marzanos, sunny yellow Lemon Boys and deep mahogany-hued chocolate cherry heirlooms paint the stands. "The flesh is perfect, they're nice and thin," says Marc-Aurele Buholzer, owner of Vero Pizza Napoletana in Cleveland Heights. "I find that they have a really nice umami flavor underneath that acidity." From caprese salads to canning for sauce, the versatility of the tomato allows us have a slice of the season all year long. But the best way to eat a tomato is to allow it to be the star of the show. "I typically use them very simply with herbs," Buholzer says. "We just let the tomatoes shine."


Recipe Keeper
These two simple dishes will quickly become family favorites.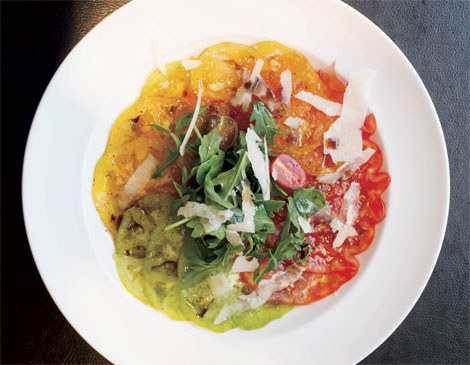 Heirloom Tomato Carpaccio: After attending an heirloom tomato festival in California, Table 45 executive chef Michael E. Swann wanted to try his own vegan take on carpaccio. Using a light sea salt to give a bit of crunch, he adds balsamic vinegar and olive oil for contrast without masking any of its vibrant taste. Its simple preparation and flavors recall the days of fresh vine-ripened tomatoes. "You don't always get that flavor profile with regular tomatoes now, so heirlooms bring that out," says Swann. "To me, it inspires a nostalgic flavor."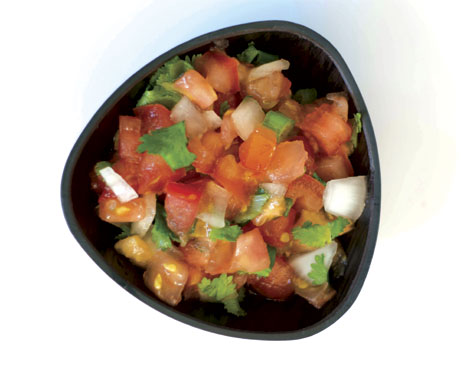 Pico De Gallo: As lovers of colorful authentic Mexican food, Hungry Bee chefs Kimberly McCune Gibson and Jimmy Gibson enjoy picking their own bushels of heirloom tomatoes and pairing them with their signature honey from McCune Family Apiary to create a bright, fresh accompaniment to tacos. "It's light and refreshing with a natural sweetness," says McCune Gibson. "All of the ingredients are just there to accentuate the flavor of the tomato. There's no need to overdo it."
Garden Varieties
Give these four tomato a mix into your next meal.
Black Krim: This medium-sized tomato is distinguished by its striking, deeply hued maroon skin with brown and green shoulders and a rich, salty and slightly tart taste.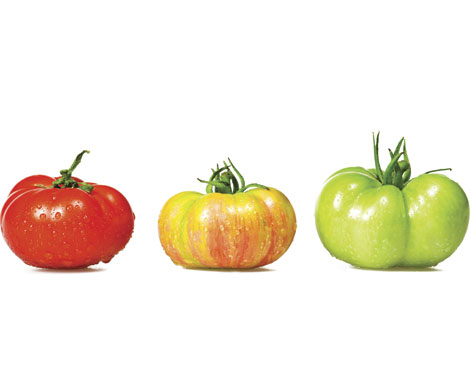 Green Pineapple Originating in Ohio, this small beefsteak ripens to an emerald green with touches of yellow. Emitting a fruity, tropical aroma, it's sweet with a bit of spice.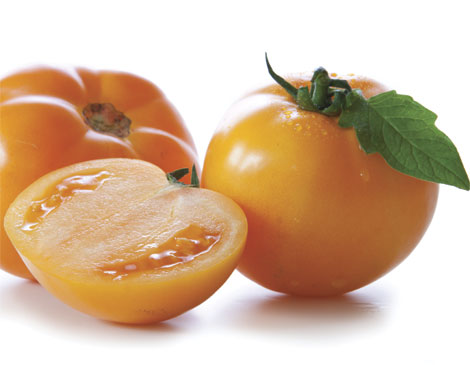 Persimmon: Radiating a brilliant golden-orange hue, these large globes with a fruity, acidic flavor have tender skin that give way to a meaty, juicy flesh bearing few seeds.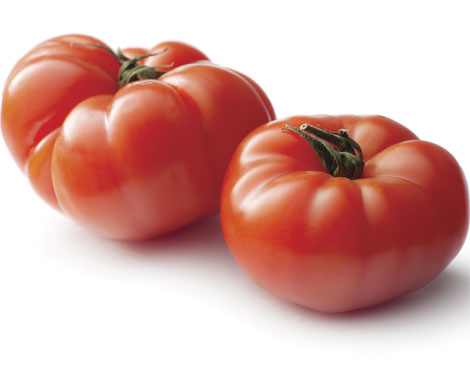 Soldacki: These dark pink beefsteaks noted for their low acid and sweet flavor were brought to Cleveland by immigrants of Krakow, Poland, in the early 1900s.
Stand Firm
These local farmers market vendors have a plethora of options.

Rainbow Farms: The Italian San Marzano, noted for its firm pulp and easily removable skin, is favored by many, including Rainbow Farms owner Tina Klco's Italian immigrant grandparents. "It's the only tomato they use over here," she says. "You get a sweetness and thick creaminess if you blend them." rainbowfarmsonline.com
Snake Hill Farm: At Snake Hill Farm, tomatoes are grown with their many uses in mind. Take the popular green zebra with its sweet and tangy taste. "You can slice them and put them right into a sandwich or get into canning and hold onto a piece of summer," says Rebecca Hopkins, Snake Hill Farm farm manager. snakehillfarm.com
UpCycle Farm: "If you've only ever had a hydroponic tomato that's shipped hundreds of miles, you're missing out," says UpCycle Farm owner Mariah Hayden. That's why she makes it a point to grow a wide variety, from traditional beefsteaks to Nebraska Wedding tomatoes. facebook.com/upcyclefarm