At Aurelia, the menu is never the same twice. The Chagrin Falls bistro's hyper-seasonal menu changes daily, driven by the availability of local ingredients from Ohio farms, fisheries and other suppliers.
That's because chef and co-owner James Balchak shakes up the sourcing process: While most restaurants order the ingredients they need for the menus they've already dreamt up, Balchak works in reverse. By working directly with local farms and partnering with Oberlin Food Hub, a nonprofit that aggregates and distributes crops from Northeast Ohio suppliers, he's given a list of products that are the freshest and most abundant at any given time. Then, he crafts menus that best utilize whatever products they sell to him. That means a menu that changes almost every day and is updated regularly on the restaurant's Facebook page.
"[This way of sourcing] is very conducive to change," Balchak explains. "When something is out of season, I'm able to take what they have and work with it."
Balchak is all about local, fresh ingredients, or as he calls them, "honest" ingredients. In fact, Aurelia's motto is "honest food and drink," signifying the restaurant's dedication to local products and to transparency in sourcing.
"Dealing with farms the way we do is not an easy way to do it," Balchak admits. "But it's our contribution as chefs to say, 'I'm going to promote local agriculture.' "
It's a food philosophy and sourcing process still uncommon here in Northeast Ohio, though it's becoming increasingly more prevalent, as evidenced not only by Aurelia, but by restaurants such as Osso Farm Restaurant in Chardon and the Plum in Ohio City, which both create ever-changing menus based upon the availability of local products.
For Balchak's part, Aurelia is built on a concept equally inspired by Southerners' love of farm-to-table food and Northeast Ohio's rich agricultural bounty — a marriage born from his own culinary background. An Eastlake native classically trained at Pittsburgh's Le Cordon Bleu Institute of Culinary Arts, Balchak spent more than a decade working in the kitchens at popular restaurants in Asheville, North Carolina. This included stints at Pack's Tavern, an eclectic pub staple, and the Blackbird, an upscale, seasonally focused eatery that melds traditional and modern Southern cuisine.
"People down there want to know where their food comes from, which really pushed me," he says. "I was going out to local farms and looking at what it was that I was cooking, not just how I was cooking."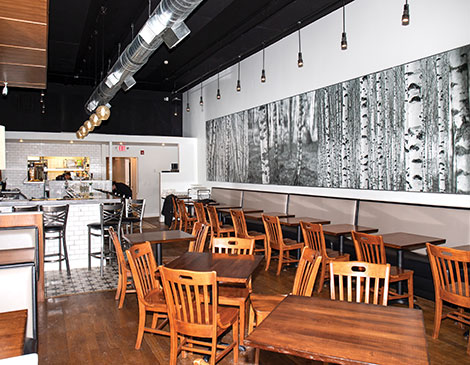 He spent 13 years in Asheville before moving back to Cleveland in 2017. His mom had suggested he move closer to home and try his hand in the robust dining scene here. Within two months of moving back, North Main Diner closed.Balchak sprung at the opportunity to buy it, and opened Aurelia, named for his mother, Arlene. The restaurant's family ties don't end there: Balchak co-owns Aurelia with his mom, his sister Diane and his brother-in-law, John.
"Coming home and having people that care so much about you and what you do — it drives you," says Balchak. "It really came together quickly."
In fact, everything at Aurelia moves quickly, because Balchak and his staff are constantly planning their next menu. Each week, they learn what ingredients are available to them, and only then do they start dreaming up dishes and bouncing ideas off one another.
To cut down on food waste, they try to use every piece of every product, from root to stem and nose to tail. Most days, Aurelia's menus feature some sort of chicken, pork, beef and a fish dish or two. The way those proteins are used, though, varies from season to season and even from lunch to dinner.
One night, for example, we ordered the Maine scallops ($23), three huge, perfectly browned pieces sourced from Euclid Fish Co. The entree was nestled on a bed of Moroccan-spiced couscous and whole chickpeas and topped with blistered snow peas and tri-colored carrots from Yoder Farms in Millersburg. The outcome was a modest but harmonious chorus of flavor highlighted by simple but robust spices such as turmeric and cumin.
A follow-up visit later that week, however, showcased Aurelia's scallops quite differently. This time, they were paired with the same blistered snow peas, but were now accompanied by creamy grits from Shagbark Seed and Mill in Athens and a thick, cherry brandy sauce made from a shipment of summer cherries that Balchak canned and preserved. He's even served scallops on his brunch menu, putting them in a Thai jasmine rice bowl mixed with Yoder carrots, an egg from Harvest Bell Farm in Newbury Township and broccoli from Wayward Seed Farm in Marysville. The dish is then drizzled in a house-made sweet and savory sesame-soy sauce.


"When you start with a fantastic product, the idea is to not get in its way," Balchak says of his penchant for simple foods and flavors.
Asian influences are prevalent on Aurelia's menu, inspired in part by one of Balchak's favorite foods to make for himself — an "egg rice," made by stirring an egg into cooked rice until its warmed through. The result is an almost Asian-inspired risotto, a creamy, soy-laden base for just about anything.
"That's something I've probably made a million times in my life," he says. "The protein can almost be secondary because as long as you're buying great walleye or scallops or salmon, any one of those can go on there."
In one iteration ($23), Balchak sears a nearly six-inch cut of Clare Island Salmon with his sesame-soy sauce. The tender, flaky fish practically melts into the egg rice beneath it, tossed with a mix of fresh carrots, broccoli and napa cabbage for crunchy texture. On other nights, he makes a variation featuring char siu pork rib ($26) atop a similar combination of ingredients, while the sesame-soy sauce appears in other dishes such as a tofu rice bowl and more. In essence, the possibilities are endless.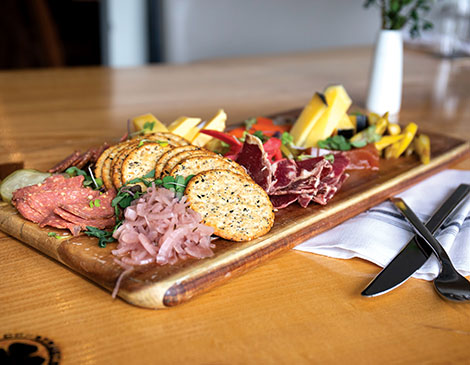 Aurelia's menu has occasionally revealed peeks at Balchak's French training (think cassoulets for brunch, lunch and dinner) and the Southern cooking he came to know and love during his time in Asheville (including chicken jambalaya, walleye po'boys and fried okra). His Midwestern sensibilities have been on display, too, but with a slightly upscale twist. Recent potato skin appetizers ($8) were topped with French onion-infused sour cream. He's paired fried chicken livers ($9) with a honey mustard made by combining Stadium Mustard with Amish honey from Kinsman. He's even made a Lake Erie walleye ($20) coated in an Ohio corn batter — a twist on a traditional corn dog.
"I hear from my customers: 'It's like a different restaurant every time we come in,' " Balchak says. "People enjoy going to a place that doesn't serve the same thing over and over."
With his family behind him, Balchak has found his footing and is starting to feel at home back in Northeast Ohio, where he can tap into his love of experimentation.
"To do this, it's got to be a passion," says Balchak. "The hours are long, the climate is hot and there's a lot of stress, so to do it, you've got to really have a love for it. And I do."

Try This: Keep an eye out for roasted Brussels sprouts ($10) cooked to a crisp and tossed in a sweet chili sauce with just the right amount of heat. They're served steaming hot in a big bowl — perfect for sharing.

Going Green: Aurelia's interior decor pays tribute to the restaurant's dedication to all things fresh and natural: wooden floors and tables, a wall of bright green faux flora and a mural of birch trees that lines an entire wall.

When You Go: Aurelia, 16 N. Main St., Chagrin Falls, 440-600 - 7770 aureliabistro.com.
Tue-Thu 11 a.m.-10 p.m., Fri 11 a.m.-10:30 p.m., Sat 10 a.m.-10:30 p.m., Sun 10 a.m.-2 p.m.