The owners of Bartleby know you'll be thinking about Crop Bistro and Bar when you first step in the door of their new Ohio City restaurant — and they're OK with that. Longtime friends Morgan Yagi and Ryan Britton knew they had a lot to live up to when they took over the historic United Bank Building that was home to Crop from 2011 until early 2021.
But after a few visits, we think Bartleby is up to the challenge thanks to transformative decor, excellent pizza and a Sunshine State-influenced seafood menu made for Midwesterners.
"It's a well-loved space," Yagi says. "We want to be good stewards of it."
Before opening in early August, the first order of business was changing the decor to make the giant, cavernous room feel, well, less so. With a 30-foot ceiling and 17,000 square feet to work with, it was no small feat. But Yagi was eager to execute his vision for the 1920s-era space.
"Everything was so beautiful and at the same time presented a blank canvas," he says. Though no city-mandated preservation laws prohibited him from changing the historic space, he decided to keep its original features intact and opted instead for cosmetic cover-ups and strategic design choices.
The ornate, coffered ceiling remains, providing a dramatic but somehow-still-subtle reminder of the building's former identities. But nearly everything beneath it has changed.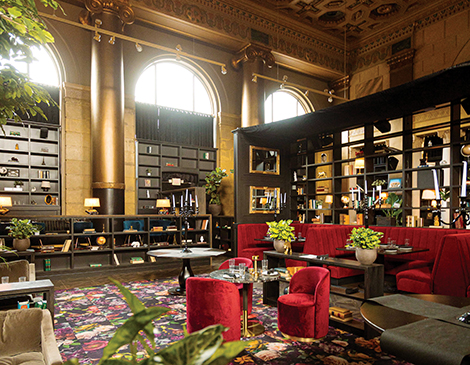 Tall, wide bookshelves serve as makeshift walls, segmenting the dining area into smaller sections that make the entire restaurant feel more intimate. Lush rugs, velvet chairs, opulent candelabras and gold-toned knickknacks lend an air of luxury while simultaneously cozying the place up. The room's centerpiece — a preserved tree trunk with far-reaching silk foliage — is sure to brighten the mood during cold Cleveland winters.
The finished product is reminiscent of an upscale hotel lobby — exactly the vibe Yagi hoped for, incidentally.
"Ryan and I travel to a lot of bigger cities to check out places we've read about, and that includes a lot of grand hotel lobbies," he says. "That was a big design target for us."
On the menu, the partners' vision for a comfortable, upscale spot includes simple but elevated food, plus a bar area that could serve as a standalone space for patrons who just want a quick cocktail. The small drink menu, which is still in flux but ranges from "light and silky" vodka drinks to "bold and boozy" whisky cocktails, was designed by famed local bartender Will Hollingsworth of The Spotted Owl, a friend of Yagi's who offered his help.
Although it's the duo's first foray into launching its own place, neither Yagi nor Britton is any stranger to the hospitality industry. Yagi operates Hibachi Japan in Cuyahoga Falls, which his father owns; Britton is a former general manager of Forward Hospitality Group, which runs spots like The Boneyard in Broadview Heights and Good Night John Boy in the Flats. And chef Matthew DePante, too, fits right into those grand hotel aspirations. The Miami native, who trained at the famed French Culinary Institute in New York City, was most recently the chef de cuisine at the Hilton in Cleveland.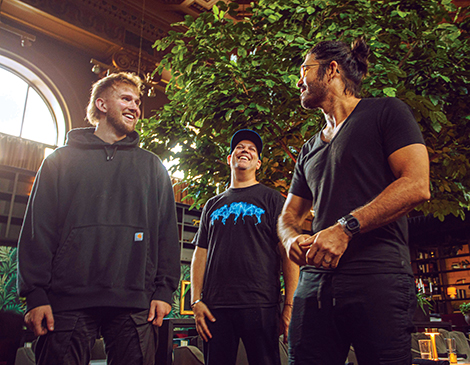 "I closed my eyes and tried [to] picture the space and the clientele and what the restaurant would look like when it was full," DePante says. "I saw it as a place where people would split a couple of appetizers and order an entree or two to share with the table."
To that end, the menu is composed and succinct, heavy on shareables and perhaps surprisingly seafood-forward for a restaurant that doesn't bill itself as such. Inspired by his Florida roots, DePante started with the dishes and flavors he's accustomed to and adapted them for Midwestern diners who don't typically trend toward ingredients like octopus and crab.
"Certain dishes work in Miami that won't work here, and vice versa," says DePante, who consulted with local chef Dante Boccuzzi to curate Bartleby's offerings. "I changed things up a bit to work them onto the menu here, and so far, they've been pretty big hits."
The octopus appetizer ($24), for example, has been stripped of its skin and suction cups to make it less daunting to diners. Instead, it's presented as a neat, meaty tentacle set atop a jet-black cauliflower mash colored by squid ink that, for approachability's sake, is covered in a small arugula salad with pickled red onions and a refreshing mint salsa.
"Now it's a better-tasting dish, and it's a cleaner version that doesn't intimidate people," DePante says.
The lump crab pizza ($24), too, threatens to be overtly of-the-sea but is instead perfectly balanced by the addition of both fire-roasted corn and a sweet corn puree on crispy, paper-thin dough — a filling but feather-light dish that you can split with others or scarf solo sans regrets.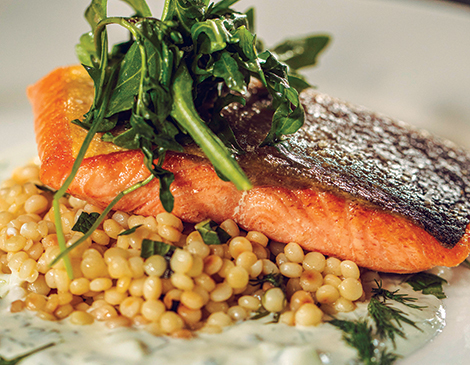 Evidence of DePante's past is also apparent in the angel hair pasta ($26), a near-identical dupe to the one he made at Miami's Proof Pizza. People raved about it there, too: a bundle of buttery noodles topped with lump crab, zesty Calabrian chili and crispy breadcrumbs in a lemony sauce.
And contrasting DePante's adventurous dishes are a few familiar, seafood-free counterparts. The gemelli ($22) is another product of Proof, a decadent pasta dish in a thick meat sauce and a creamy ricotta, and the spicy pepperoni pizza ($20), made with house tomato sauce and a little bit of arugula, are simple and straightforward but executed well enough to wow.
"We're not trying to be pretentious, and I'm not trying to compete with anyone else that serves a great pizza," DePante says. "We're just trying to do something a little bit different."
Not everything works just yet. A few dishes fall just a little bit short of ideal. The tuna steak sandwich ($22), for one, is a potentially brilliant take on both ahi tuna and a burger, but it's not as flavorful as it should be, despite the addition of Asian-style slaw and a sweet soy sauce. Its pillowy, artisan bun doesn't seem like quite the right fit, overwhelming the delicate texture of the fish.
The bun works better on the hearty Bartleby burger ($20), made with grass-fed beef from Ohio City Provisions. But it, too, is slightly unsatisfying, lacking the level of juiciness and flavor you'd expect from toppings like white cheddar, caramelized onions, pickles and garlic aioli. (Take note, though: The latter is a truly stunning dip for a side of fries).
Still, though, the majority of the menu works exactly as it should, appealing to daring and dependable diners alike. And because nearly everything is designed to be shared, if you're so inclined, Bartleby offers a low-stakes opportunity to taste-test various ingredients and combos without committing too hard to anything you're unsure about.
With very few kinks left to work out, the Bartleby team's commitment to continued iteration bodes well for the restaurant's future. Yagi, Britton and DePante are all enthusiastic about evolution and eager to experiment with new ideas, guest feedback and their own whims — as evidenced by a still-changing menu, late-night tavern offerings and upcoming plans for a basement bar, among other things.
"We know we can't be everything to everybody, but we really do think our appeal is broad," Yagi says. "We want to become both a destination and a neighborhood spot for people who live in the area."
2537 Lorain Ave., Cleveland, 216-417-2224, bartlebycleveland.com
With a gorgeous space and such tasty food, it's clear that Bartleby is a more-than-worthy successor to Crop. It might even — dare we say it? — prove itself to be a cut above.
Get ahead of the weekend by signing up for our free weekly "In the CLE" newsletter — your guide to fun throughout The Land. Arriving in your inbox every Wednesday, this weekend to-do list fills you in on everything from concerts to museum exhibits — and more. Click here to subscribe.