Nick Frate's start in the restaurant business wasn't fueled by a passion for cooking or culinary techniques. Instead, the teenager worked as a dishwasher at the family-owned Mama Leone's in Highland Heights with his sights set on one thing: a cordless phone.
"Back when I was in junior high, it was a really big thing to have your own phone in your bedroom," he recalls. "I think that was the thing that triggered my parents, 'Oh, you want a phone in your room so you can talk to your friends? Go out and get a job and work for it.' And that was just the mindset that I fell into."
He eventually got that phone and worked his way up to making pizzas. The money even allowed Frate to buy his own car when he turned 16. But over time, he earned an appreciation for cooking that led to a career once he graduated high school.
Instead of heading to culinary school, Frate gained experience working at a string of country clubs and other local restaurants. But it's his collection of more than 100 cookbooks that really has helped Frate cultivate his distinctive approach in the kitchen. He has almost every edition of the Culinary Institute of America's The Professional Chef and swears by Food Lover's Companion by Sharon Tyler Herbst.
"It was a cookbook before smartphones were around and Google searches were relevant," he says. "If you didn't know something about a particular ingredient or you needed to look something up, it was a great resource."
After partnering with his cousin, Chris Frate, to open the popular Pub Frato Gastropub in Concord three-and-a-half years ago, the two have joined forces again — with Chris as owner and Nick as executive chef — for Brim Kitchen & Brewery in Willoughby. While they considered cities such as Aurora and Hudson, it was important to find a spot where they could build a sleek, modern space.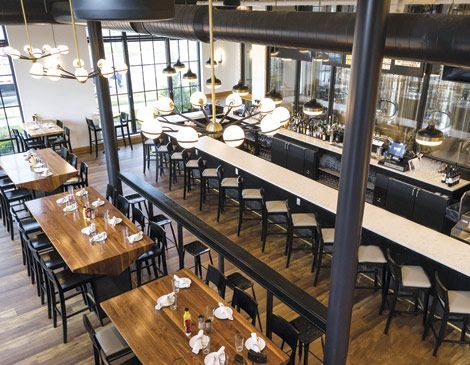 The airy, two-story, 8,000-square-foot building is equipped to seat up to 300 people and is home to a 10-barrel brewing system. Brewer Larry W. Hazen, who previously worked at the now-defunct Crooked River Brewing Co. in Cleveland and Stone Brewing Co. in Escondido, California, oversees the beer operations with a rotating selection of up to seven beers.
You'll find options such as the Fuzzy Peach ($5 for 16 ounces), a refreshing Belgian fruit ale with a hint of the stone fruit, and Brim Less ($5 for 16 ounces), an easy-drinking light blond ale. If you come across Thai'd 2 the Tracks ($5 for 16 ounces) during a visit, be sure to order a round of the Belgian-style ale brewed with Thai lemongrass. While there are beer cocktails, we were left disappointed when neither stout was available on multiple visits to make the Central Perk ($9) or the Peanut Butter Jelly Time ($8).
There have been other struggles too. Building dishes that complement Hazen's lineup of beer has been a work in progress for Frate. The December opening menu ballooned to two pages trying to cater to all tastes and palates.
"We've had some trial and errors," he says. "It was an ambitious menu. I was worried about the variety on that menu."
Since then Frate has scaled back, changing up the offerings twice since Brim's opening. He now offers up a smaller menu that steers toward classic American dishes with a twist and plans on simplifying even more with an upcoming menu change.
Popular appetizers such as the hot pretzel ($6), large enough to feed the whole table, will remain. Tear off the warm pieces, topped with a generous sprinkle of sea salt, and dunk in the honey whole-grain mustard or smoked cheddar beer fondue made with Brim Less.
Another hearty starter, the smoked brisket pierogies ($12) are all about the rich brisket that's been dry-cured for 24 hours and then smoked for about eight hours at 220 degrees. The layers of flavor go deep on this dish with an earthy butternut squash puree and tangy horseradish crema.
We're hoping the burrata and eggplant caponata ($10) survives. While not normally fans of eggplant, we became admirers of this dish. The fresh Italian cheese, so creamy and light, balances well with the sweet and acidic caponata that's tossed in a garlicky basil pesto.
Brim's No. 1 seller is a testament to Frate's ability to execute classic dishes flawlessly while sneaking in a few upgrades. At first blush, the Brim Burger ($12) may seem like just a double cheeseburger. But garlic pickles, grilled onions, dijonnaise (a blend of Dijon mustard and mayo) and brioche bun make it all feel and taste special.
The same can be said about the fried chicken sandwich ($12). The ingredients may seem simple, but Frate and his staff put in the time and care to showcase flavors. A chicken breast is marinated in buttermilk, pickle juice, Sriracha and Buffalo sauce for 12 hours. After coating the chicken in a flour-cornstarch mixture and frying, it gets topped with a house-made honey Buffalo sauce, coleslaw and thinly sliced pickles.
As for the entrees, look for lighter versions of pasta on the new menu. During our summertime visits, a heavy short rib gnocchi ($16) and rich chicken-based orecchiette ($16) seemed out of place with everything else on the menu.
Opt instead for the pan-roasted duck ($19) served with a sweet potato puree, truffle pierogies and vincotto, a reduction of nonfermented grape must. "I'm a big fan of duck, duck breast, duck thighs," says Frate. So he knows how to render the fat so each piece is perfectly cooked.
Another filling entree, the bangers and mash ($14) is made for those beer-swilling nights. Artisan sausage from Salume Beddu in St. Louis anchors this dish with an aromatic array of spices such as allspice and nutmeg.
"I had one customer say it tastes like the holidays," he says. It definitely feels like a special occasion meal when wrapped around the accompanying whipped potatoes, and cracked mustard and onion gravy.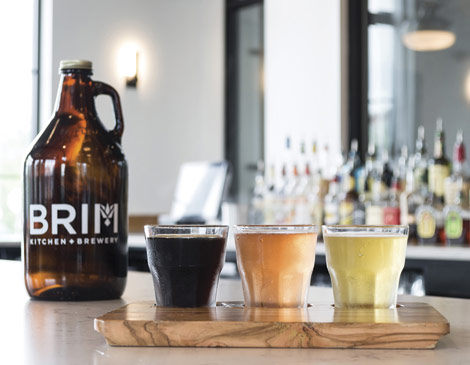 With some early adjustments, it seems Brim is finding its level. How the menu will evolve remains to be seen, but some of those beginning hiccups haven't hurt business. The restaurant hosts around 500 customers every Friday and Saturday. Even weeknights are busy.
But that hasn't stopped Frate from contemplating ambitious plans such as starting a late-night menu and offering breakfast options such as cold sandwiches, fresh pastries, and granola and yogurt parfaits.
"I'm willing to push the envelope a little bit," Frate says. "But I will still keep offering something for everyone."

Try This: Start off your meal with the grilled artichokes ($9). Marinated in spices, herbs and grape seed oil, the vegetables are sauteed and then served with grated Parmesan, arugula, garlic breadcrumbs and truffle aioli.

Seat Check: Savor what remains of summer by nabbing a spot on the rooftop patio, which can seat up to 70 people and boasts views of downtown Willoughby and the Chagrin River Valley.

When You Go: 3941 Erie St., Willoughby, 440-306-8183, brimbrewery.com, Mon-Thu 11 a.m.-10 p.m., Fri & Sat 11 a.m.-midnight, Sun 11 a.m.-9 p.m.