Sometimes it's the little things that make a big impact.
For Kevin Foley that's the best part of his job.
As the executive chef at Bull & Bird Steakhouse in Chagrin Falls, the 40-year-old can often be seen making the rounds of the dining room talking to guests.
"I try to create this family style of feeling when they come into the restaurant," he says. "They're coming here to have a great experience, so what can I do to make that happen?"
Foley develops special vegan dishes for guests. He even makes beef Wellington once a month just for a single customer who requests it.
"I have people that see the dish and are like, Wow. What is that?" he says.
That level of attentiveness serves as the backbone of Bull & Bird, which opened in August after 40-year-old Gamekeeper's Taverne closed in April.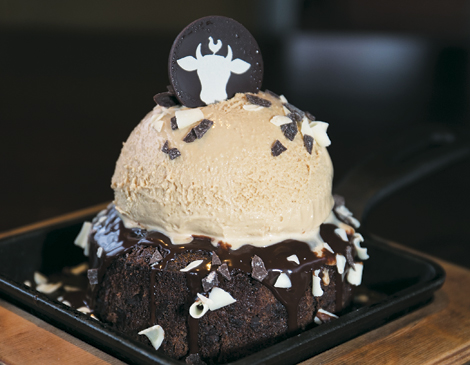 Part of the Hyde Park Restaurant Group, which also owns nearby Jekyll's Kitchen and ML Tavern, Bull & Bird fits well into the group's portfolio of fine-dining establishments and meshes even better with the Chagrin Falls' ethos of cozy, comfort and camaraderie.
With a mix of black-and-white photos and colorful art lining the wood-paneled walls, it feels like exploring a well-traveled friend's home — especially when you plop down into one of the leather or plaid booths or nestle up to the corner bar for a meal shared with loved ones.
Here, you don't have to worry about those little things: more water, fresh bread, a thorough explanation of a dish. It's all taken care of discreetly, without fuss.
Great service, even good service, tends to go unnoticed at a restaurant. And maybe that's the point.
We're more likely to call out experiences that are bad or inefficient — especially in Cleveland, where restaurants have been knocked for our less-than stellar abilities to cater to diners.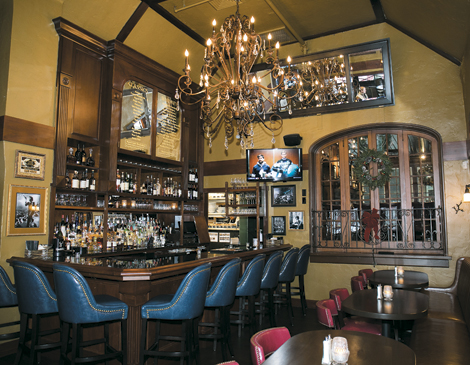 But excellent service doesn't matter if the food isn't up to snuff. The menu follows what you'd find at a traditional American steakhouse, but European influences — especially in the entrees — can be found throughout.
It's a small, manageable spread that allows Foley, his culinary team and the waitstaff to key in on techniques and execution.
A handful of appetizers makes it easy to choose where to begin. While there are oysters on the half shell ($13), meatballs ($13) and the popular house specialty shrimp cocktail ($14), don't overlook the Duroc thick-cut bacon ($14). After trying 15 types of bacon, Foley selected a purveyor from Tennessee.
He takes a whole slab of bacon and cooks it for three hours at a low temperature. Then he chills it for three hours to help render the fat before slicing it into strips. Once crisped in the oven, the bacon is coated with a glaze of Bragg apple cider vinegar, brown sugar and black pepper.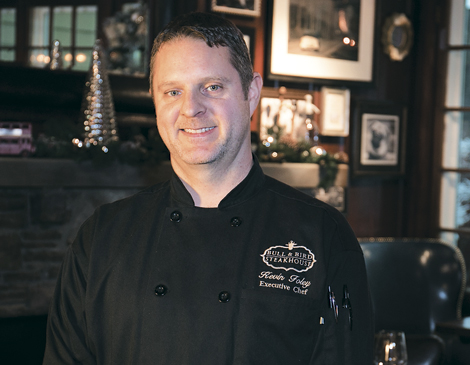 "So it kind of gets that little acidity, sweetness and then to cut it all, we've got the pepper to kind of give it a little bite," he says.
While the three salads on the menu give off traditional vibes, the New/Old School Caesar ($7) plays with the classic rendition by tossing romaine lettuce with a bold anchovy, garlic dressing and made-to-order croutons that are warm and buttery. Shaved Parmesan makes it feel even more special.
Those apps and salads all set the stage for the steaks. It's a curated selection, from a nice 7-ounce center-cut filet mignon ($32) to a hearty 20-ounce Porterhouse ($42), which helps us from feeling overwhelmed by too many cuts.
"We let the meat stand for itself," Foley says. "It's just salt and pepper that we put on our steaks, and then we have our [house-made] butter that we finish it with. It kind of adds some color to it and some great flavor."
Guests can choose from six other sauces ($2 each) — think a creamy horseradish or a chimichurri — and five add-ons such as crab ($9) or Maine lobster tail halves ($19).
When it comes to composed entrees, try the Tuscan bone-in ribeye ($46). Pan-seared with shaved garlic, rosemary, chiles and butter, it shows Foley's ability to amp up those European flavors with simple ingredients.
"Anytime you take a steak and you sear it and you baste it with some butter and some flavoring, that's probably the best thing ever," says Foley.
The shrimp and pasta arrabbiata ($19) also pays off with big flavor. A quick-cook tomato sauce with onions, green chiles and oregano leads to lots of fresh tomato flavor.
"As opposed to a lot of the Italian places that cook their sauces for two to three hours and get that deep, rich flavor, this is more of a fresh and lighter flavor," Foley says.
Although it employs a trendy, of-the-moment cooking technique, the Bell & Evans spatchcock chicken ($16 half, $25 full) feels homey and comforting. Spatchcocking means the chicken is butterflied to help grill, pan-fried or roast easily. Here it's a pan-roasted double airline breast with the legs attached that's served with an herb pan sauce and whipped potato puree.
Spending time and energy on the small stuff can leave a lasting impression. The Cafe de Paris sauce — a briny herbaceous butter sauce composed of about 20 ingredients — makes the steak frites ($25 6-ounces, $32 9 ounces). "This lady came in, and she's like, 'You took me back to Paris,' " says Foley. "Stuff like that that also gets me going."
By offering a smaller, well-curated menu — a refreshing change to other places that hit you in the face with tacos, sliders, flatbreads, soups and salads — Bull & Bird taps into the old-school philosophy that sometimes less is more, quality trumps quantity.
Here, the little things add up. That kind of thinking leads to a better meal, a better experience — and overall a better restaurant.
"Everybody in the restaurant matters, whether they're ordering a burger and that's it or they're spending $100-plus or whatever," he says. "They're coming for an experience. And without that, they wouldn't come back."

Try This: The Bull & Bird Brookie ($10) pulls double-duty in the dessert department with a brownie and chocolate chip cookie topped with salted caramel ice cream and a warm chocolate ganache sauce.

Good to Know: Stop by here at the week's start for Prime Rib Mondays, where the eight-hour roasted steak ($24 for 10 ounces, $34 for 16 ounces) comes with beef jus, horseradish cream sauce and your choice of salad.

When You Go: Bull & Bird Steakhouse, 87 West St., Chagrin Falls, 440-528-3180, bullandbirdsteakhouse.com, Mon-Thu 5-9:30 p.m., Fri 5-10:30 p.m., Sat 4-10:30 p.m.