Don't let the name fool you.
Collision Bend Brewing Co. might sound like just another ale-slinger barreling its way into Cleveland's craft beer scene.
But while you can choose from around eight rotating drafts from former Great Lakes Brewing Co. brewer Luke Purcell — and they're all worth tasting — at this Flats East Bank spot, it steers more toward a place to sit and chow down.
It's either a risky move or a brilliant maneuver along the Crooked River — navigating a large menu of small plates, an eight-barrel system and a space that can accommodate 350 people. Is it a restaurant or a brewery?
Taking over in the former Watermark restaurant, the stunning mid-1800s brick building is just off-the-beaten path from all the new development shine of Coastal Taco and Punch Bowl Social. The 12,000-square-foot spot has a lot to offer: a four-season patio, private event space and outdoor patio overlooking the river.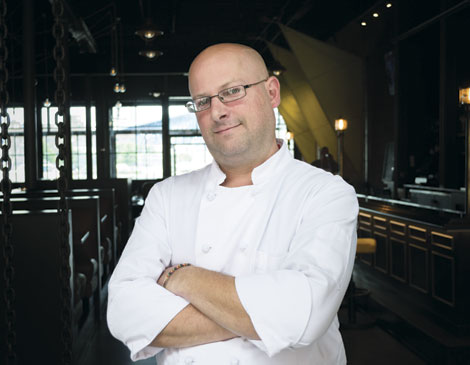 For consulting chef Andy Dombrowski, the corporate chef for restaurateur Zack Bruell's restaurant group, playing up the food side of the brewery was a heady decision. Getting it just right was even more critical.
After researching other breweries, Dombrowski noticed most were just serving lunch with lots of sandwiches and other heavy items. Others offered little or no food options.
"The whole thing is meant to be a gathering place," he says. "We want you to drink a couple of beers. But if we give you a sandwich as big as your head, you're probably going to eat like half of that, drink your beer and be done for the day."
When constructing the menu for Collision Bend, which debuted in April, Dombrowski leaned toward smaller dishes that were not only diverse in cuisine — hitting Southern California, Italian and Asian comfort zones — but also could be executed quickly to handle the sizeable number of tables.
"It's a nice eclectic menu that has a little bit of something for everybody," he says. "It's meant to be shared."
But with such an expansive menu and larger crowd to feed at Collision Bend, the service has to be on point. That's where Julian Bruell, Zack's son, comes into the picture. A graduate from Cornell University's School of Hotel Administration, the 27-year-old managed several New York City restaurants before returning to Cleveland last winter. He helped train the staff on proper service such as the correct way to greet a table or fold a napkin.
Julian's touch has made a difference at Collision Bend, Dombrowski says. "Little extras you can do really make people's day," he says. "They might leave and say, 'Wow, they took really good care of us.' "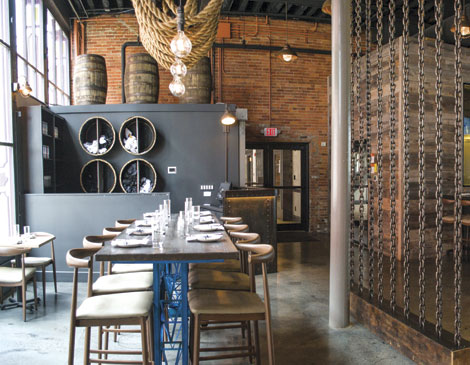 While there are pizzas, salads and entrees on the menu, diners can easily make a meal out of a few small plates. Sharing is encouraged and a great way to explore the more than 20 options.
Five of those choices are dedicated to tacos. And while they're not the $3 variety you'll find at other spots around town, you'll get your money's worth with interesting fillings heaped atop two tortillas — one corn, one flour. Full disclosure: These tasty big guys aren't as easy to share. But since they're served open-faced, you're able to slice off sections to distribute around the table.
The San Diego fish taco ($10), filled with beer-battered cobia, cabbage, cilantro, red onions, queso fresco, salsa and crema, is a cool, refreshing bite, while the lamb gyro-style taco ($9) topped with cucumbers, feta, tomato, mint, basil and romaine takes the Greek street food to the next level with tender, ground lamb wrapped around a tangy tzatziki-inspired sauce.
For another cultural spin, try the pulled beef taco ($9) with Indian-inspired flavors of curry, potatoes, cabbage, cilantro, red onion and an Indian tomato-mint relish. It also comes with pickled limes — made by mixing the fruit in spices and salt, and letting it ferment for weeks.
Curious minds will be drawn to the giant molten meatball ($8). Stuffed with cheese, a baseball-sized meatball arrives with a side of marinara sauce and reveals gooey mozzarella when cut open. Collision Bend serves about 100 of these on a busy night, so getting the technique right is key.
"I'm actually pretty happy that we can get like 90 percent of them where they don't break and they're actually stuffed with the cheese," Dombrowski says.
The sauerkraut balls ($6) are a nod to Zack's days working as executive chef at Ken Stewart's Grille in the late-1990s. The party appetizer was always a hit at the Akron restaurant so Collision Bend's twist involves roast pork shoulder, herbs and cream cheese served with a house-made cocktail sauce.
"We thought that being a brewery sauerkraut balls were an acceptable item," Dombrowski says. "They're really tasty, but they're really simple."
Another simple stunner, the Collision Bend popcorn ($4) was something we almost didn't order. It's just popcorn, right? But it might just be our favorite thing on the menu. Maybe it's the coating of chicken schmaltz, the dusting of Mexican pepper seasonings or sprinkling of lime zest and pecorino, but it's so salty, tangy and tasty that we couldn't stop eating it by the handfuls.
If pizza is your thing, you're in luck. The seven variations range from traditional pepperoni ($14) to the more adventurous salami and green olive ($15) loaded with pickled peppers, roasted peppers and four kinds of cheeses — fontina, aged provolone, raclette and Parmesan.
For those who aren't fans of small plates, you can order from the list of 10 entrees. But be forewarned that we found many of them too basic and uninspired — such as the ale-brined chicken breast ($18), served with smashed carrots and ale beurre blanc, and the bistro steak ($24) with onion straws, sauteed broccolini and romesco sauce — that we chose not to order them at all.
Even the ones that showed some promise were lackluster.
The Asian stuffed chicken legs ($15) seemed hopeful with shiitake mushrooms, water chestnuts, rice noodles, carrots, cabbage, ginger and garlic all squeezed into a large chicken leg. With a lineup like that, you'd expect the dish to sing with bold, rich flavors, but each note fell short.
When we ordered the roasted eggplant melt ($14), we expected a neat and tidy sandwich. We were greeted with a knife-and-fork dish that while tasty was a little hard to nab all the components — bread, tomato sauce, eggplant, roasted peppers, mushrooms, aged provolone and a basil aioli — in one bite.
The bottom line? Stick with small plates at Collision Bend. It's what they do well.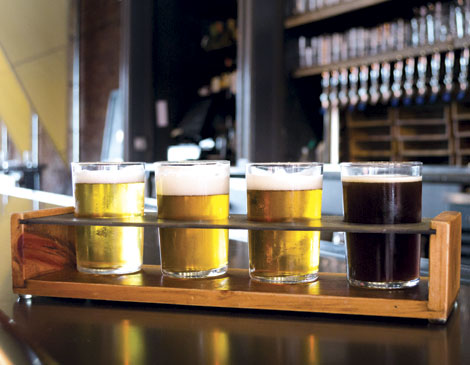 When paired with beers such as the Lake Erie Sunset ($6.50), a blood orange witbier, or the Big Cat IPA ($7.50), a American double Indian pale ale, you'll get the full experience of Collision Bend.
Whether you consider it a brewery or restaurant, it's about good food, good service and good beer.
"At a brewery, you come, you have a couple beers, you have something to eat, talk with friends and sample the craft beers," says Dombrowski, "and have a good time."

Try This: If you loved Michael Symon's roasted Brussels sprouts (RIP Lolita), fill the void with Collision Bend's version of roasted Brussels sprouts ($8). House-made caramel made with garlic, ginger, lemongrass, shallots and fish sauce give the veggies a sticky, sweet, salty taste. Good To Know: Take home any Collision Bend beer in a 32-ounce crowler ($11). We recommend the Old River Kolsch ($6.50), an easy-drinking, hoppy German-style beer.
When You Go: 1250 Old River Road, Cleveland, 216-273-7879, collisionbendbrewery.com, Mon-Thu 3-11 p.m., Fri 3 p.m.-midnight, Sat 1 p.m.-midnight, Sun 1-9 p.m.