The excitement is starting to dwindle. It's been months since Cavs fans celebrated a world championship in the streets, Republicans swarmed downtown and the Indians lost a heartbreaking Game 7.
Years of planning and construction prepared downtown Cleveland for these momentous occasions and left us with a new Public Square, convention center, hotels and restaurants. But our growing economy also meant we needed to rethink our culinary identity and how we presented ourselves to the world. Arguably more important than new signage, public art or even free bikes, a robust restaurant scene can linger on the tongues and minds of out-of-towners long after they return home.
So while Michael Symon's Mabel's BBQ was stockpiling headlines for its Cleveland-style barbecue, two new hotel restaurants — Parker's Downtown at the Kimpton Schofield Hotel and the Burnham inside the Hilton Cleveland Downtown — offered guests an important first bite of Cleveland.
With a buffet of dining options downtown, it may be easy to overlook them or sneer them away as "hotel restaurants." But don't. Parker's Downtown and the Burnham push way beyond free continental breakfast and Cobb salads. They're welcoming, approachable and memorable, like a great restaurant hostess.
"There's been so many restaurants that have opened in the last 18 months," says Andrew Gorski, executive chef of Parker's Downtown. "To be a successful restaurant, you've got to put out a great product that people want to come back to. It keeps us on our toes."
So as the national spotlight has shifted away from Cleveland, these two spots have found different ways to appeal to visitors to the 216 and to attract the everyday Clevelander.
Parker's Downtown pulls at our Cleveland heartstrings with delightfully nostalgic dishes, while the Burnham's global cuisine nourishes both worldly palates and Cleveland's elevated culinary sensibilities. Each approach echoes its environment — the Schofield's boutique hotel and bohemian hipster vibe compared with the Hilton's massive 32-story jewel near North Coast Harbor.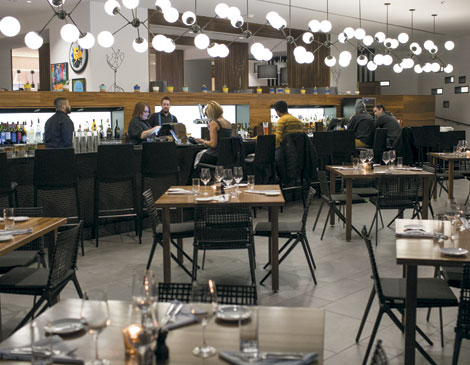 "When you look at our location, it seems like we're a little bit isolated," says Maxime Kien, the executive chef at the Burnham. "When somebody's staying at the hotel and going to the convention center, we're the prime destination for them. ... It's busy all the time."
So maybe the excitement isn't dwindling?
On a crisp weekday evening in January, when there's nothing to celebrate besides the lack of snow, the Hilton Cleveland Downtown still buzzes. Guests pop up in elevators, the hotel bar and the Burnham's sleek and modern 257-seat restaurant. They're here for the American Bus Association Annual Meeting, which sold out every hotel downtown.
Those tucked inside the Burnham find an eclectic dinner menu that veers American but spans the globe with options such as pork and pineapple fried rice ($14) topped with a Thai basil sauce and duck leg confit ($24) swimming in a black currant vinegar sauce.
Cleveland restaurateur Zack Bruell helps shape the overall menu as the restaurant's consultant collaborating with Kien and chef de cuisine Justin Ofandiski, a Lorain native who previously worked as the sous chef at Dante in Tremont for nine years.
"It's a lot of comfort food — warm, braised items," Ofandiski says of the menu spanning breakfast, lunch and dinner. "It comes from a little bit of everywhere."
You'll find tasty takes on cheese curds ($12) fried to a golden crisp with a gooey inside and served with a tangy sweet and sour tomato sauce or the buttermilk-fried calamari ($10) that sings when partnered with the accompanying pickled green tomatoes and malt vinegar aioli.
Where there's fun, there's also plenty of sophistication. The swordfish schnitzel ($24) — pounded, breaded and fried like the traditional German dish — is elevated to something special when paired with butter-poached radishes and thyme butter.
Like Ofandiski says, braised items rule here. While you can't go wrong with the braised lamb shoulder ($24), braised beef shoulder ($24) or pork shank ($26), the oxtail ($24) gets our vote.
Cured with a spice blend of herbs, oil and garlic, the tough cut of meat is transformed into tender shreds after a two-day process of marinating, searing and braising. Served with carrots, smashed potatoes and horseradish, it hits home regardless of where on the map you've traveled from.
"It's a hearty food," Ofandiski says. "It warms your soul."
Over at Parker's Downtown, Gorski is cooking up an American progressive menu that slants toward Midwestern, Cleveland-style dishes such as loaded potato and roasted pear pierogies ($11) topped with pistachios, creme fraiche and bacon jam.
"I try to keep the flavors and menu simple for everyday people," he says. "We get people from all over the United States — from Chicago, San Francisco and New York — that are used to so many different options and different styles of food that I try to do some fun things as well."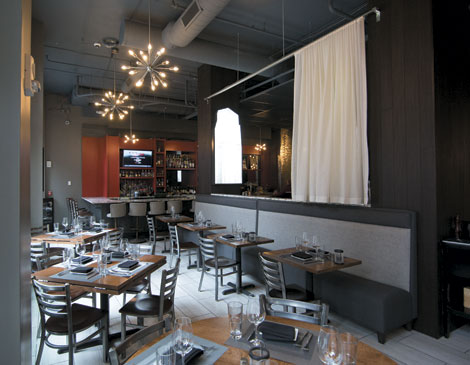 Diners are more often locals known to pack the 120-seat restaurant before Cavs games, House of Blues concerts and Playhouse Square shows. The restaurant draws so much of a theater crowd that Parker's even offers a special three-course $39 theater menu.
With experience working at popular spots such as Tremont Tap House and the Butcher and the Brewer, Gorski knows how to reinvent familiar dishes with a single ingredient or technique that makes it seem fresh while delivering on those comforting, recognizable flavors we've come to love.
The grilled octopus ($14), which Gorski sous vides first, is joined by whipped bone marrow, hearts of palm, capers and brioche bread, making for a fun, interactive appetizer. The chicken potpie ($22) gets a lift from hearty Italian sausage, creamed leeks and foraged mushrooms, adding another dimension of flavor to a Midwestern favorite.
It all makes for a great introduction to our city's food culture.
"If I was staying at a hotel I would love to be able to go to the restaurant downstairs and eat well and not have to go 2 miles down the street," Gorksi says. "It's perfect at the end of the day if you can stay at the hotel and go to its restaurant and have a great meal."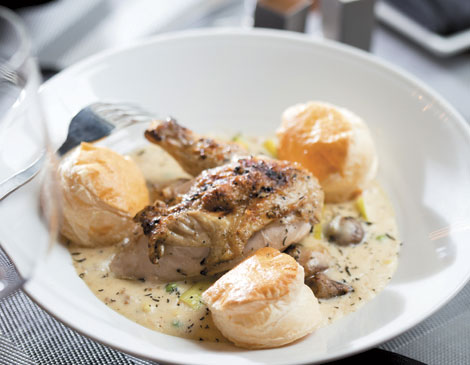 Whether you're jetting into town for a few days or a longtime Clevelander, these two spots work hard to give every guest a taste of the local dining scene — one bite at a time. That impression can have lasting effects for our entire city.
Until the next big event — the Major League Baseball All-Star Game in 2019 — Parker's Downtown and the Burnham will have plenty of guests to feed during banquets, weddings, conventions and even the St. Patrick's Day Parade. While many will leave with a new appreciation about Cleveland and its food, the results are already paying off.
"2018, 2019, 2020," says Kien. "Large groups want to come back for the next two to four years. And those rooms before used to go to cities like Chicago or Washington D.C. It's a win-win situation."
WHEN YOU GO
The Burnham: 100 Lakeside Ave. E, Cleveland, 216-413-5120, theburnhamrestaurant.com, Breakfast 6:30-11 a.m.; Lunch 11 a.m.-2 p.m.; Dinner 5-11 p.m.
Parker's Downtown: 2000 E. Ninth St., Cleveland, 216-357-2680, parkersdowntown.com, Breakfast Mon-Fri 7-10 a.m.; Lunch Mon-Fri 11:30 a.m.-2 p.m.; Dinner Mon-Thu 5-11 p.m., Fri & Sat 5-midnight, Sun 5-10 p.m.; Brunch Sat & Sun 8 a.m.-2 p.m.
TRY THIS
The lunch crowd heads to Parker's Downtown for its tempting sandwiches. Opt for the Cleveland Cuban ($12) layered with shaved bologna, salami, pickles, Swiss and mustard on a toasted baguette. But if you're an early riser, plan a breakfast meeting at the Burnham where you can nab the CLE eggs Benedict ($16), a buttermilk biscuit topped with house-made pastrami, poached eggs and hollandaise sauce.