Brett Sawyer's passion for food is clearly spelled out on his hands. Letters that spell "Cold Beer" and "Hot Food" are inked above and below each of his knuckles.
After his father's death two years ago, Sawyer and his sister celebrated their birthdays together by getting tattoos. Sawyer opted for the saying as a tribute to how he views the culinary world.
"It was kind of an inside joke with a friend that I used to live with in Akron," he says. "Hot food and cold beer is kind of a very American thing."
As the co-owner and chef of the Plum Cafe & Kitchen in Ohio City, he lives and breathes this mantra by creating a New American menu of eclectic small plates and entrees. His approach to food may baffle some diners not used to seeing things like chicken feet on the menu and leave others blown away by his exceptional ability to turn seemingly straightforward dishes such as a tomato salad into complex, layered but still approachable fare.
And just when you become comfortable with a dish, Sawyer changes it up on you.
He's always tinkering, always working toward perfection. It is even more impressive considering Sawyer, who started in the restaurant industry as a 20-year-old server at a Max & Erma's in Columbus, hasn't had any formal culinary training.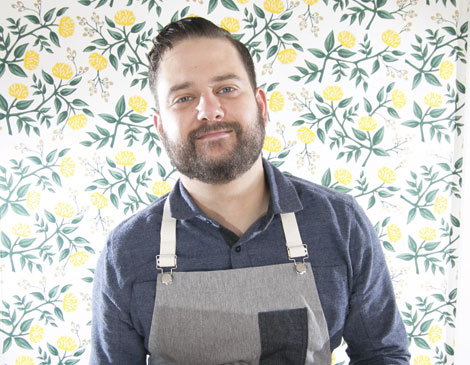 The Lorain County native worked briefly as a prep cook at the now-shuttered VegiTerranean in Akron before moving to Chicago to gain more experience. Three years later, he returned home and worked as a saute cook at Jonathon Sawyer's the Greenhouse Tavern. He eventually worked his way up to executive sous chef of the East Fourth Street restaurant and even took over for the James Beard Award-winning chef's Trentina.
"Chef Sawyer always pushed and really instilled in us that just because a dish makes it on the menu, it doesn't mean it's fine," he says. "You should always be looking for ways to make them better. Nothing's ever perfect."
When co-owners Nate Lobas and Jonah Oryszak purchased Plum's 150-year-old building in 2013, their original plan was to open a cafe focused on sandwiches. Brett Sawyer, who knew Oryszak through mutual friends, helped consult on the menu. But as the trio began talking throughout the extensive three-year renovation, they realized their philosophies of what a restaurant should be aligned and they could improve on the concept.
"They were like, OK. Let's do dinner. Let's make this a restaurant. Let's not just do this cafe thing," Sawyer recalls. "They had peppered it into conversations along the way like 'Hey you can have your own dinner service and you could create the menu,' while we'd be out hanging out."
It was enough to convince him to leave Trentina and partner with Lobas and Oryszak.
In May, the restaurant with its bright, airy modern look, exposed brick, white subway tile and a fun floral wallpaper accent wall was finally ready for service.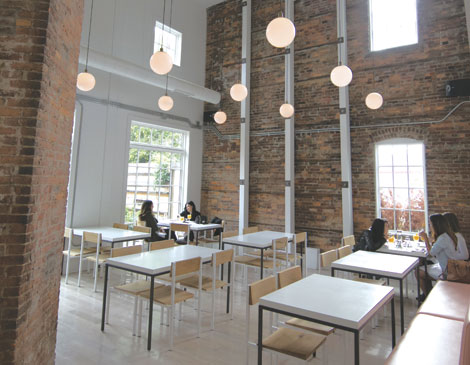 For the first time in his career Sawyer was at the helm in a kitchen, fully in control of a staff and a menu.
"It is terrifying," he says. "Very exciting and very terrifying — all at the same time."
He doesn't let any of that fear show on his impressive dinner menu. Set up as mostly small plates to encourage sharing — and at an affordable price — it permits guests to take risks without too much commitment.
Something as unassuming as a pickled egg ($2) doesn't escape Sawyer's grasp for perfection. He leaves the beet juice out of the pickling liquid — which would give traditional pickled eggs that odd purple color — and uses garlic, dill and hot sauce instead. When served, he tops it with a little fresh dill and hot sauce.
The seasonal tomato and tomatillo dish ($8) first reads like your basic summer tomato salad. But even with the simplest preparation — everything is served raw — and ingredients of oregano, basil and peaches, the juicy tomatoes and tomatillos are elevated to new heights thanks to the genius addition of black garlic. It's all at once fresh, salty, spicy and sweet.
The crispy confit chicken feet ($5), doused in lime, chili, pickled peppers and a piri piri sauce, remains one of the restaurant's top sellers. But there are other off-the-wall surprises. The chickenrones ($5), another dish Sawyer has changed along the way, come out light as air. The puffed chicken skins — think a much better version of pork rinds — are sprinkled with sea salt and served with a side of hot sauce, a blend of Sawyer's three favorites: Red Devil, Louisiana Hot Sauce and Crystal Hot Sauce.
"I like to have things on there that you might have to push yourself a little bit, if you've never had it or don't think you'd like it," he says.
The more approachable smoked Ohio raised pork shank ($23) entree offers familiar flavors for those tepid customers. Braised with apple cider, the meat is fork-tender and has a corned beef feel to it. Pair each bite with the accompanying confit carrots and yogurt pudding with alcaparrado jam (a mixture of olives, capers and pimentos).
Clambake lovers should set their anchor on the cioppino boil ($18). Served in a pretty china bowl, mussels, clams and crawfish swim in a simmering tomato broth with a small corn-on-the-cob, diced potatoes and basil. A fish-of-the-day, such as rockfish and white bass, keep us diving back in.
Sawyer isn't afraid to tackle different cultures or even mash up some of their recipes. The tomatillo picadillo and puri ($10) is based off a traditional Hispanic picadillo — a ground beef hash with olives and raisins served with rice. But this vegan version touts tomatillos, cauliflower and quinoa instead with smoked olives and raisins.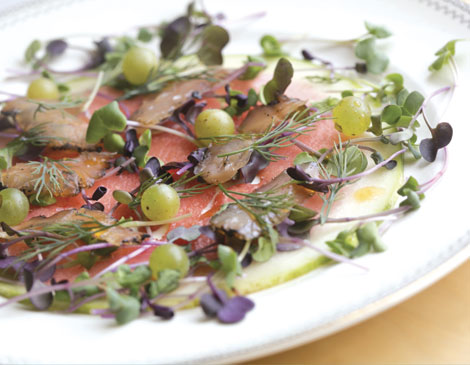 Rip off pieces of warm puri, an Indian fried bread, to scoop up the filling. Then add some cilantro rice and top with the lime yogurt.
Heading into fall, Sawyer is starting to utilize heartier ingredients. Find comfort in the red wine braised oxtail ($18) with a cabbage steak and spaetzle. To make the cabbage steak, Sawyer brines whole heads of cabbage and pokes holes in the vegetable to help entice a sour flavor and reduce the crispness and crunch of the cabbage. He then cuts them an inch thick and sears them in a cast-iron pan with butter.
At Plum, you'll find an assortment of ice cream and sorbets from nearby Mason's Creamery but only one composed dessert. The smashed on honey ($9) starts with a smashed green plantain that's fried and layered with Mason's seasonal ice cream, honey, fried peanuts and buttermilk.
While it satisfies our sweet tooth, we're curious what other tricks Sawyer might have up his chef's coat.
But in true Sawyer fashion, he's devising a few more desserts. He's dreaming up new dishes and improving on old ones. He's always striving for better but does stop to appreciate what he's accomplished.
"When people come up to the kitchen window and tell us how much they loved everything, it's a huge deal," he says. "I love seeing people's faces when they've had something they didn't think they were going to enjoy or they didn't really know how they were going to feel about it. When they like it or love it and they let us know, that's what I love about it."
When You Go: 4133 Lorain Ave., Cleveland, 216-938-8711, theplumcafeandkitchen.com, Mon-Sat 11 a.m.-1 a.m.

Try This: Ancient grain aficionados will eat up the creamed spelt ($9), a comforting dish made with English peas, tomatoes, tarragon, lemon and a touch of cream cheese.

Architectural Digest: Plum doesn't take itself too seriously. Little design nods — such as the NBA Fastbreak pinball game in the lobby, mismatched antique tableware and the mounted deer heads high up on the two-story brick fireplace — are proof.