A pink octopus sculpture hovers over the door to Pulpo Beer Co. in Crocker Park, one tentacle wrapped around a pint of beer, cartoon eyes gazing up at the sky. Draped behind the concept's Ohio-themed branding, the creature appears elsewhere inside the taproom at 20 Main Street: dangling as a chandelier over the dining space, peering over a pair of booths in a wall mural, perched atop every tap handle behind the bar.
Of course, the eight-legged creature is everywhere in this space; the brewery is named after the Spanish word for "octopus." And, of course, it's also spotted in the food menu: octopus and squid appear in Pulpo's seafood coconut rice and fried calamari dishes.
But the overall concept, grown out of Pulpo Beer Company's manufacturing and brewpub space in Willoughby, finds a unique tropical vibe beyond the oceanic creature. In this latest outpost, open as of Sept. 8, the main bar is styled after a beach hut, with bamboo accents lining hallways painted with murals of greenery and wildlife. A massive set of four TVs screen nostalgic music videos, and garage doors roll up for Cleveland's sunniest days.
"With Pulpo, it being the first Latin-owned brewery in Ohio — it's Latino like all of us, we have that culture behind us. But we already had Barroco, Hola Tacos, which are also Latin-themed restaurants … we didn't want to do exactly the same thing," said business owner Juan Vergara. "We wanted to give Pulpo its own identity."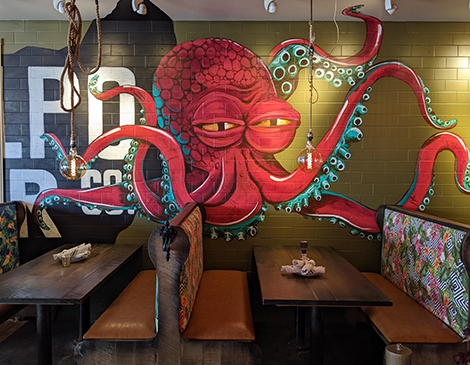 That identity revolves around Pulpo's beers. Two dozen craft selections are available for order, ranging from the Pulpo Libre Mexican lager (4.5% ABV), to the Churro Dreams Christmas ale (7% ABV) to the El Generalissimo imperial stout (10.2% ABV).
Vergara's sister-in-law Paola Valbuena Stuyvesant took her chemical engineering skills from a former job at Pepsi and applied them to brewing Pulpo beers, which have quickly racked up a following in just two years. (Pulpo's Tropical Thunder IPA earned a Cleveland Magazine nod in 2021.)
"She's the first and only female Latina brewer in Ohio," Vergara said about Valbuena Stuyvesant. "That's pretty special for us."
A small menu of cocktails and mocktails accompanies the draft list, with seasonal offerings like the pumpkin spice rum mix "Boots Wit Da Fur" ($11) and the apple and bourbon-focused "Barbaric Manners" ($13). The bar's weekend hours stretch to 2:30 a.m., welcoming a nightlife crowd.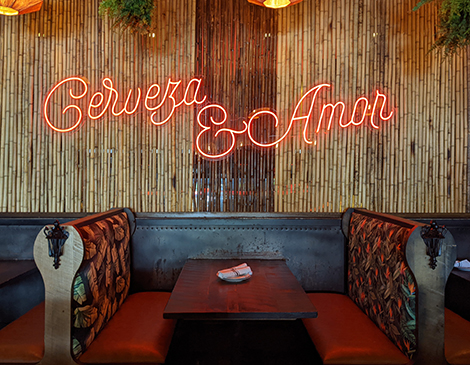 As for food, you'll find more seafood here than at Vergara's other family concepts. Pulpo's menu features oysters on the half shell ($14), vegan crab cake ($13) and swordfish ($26) dishes, alongside bar favorites like smashburgers, wings and salads. Notably, Pulpo uses its Mamacita blonde ale for beer-battered dishes like the sweet & spicy chicken sandwich ($17) and the fish & chips ($22).
It stands in contrast to the arepa-focused offerings at Barroco, Vergara's first concept which opened its first location in 2011, and the street-taco fun at Hola Tacos. (Vergara and his family operate three Barroco locations – one of which is located just down the street in Crocker Park, at 287 Crocker Park Blvd. – along with three Hola Taco locations, all in Northeast Ohio.
"With Barroco obviously being Latin American and almost completely gluten-free, we have a different audience that goes there," Vergara said. "This is our sister store here. With the menu, we didn't want to do anything straight Latin. We wanted to use the food as a vehicle for people to know our beers."
Pulpo Beer Co. continues Vergara's establishment in the Crocker Park dining scene, after he and his family opened Barroco's third location there in 2018. The neighborhood, known for its shopping destinations and resident community, gave the restaurateur's concepts extra traffic, Vergara said.
"We already do really well in our store here in Crocker Park, with Barroco. The idea when we opened Barroco was to get Barroco in front of as many people as we could," Vergara said. "We wanted to repeat the same thing. We want to get our beers in front of as many people as possible."
Pulpo Beer Co.'s Crocker Park location is open 11 a.m.-2:30 a.m. Thursdays through Saturdays and 11 a.m.-midnight Sundays through Wednesdays.
When you go: Pulpo Beer Co., 20 Main St., Westlake, 440-772-4013, pulpobeerco.com
Get ahead of the weekend by signing up for our free weekly "In the CLE" newsletter — your guide to fun throughout The Land. Arriving in your inbox every Wednesday, this weekend to-do list fills you in on everything from concerts to museum exhibits — and more. Click here to subscribe.